Ever wondered how Samsung's entry-level 1080p LED LCD TV performs? Wonder no longer, because we have a UE32D5000 here for review. This is the Korean manufacturer's cheapest 1080p LED-based LCD television this year, and features 4 HDMI inputs, some basic media/networking features (but not Samsung's top-end "Smart Hub"), and somewhat disappointingly, no Freeview HD (DVB-T2) support. At this price point, there's also no 100hz/200hz motion processing, so users will have to contend with the LCD panel's native motion clarity without any blur-defeating processing aiding the picture. The model we reviewed also featured a video processor chip from MStar, rather than Samsung's own (slightly more capable) processor which is featured in the more expensive panels. The Samsung UE32D5000 is priced at around £350-400 in the UK market, so let's find out if this pared-down LED-sidelit LCD display can put out a great image for this price.

Note: The specific model we tested was the Samsung UE32D5000PWXXU, which is the 3-pin-plug United Kingdom version. While we did not review the larger 40-inch Samsung UE40D5000, there shouldn't be any significant difference in picture performance given similar specifications within the D5000 series.
Design
Once known for hard edges and uninspiring plastic, Samsung shook up their own HDTV designs some time ago, and others have been following ever since. The UE32D5000 ticks all the right boxes when it comes to aesthetics: small bezel surrounding the screen, use of glass-like transparency around the outer edge, and of course, being an edge LED TV, an almost unfathomably thin panel. As usual, the gloss black used on the TV is highly prone to scratches – our review unit already had several which showed up in brighter rooms. Other than this, the only fault we noticed on our particular sample related to the transparent edge, which had some visible bubbles near the bottom. Obviously, this will vary from unit to unit, but it suggests that manufacturing tolerances in the more affordable models aren't quite as tight.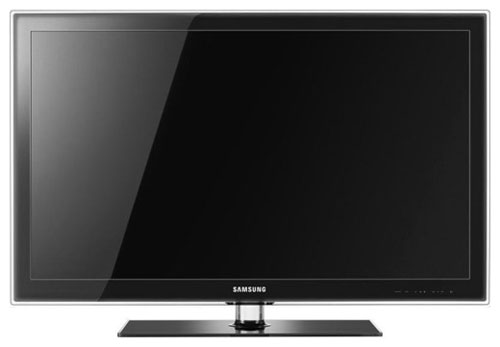 The table-top stand (supplied) is styled in much the same way as the television, and attaches fairly easily.
Connections
Despite its cheaper price point, there's no real connectivity shortage on the Samsung UE32D5000, except for the omission of a Freeview HD-capable DVB-T2 tuner. There are four HDMI inputs, and Component, Composite, and SCART connectivity is given via supplied break-out adapter cables. Two USB ports and a LAN/ethernet terminal also feature.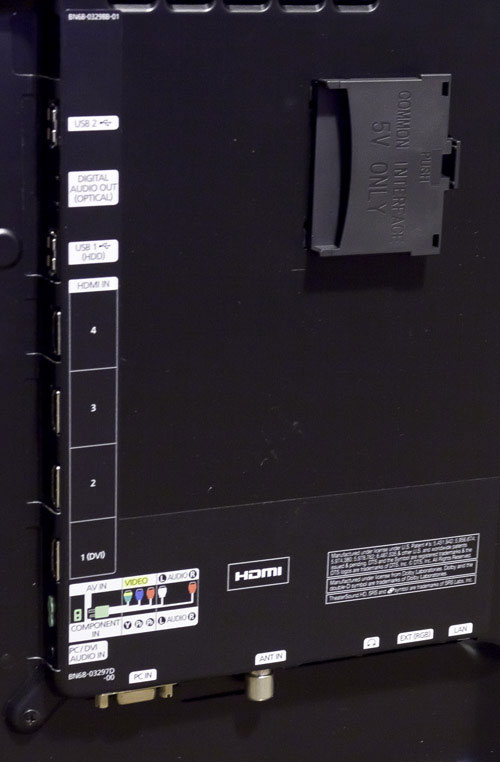 Rear: 4 x HDMI, Component, SCART, aerial, ethernet & audio outs
Operation
The UE32D5000 doesn't feature the new 2011-style Samsung menus, but that's no problem, because the old ones look just as good (if not better), and respond quickly to user input. As an entry-level model, it's not surprising that some of the more advanced picture calibration controls have been left out. More expensive Samsung HDTVs feature a three-axis colour management system (CMS) and 10-point Greyscale correction screens, for squeezing every last drop of performance from the panel. Hopefully, we won't miss these controls much – we'll see how the Samsung D5000 manages without them during the Calibration section.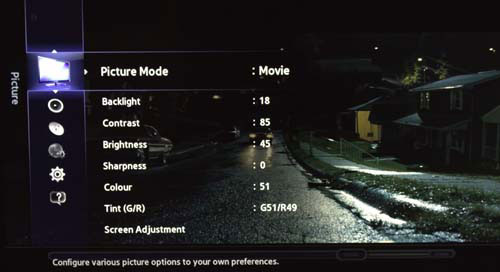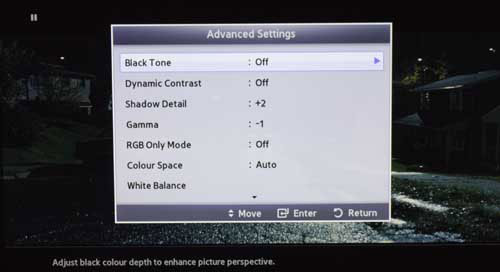 [Picture] menus