Having looked at the Samsung UE42F5500 last week, it's time to turn our attention to another of the Korean brand's Series 5 LED LCD TV. Compared to the already budget-priced F5500, the Samsung F5000 series we're reviewing today is even more basic in terms of specifications: it doesn't come with integrated wireless connectivity or the manufacturer's Smart TV platform; while only offering 2 HDMI inputs and 1 USB port.
Priced at below £300 for a 32-inch, full HD 1080p screen, naturally the UE32F5000 lacks 3D capabilities too. The flat-panel television does feature direct-lit LED backlight technology, 100Hz CMR (Clear Motion Rate), and inbuilt Freeview HD tuner. Stripped of all bells and whistles, picture quality becomes all the more important, so is the 32F5000 up to the task? Read on to find out.
Note:The specific model we tested was the Samsung UE32F5000AKXXU which denotes the UK 3-pin-plug version.
Design
"No-frills" is probably the first phrase that pops to mind if we're asked to sum up the appearance of the 32in Samsung F5000, but then again, what do you expect at this price point? Sporting a glossy black bezel as well as a non-swivel stand with a black rectangular base, this television won't be winning any beauty pageant anytime soon, but at least the company has trimmed a few inches off the bulky chassis seen on its predecessor the UE32EH5000.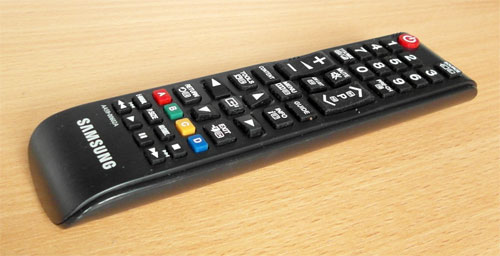 The supplied infrared remote control is small, functional but not backlit. There's no [Smart Hub] button for obvious reasons. Like all Samsung TVs we've tested this year, sound quality is very decent, providing sufficient bass extension and dialogue clarity for day-to-day use.
Connections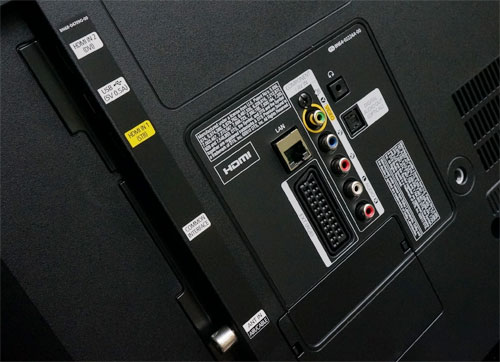 Rear: 2x HDMI, USB, component, RGB Scart, aerial, LAN, headphone & audio outs
Calibration
Note: Our review sample was calibrated using CalMAN 5, the industry-leading video calibration software.
As is the case with all Samsung HDTVs we've reviewed, the picture preset that's closest to D65 video industry standard on the UE32F5000 is [Movie] mode whose [Colour Tone] is set to a default of "Warm2". In this configuration, there was a tad too much red component in the greyscale mixture, imparting a subtle red cast on the images: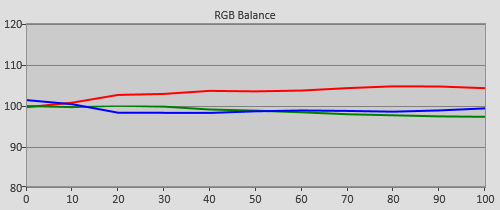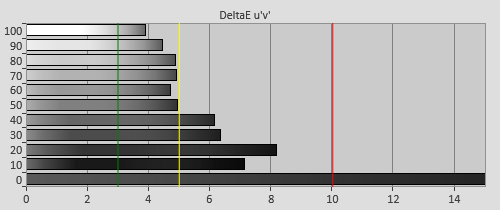 Pre-calibration RGB tracking and delta errors (dEs)
We were able to use the UE-32F5000's onboard two-point [White Balance] controls to remove the red tinting completely, with dEs (delta errors) dropping to below 1 from 30% stimulus and up, which is highly impressive to say the least since a dE of 3 is widely accepted as the human perceptible limit.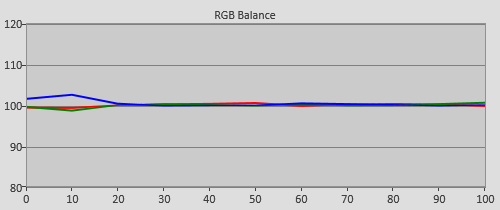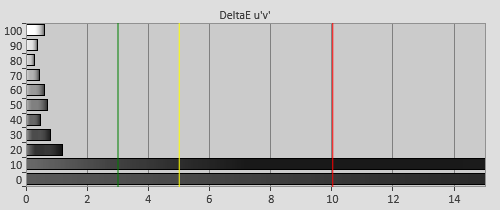 Post-calibration RGB tracking and dEs in [Movie] mode
A slight blue tint persisted in the shadows, a phenomenon that is quite common on LED-backlit LCD displays. This probably could have been dialled out had Samsung provided a 10-point white balance system on the F5000 range, but that may be asking too much of an entry-level HDTV of this price. Overall, we were extremely pleased with the UE32F5000's greyscale tracking after calibration.
Gamma
Like most flat-screen televisions available to buy these days, the Samsung 32F5000's gamma tracked closer to 2.2 than 2.4 in its most accurate out-of-the-box preset. Because the ITU (International Telecommunications Union) has recommended 2.4 as the reference EOTF (electro-optical transfer function) for flat-panel HDTVs used in production studios, we now aim for this figure instead as long as the display is up to it.
| | |
| --- | --- |
| | |
| Pre-calibration gamma tracking (2.27) | Post-calibration gamma tracking (2.39) |
Despite costing less than £300, the 32″ F5000's black level was comfortably below 0.1 cd/m2 with plenty of dynamic range on offer, so we saw no reason to deprive it of 2.4 gamma which adds so much depth and richness to the picture on screen. We achieved this pretty easily on the TV by lowering [Gamma] from the default value of "0" to "-1".
Colour
We weren't particularly enamoured with the somewhat muted colours (we were striving for accuracy rather than overblown vibrance) on the F5500 LED TV we previously reviewed, but the Samsung UE32F5000 had no such issue. With [Colour Space] left at its default setting of "Auto", and after a slight tweak to the global [Colour] control following greyscale calibration, most of the colour points we measured lined up very nicely: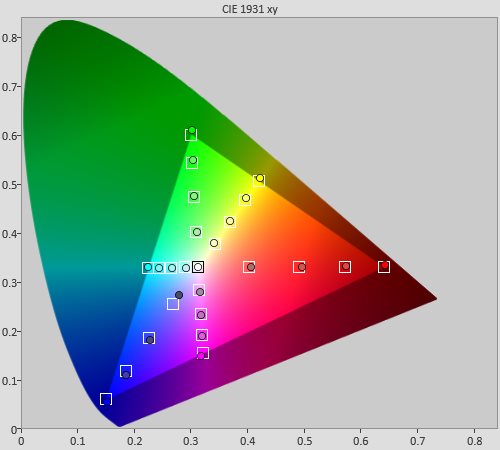 Post-calibration colour saturation tracking in "Auto" [Colour Space]
Delta errors (colour decoding taken into account too) were mostly below 3, which is outstanding especially on a television that lacks advanced CMS (colour management system). An oversaturated green primary at 100% saturation, and an undersaturated blue at 25% saturation were the only blips, but most viewers are unlikely to notice these inaccuracies outside of a side-by-side comparison with a reference display.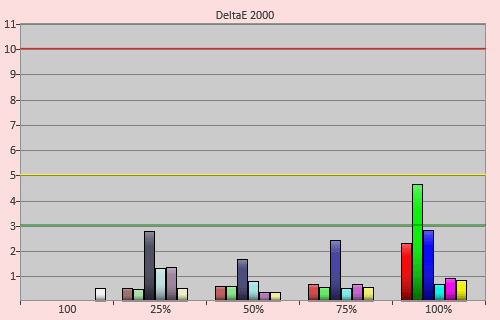 Post-calibration colour errors (<3 not appreciable to the eye)
Benchmark Test Results
| | |
| --- | --- |
| Dead pixels | None |
| Screen uniformity | Very good for an LED LCD |
| Overscanning on HDMI | 0% with [Picture Size] set to "Screen Fit" |
| Blacker than black | Passed |
| Calibrated black level (black screen) | 0 cd/m2 (LEDs shut off) |
| Calibrated black level (ANSI checkerboard) | 0.042 cd/m2 |
| Black level retention | Auto-dimming with full black screen |
| Primary chromaticity | Oversaturated green primary |
| Scaling | Good |
| Video mode deinterlacing | Good |
| Film mode deinterlacing | Passed 3:2/480i & 2:2/576i with [Film Mode] engaged |
| Viewing angle | Decent for an LCD-based display |
| Motion resolution | 300; pushing 350 with [LED Clear Motion] on |
| Digital noise reduction | Optional; effective when engaged |
| Sharpness | Defeatable edge enhancement |
| Luma/Chroma bandwidth (2D Blu-ray) | Full luma; chroma horizontally blurred |
| 1080p/24 capability | Subtle telecine judder |
| Input lag (high-speed camera) | 16ms compared to lag-free CRT |
| Leo Bodnar input lag tester | 28ms in all picture modes |
| Full 4:4:4 reproduction (PC) | Yes, with 60hz signal and "PC" input label |
Power Consumption
| | |
| --- | --- |
| Default [Standard] mode | 47 watts |
| Calibrated [Movie] mode | 41 watts |
| Standby | <1 watt |
Picture Quality
Our UE32F5000AKXXU review sample uses Samsung's own S-PVA LCD panel which is superior in many ways to the AUO-supplied A-MVA panel we saw on the UE42F5500. Let's start with black level measurements: the SPVA-equipped UE-32F5000 came in at 0.042 cd/m2 (on both a 4×4 ANSI checkerboard pattern and full-field black with a pause icon to defeat the auto-dimming), which is slightly deeper than the 0.061 cd/m2 we got from the 42F5500's AMVA panel.
The viewing angles on the UE32F5000 were wider too. Whereas we complained about the subpar off-axis viewing experience delivered by the UE42F5500, the SPVA LCD panel on the F5000 held on to contrast and colours much better whenever we stood up or sat off-centre. It won't match the superior off-axis performance of IPS LCD panels let alone plasma TVs, but it's as good as we've seen on VA-type LCD televisions (just like all Samsung LED LCDs we've tested in 2013 including the F6400, F7000 and F8000 series).
Backlight/ screen uniformity is another element Samsung has improved on its LED televisions this year. Being a direct-lit (as opposed to edge-lit) LED set as well as of a smaller screen size, the 32F5000 should have it easier than most to maintain its backlight consistency, and so it proved. We witnessed no clouding or backlight bleed, and detected only the mildest hint of dirty screen effect (DSE) when feeding the TV with 20% and 30% full-field grey patterns. In other words, we were very happy with the uniformity on the UE32F5000AK.
In the past, many knowledgeable users have questioned the need for 1920×1080 resolution on a 32-inch screen, but now this point is largely moot given how ubiquitous and affordable full HD 1080p displays have become. With [Picture Size] set to "Screen Fit" for 1080 source, and [Sharpness] reduced all the way down to its neutral setting of "0", the UE32F5000 presented HD content impeccably with nothing added or subtracted, allowing exquisite detail to shine through untarnished (of course, assuming you sit close enough for your eyes to resolve the pixels).
The combination of excellent black-level response, neutral greyscale, well-saturated colours and 2.4 gamma contributed to a wonderfully lush image. There are some HDTVs costing north of £1000 which fail in one or more of these aspects, so to see all these ingredients come together so beautifully on a screen bearing a sub-£300 price tag is truly something to behold.
Similar to the F5500 LED LCD, the F5000 features 100Hz Clear Motion Rate (CMR), which is a marketing term coined by Samsung to say that the 50Hz LCD panel is capable of 100Hz-like motion through backlight scanning whose on/off state is determined by the [LED Clear Motion] setting. We're not sure if it's the superior SPVA panel or the smaller screen size (we suspect it's the former), but [LED Clear Motion] worked better on the UE-32F5000 than the UE-42F5500: with the option engaged, motion resolution actually approached 350 (from the LCD baseline level of 300) on the 32-incher, although that doesn't tell the whole story.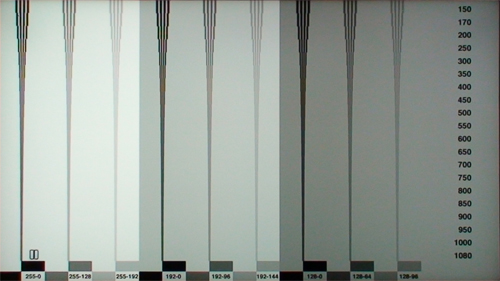 You see, the test pattern we routinely use to measure motion resolution – Chapter 31 in the FPD Benchmark Software disc – consists of cone-shaped columns, each made up of four vertical black lines overlaid upon various shades of grey background. The lines are thicker and spaced wider at the top of the screen, and become progressively thinner and denser towards the bottom (representing higher resolution). The entire scene will scroll horizontally at a rate of 6.5 pixels per frame (ppf) – the level at which all 4 moving lines can still be distinguished is then the motion resolution.
On the UE42F5500 we reviewed last week, we didn't find [LED Clear Motion] useful, as it introduced too much double ghosting artefacts into the columns, causing motion resolution to drop paradoxically to 250 (i.e. the artefacts prevented us from discerning all 4 lines at the 250 level). On the UE32F5000 however with [LED Clear Motion] switched on, we could – at a push – make out 4 lines at the 350 level. Furthermore, there was more detail beyond 350 – we could still see three lines between the 550 and 700 levels where normally they would merge completely into one hazy blur on a vanilla LCD TV unassisted by motion-compensated frame interpolation (MCFI).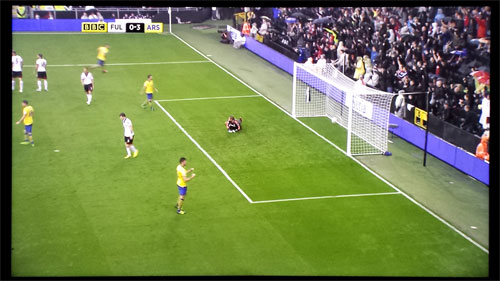 What we're trying to say is, engaging [LED Clear Motion] did subjectively improve the perceived motion clarity on the Samsung F5000 when we caught up with some Match Of The Day football action, even if this was not fully borne out by the FPD Benchmark motion resolution test. And it's not as if the backlight scanning introduced many side effects either: through our custom test pattern, we verified that no motion interpolation took place (so 24p material won't be affected by the dreaded soap opera effect); and Samsung's implementation did not produce as much flicker or double ghosted images as Sony's version (for example on the Bravia W6, W8 and W9).
Yes, activating [LED Clear Motion] did bring about a drop in light output, but on the UE32F5000 this could be easily countered by raising [Backlight] and/or [Contrast]. In fact, because we saw no reason not to use [LED Clear Motion] all the time for real-world viewing, we actually went ahead and redid another full calibration with the setting engaged: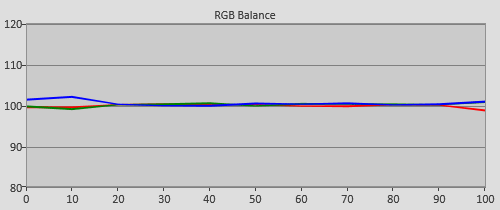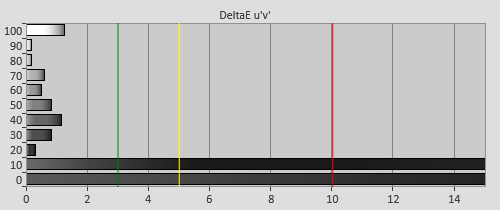 Post-calibration RGB tracking and dEs in [Movie] mode with [LED Clear Motion] on
Due to how aggressively we pushed the set's contrast, red channel began clipping at peak luminance, but this was well within our dE tolerance, and both gamma and colour accuracy remained intact too. So Samsung F5000 owners, give [LED Clear Motion] a try: there's really nothing to lose, as long as you remember to increase your [Backlight] value adequately (we eventually settled at "18" on our review unit) to compensate for the brightness loss.
Like the 42F5500, the 32F5000 evinced a subtle telecine judder when asked to display 1080p/24 signal (e.g. from Blu-ray discs), but it's pretty much negligible at this size (the smaller the screen, the less obvious the judder). Samsung's upscaling inclined towards forgiveness rather than outright sharpness, prompting us to bump [Sharpness] back up to "20" for most standard-definition content. Otherwise SD processing was very good, with effective jaggies smoothening, plus correct 3:2 and more importantly for UK and Europe 2:2 cadence handling once [Film Mode] was engaged.
For console gaming, it was not necessary to switch to [Game] or [PC] mode on the UE32F5000 for achieve the lowest lag, since our Leo Bodnar input lag tester returned a figure of 28ms across all picture presets. It seems that NOT having to cram a Smart TV system into the set has a beneficial effect on responsiveness – even navigating the user menu felt much more fluid too.
Conclusion
The Samsung UE32F5000 is a brilliant little HDTV, delivering deep blacks, accurate pictures, good screen uniformity and solid standard-def processing. Compared to last year's EH5000, its chassis is slimmer; colours are more accurate; and motion resolution is slightly higher with [LED Clear Motion] engaged. And compared to the step-up F5500 we recently tested, the 32in F5000's colours are more well-saturated; viewing angles are wider; and black level is marginally darker.
We're not sure how much of these improvements is down to the superb SPVA LCD panel used, but if you can find a set blessed with such a panel, there won't be a better TV in this size, at this price.