So far this year, a lot of marketing emphasis seems to be placed on how "smart" a manufacturer's television set can be. What with voice activation and face recognition, it begs the question of what will be next? How smart can an HDTV be? Samsung Electronics are certainly heading towards the top of the class with arguably the smartest move (excuse the pun) of offering the largest catch-up TV services, including ITV Player, 4oD and Demand 5. Today we're reviewing the UE32F6400, which is the smallest model of the Korean company's Series 6 with a 32-inch screen size.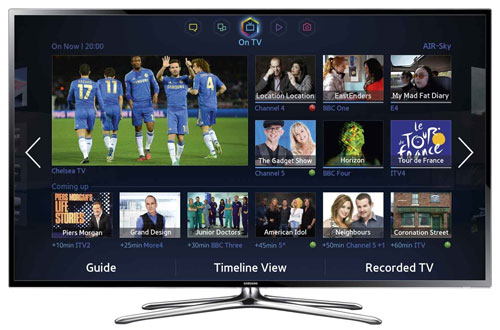 It carries the same features as its 40-inch brother we reviewed back in May, which includes a Freeview HD tuner, integrated WiFi, dual-core processor, 200Hz Clear Motion Rate (CMR), and Samsung's Smart Hub 2.0 internet-connected platform boasting voice control interaction.
We know from our review of the 40in F6400 that 2D picture performance is excellent, so let's see if the baby of the family can match that of its bigger brother.
Design
The Samsung UE32F6400 sports the same design and build quality of the UE40F6400 we previously reviewed. We encountered the same issues with the ill-fitting screws on the plastic enclosure on the back (which was again disappointing), but we were pleased to find the quad-legged table-top stand allowing for the television to be swivelled. It's a shame however that the HDMI inputs are located so close to the side of the panel, as plugged-in cables can clearly be seen sticking out from the side of the panel which looks a little untidy.
Connections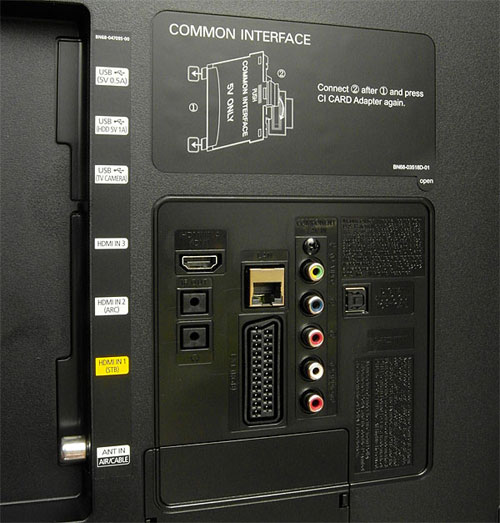 Rear: 4x HDMI, 3x USB, component, RGB Scart, Freeview HD tuner, LAN & audio outs
Note:The on-screen menu, connection interface, remotes and Smart TV portal on the UE32F6400 are exactly the same as the ones found on the UE-40F6400 we've tested in May – please refer to that review if you haven't read it, or need a refresher.
Calibration
Note: Our review sample was calibrated using CalMAN 5, the industry-leading video calibration software.
Greyscale
Setting the UE32F6400 to [Movie] mode with a default [Colour Tone] of "Warm 2", the Samsung produced a greyscale with excessive green and underfilled blue. The image took on a greenish tinge, but thankfully the company offers an excellent array of calibration tools at our disposal, so this should be easily corrected.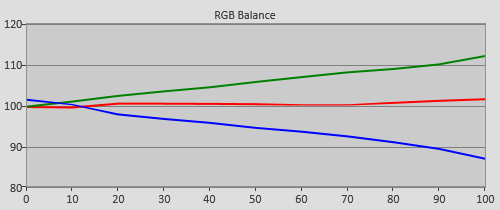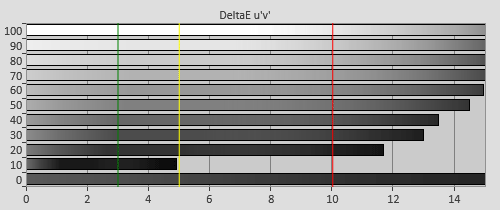 Pre-calibration RGB tracking and delta errors (dEs)
The image in [Movie] mode was far too bright and well exceeded our peak luminance target of 120 cd/m2. Reducing the [Backlight] to "9" and [Contrast] to "94" solved this, and we hit our target with ease.
Using the 2-point [White Balance] controls got us close to our target of all delta errors (dEs) under 3 (which is the magic number as any errors below that are mostly academic and unnoticeable to the human eye), with just the 10% and 20% stimulus readings being off. Sometimes, trying to use the 10-point WB controls to correct this can lead to higher errors at other readings that were correct before. For example, tweaking the 20% stimulus with the 10p control would correct that error, but increase the dE at the 30% stimulus. This was the case here, and at one point we did find ourselves chasing our tail a bit, but it wasn't too long before we got the excellent result which you can see below with an average dE reading of 0.53.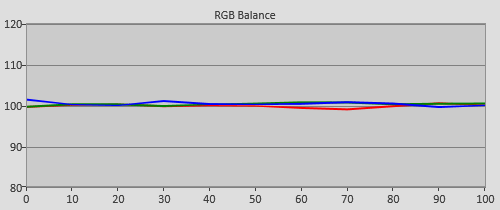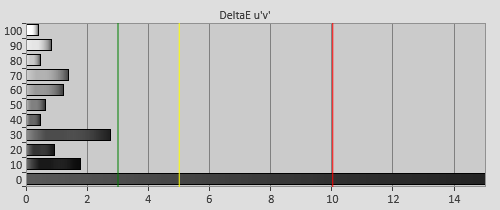 Post-calibration RGB tracking and dEs in [Movie] mode
Gamma
Gamma in the default [Movie] mode tracked at 2.04 which was way off the target of 2.4 set by as the reference EOTF (electro-optical transfer function) for flat-screen HD displays used for studio mastering in a dark environment. By reducing the global [Gamma] control to "-3" in the [Advanced Settings] submenu we were able to almost hit our target perfectly.
| | |
| --- | --- |
| | |
| Pre-calibration gamma tracking (2.04) | Post-calibration gamma tracking (2.4) |
Colour
We tested the Samsung UE32F6400's grasp of colours by selecting the [Movie] mode's default "Auto" [Colour Space] setting. As with the greyscale, there was too much green, which again was not helping the greenish image we encountered earlier. We can breathe a sign of relief though, as with a now accurate greyscale and access to the Korean brand's excellent CMS (colour management system), we managed to correct these errors to produce almost perfect colour decoding with all errors below the magic dE number of 3.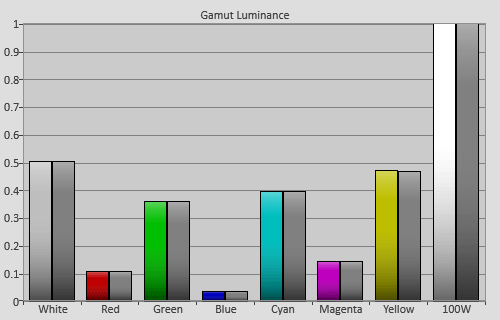 Post-calibration colour luminance (coloured bars=targets; black bars=measured values)
It was disappointing to see that the Samsung UE32F6400 however couldn't match the near-perfect saturation tracking observed on its 40" brother.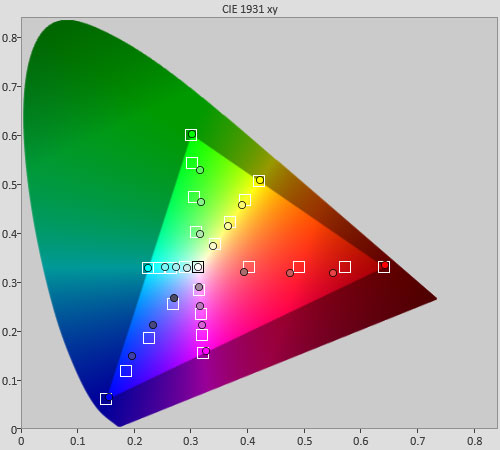 Post-calibration colour saturation tracking
Benchmark Test Results
| | |
| --- | --- |
| Dead pixels | None |
| Screen uniformity | Very good for edge LED |
| Overscanning on HDMI | 0% with [Picture Size] set to "Screen Fit" |
| Blacker than black | Passed |
| Calibrated black level (black screen) | 0 cd/m2 (LEDs shut off) |
| Calibrated black level (ANSI checkerboard) | 0.0476 cd/m2 |
| Black level retention | Auto-dimming with full black screen |
| Primary chromaticity | Very good |
| Scaling | Good |
| Video mode deinterlacing | Good |
| Film mode deinterlacing | Passed 3:2 cadence over 480i & 1080i; and 2:2 over 576i |
| Viewing angle | Decent for VA LCD: washout occurs beyond 45° off-axis |
| Motion resolution | 1080 with [Motion Plus] engaged; 300 otherwise |
| Digital noise reduction | Optional; effective when engaged |
| Sharpness | Defeatable edge enhancement |
| Luma/Chroma bandwidth (2D Blu-ray) | Full luma; chroma horizontally blurred |
| 1080p/24 capability | No judder in 2D |
| Leo Bodnar input lag tester | 43ms |
Power Consumption
| | |
| --- | --- |
| Default [Standard] mode | 76 watts |
| Calibrated [Movie] mode | 50 watts |
| Standby | <1 watt |
Picture Quality
Note: While the Samsung UE326400 is a 3D-capable HDTV, it doesn't come with any free 3D glasses (nor have we been loaned any with the review sample), so we will be focusing on the 2D performance of the display.
We quickly forgot about the issues with the colour saturation when we looked at the way the 32in F6400 handled blacks. Using the ANSI checkerboard test pattern, we took a reading of 0.0476 cd/m2 which is very good by LED LCD standards. We've seen deeper blacks from an LED TV (namely the Panasonic TX-L42E6B, which hit an impressive 0.0268 cd/m2), but for anyone wanting a 32" screen, the 32F6400 provides the best blacks we've seen thus far this year – Panasonic's 32-inch version of the Viera E6 uses an IPS panel which measured a mediocre 0.134 cd/m2 for black level. We're also pleased to report that we saw no evidence of backlight bleed or clouding on the Samsung. So far so good!
Once calibrated, the UE32F6400 offered up a truly impressive image. Our review unit was with us just in time for the Wimbledon tennis championships, and the television did a great job with the fast-paced action of the men's final, in terms of both picture quality and motion. With [Motion Plus] engaged, the BBC HD feed not only looked good digging out plenty of detail, but the clarity and tracking of the ball as it was whipped across the court was handled extremely well. Furthermore, the Samsung F6400 had no problem in returning 1080 lines from our scrolling test chart, though this number dropped to just 300 when [Motion Plus] was deactivated.
Standard definition was also a pleasing watch, with the UE-32F6400 doing a great job of upscaling in real-life viewing. Of course being of a smaller screen size always helps, but even when viewed up close, edges looked well-defined and we were more than satisfied with the result. Feeding the Samsung with our battery of test patterns however revealed a few more jaggles than we would have liked to see, but in the Samsung's defence these were not really noticeable in real-world viewing. Film based material wasn't a problem for the TV, and the F6400 had no problem in locking onto 2:2 cadence.
Blu-ray images were a joy to behold on the UE32F6400 once calibrated. The epic battle scene at the Colosseum from the newly remastered version of Gladiator looked scarily good for an HDTV at this price point. With deep blacks and tremendous amount of detail, the Samsung looked fantastic when fed 1080p material. Our only issue was that skin tones appeared a bit too hot: at one point, Russell Crowe looked like he'd had a bit too much sun! This was a real shame as the rest of the image looked really good – however there is a fix…
Under the [Advanced Settings] submenu, Samsung provides a feature called [Flesh Tone] which basically increases or decreases the colour red in skin tones. To our eye, dialling the slider down to "-10" solved the problem. We had a similar problem with skin tones looking too hot on another excellent reference disc – Skyfall. When we watched it again after adjusting [Flesh Tone] to "-10", the hot flush that Daniel Craig was suffering from had gone. For anyone else who has an issue with skin tones looking a bit hot on a Samsung display, check to see if you have a [Flesh Tone] setting tucked away: hopefully it'll work for you too.
Smart TV
The UE32F6400's Smart Hub offers an array of apps and social features, not to mention all the major terrestrial catch-up TV services. We found ourselves having a little play with the YouTube app to see how speedy it streamed via the wireless network, and we were a little disappointed. Whereas the Panasonic TX-L32E6B we reviewed last month had no buffering issues, the Samsung had a real struggle with this. The Panasonic E6 would also default to the highest-quality setting, regardless of whichever video you chose to watch, but the 32F6400 didn't.
More buffering issues were apparent when trying to watch any HD feed via the BBC iPlayer app. Even when switching over to a SD feed, we found that the F6400 would hang for longer than we would've liked.
Console Gaming
Using the Leo Bodnar input lag tester, we measured a very disappointing 113ms in [Movie] mode. Things improved when we engaged [Game] mode which is hidden away in the [System Settings] menu – a reading of 43.1ms represented a much better result. Although we've seen TVs with lower lag, this should satisfy most non-hardcore gamers out there.
Sound
Like the 2D image quality, audio quality was real pleasant surprise. We were expecting yet another thin-sounding set of speakers, but the UE32F6400 offered up an impressive soundstage. We tried the [Virtual Surround] setting, which is supposed to give you the illusion of a 5.1 system. Engaging this effect really didn't sound anything like surround sound, but instead just made everything sound far too echoey, so we disabled it and chose the [Standard] setting. It's nice also to see Samsung offering a custom EQ submenu for making manual adjustments to improve what was already an impressive sound.
Conclusion
For prospective buyers looking for a 32" flat-panel HDTV, you'd be hard pushed to find one that can offer the same level of 2D picture quality than that of the Samsung U32F6400. The array of calibration controls and Samsung's impressive colour management makes for a truly impressive 2D image at this price point, which is only slightly let down by its inaccurate colour saturation tracking, and the buffering issues when streaming internet content. With that being said, we have no problem in giving the UE-32F6400 a strong Recommended rating.