Even though Samsung has produced and sold LED-backlit flat screen HDTVs for some time now, 2009 marks the year when the world's largest electronics manufacturer starts marketing them under a new "LED TV" moniker to distinguish them from conventional CCFL-backlit LCD TVs. Here's the scheduled lineup of Samsung LED-backlit LCD TVs (otherwise referred to as "LED TVs" in this article for the sake of simplicity) for 2009:

B6000 Series: Entry-level edge-LED TV with 100Hz Motion Plus technology. Available now in 40-inch (UE40B6000/ UE40B6000VW) and 46-inch (UE46B6000/ UE46B6000VW) screen sizes.
B7000/B7020 Series: Mid-range edge-LED TV with 100Hz Motion Plus technology and enhanced interactive functionalities such as [Internet@TV], [Wireless DLNA] and [Content Library]. Available now in 40-inch (UE40B7000/ UE40B7000WW or UE40B7020/ UE40B7020WW), 46-inch (UE46B7000/ UE46B7000WW or UE46B7020/ UE46B7020WW) and 55-inch (UE55B7000/ UE55B7000WW or UE55B7020/ UE55B7020WW) screen sizes.
B8000 Series: High-end edge-LED TV with 200Hz motion technology. Expected to be available for sale from May 2009.
The Samsung UE40B7000 LED TV we are reviewing today employs the "Edge LED" technology which is quite different from the local-dimming LED backlighting system we have previously seen on the Samsung F96, A786 and A956 series. In "Edge LED" HDTVs, white LEDs are mounted along the edges of the screen to illuminate a cleverly arranged array of reflective plates which then steers the light forward and out of the screen.
As you can imagine, this "Edge LED" technology allows for breathtakingly slim panel depth and purportedly lower energy consumption (because less LED bulbs are used). Without further ado, let's see how the Samsung UE40B7000 HDTV fares in our tests…
Note: The Samsung UE40B7020 and the Samsung UE40B7000 differ only in their cosmetic styling (the UE40B7020 has a "Platinum Black" all black bezel; whereas the UE40B7000 has a "Rose Black" bezel), so for all intents and purposes, the findings in this UE40B7000 review can also be applied to the UE40B7020.
Design
In recent years Samsung TVs have developed a reputation for being stylishly designed, but this edge-lit LED LCD TV really takes it to the next level. Measuring only 3cm in depth, it's not far-fetched at all to describe the Samsung UE40B7000 as wafer-thin. Its mildly reflective "Ultra Clear Panel" is framed by a polished black bezel infused with red accent towards its outer edges, which is further encased by a thin strip of see-through plastic extending beyond the borders. Beneath the Samsung logo along the bottom border of the bezel, you'll find a smiling red-orange LED indicator light which would blink in response to any remote keypress even if you elected to switch it off in the user menu.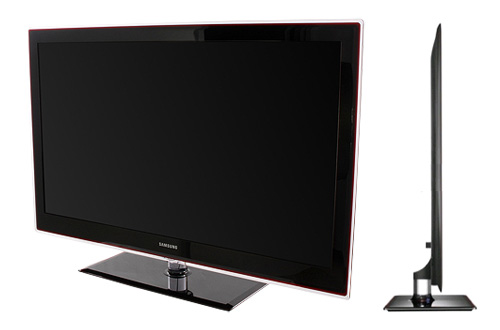 Designed to match the bezel, the black rectangular base of the swivelling pedestal stand also sports red borders with transparent fringe. The translucent pedestal stem allows you to vaguely spot your cables running down the back of the Samsung UE40B7000 HDTV. All in all, even when switched off the Samsung UE40B7000 is a stunning looker… its size-zero slenderness really wouldn't look out of place in a Valentino fashion show.
Connections
Amazingly, Samsung has managed to cram 4 HDMI inputs, 2 USB ports and even a TV tuner into the rear of the Samsung UE40B7000 without compromising its slimness, although the shallowness of the recessed connection bay may prevent thicker cables from fitting the input sockets snugly. If you wish to connect your devices to the Samsung UE40B7000 via Scart, component or composite, three breakout cables are supplied though their relatively cheap quality may not sit well with owners of high-end equipments.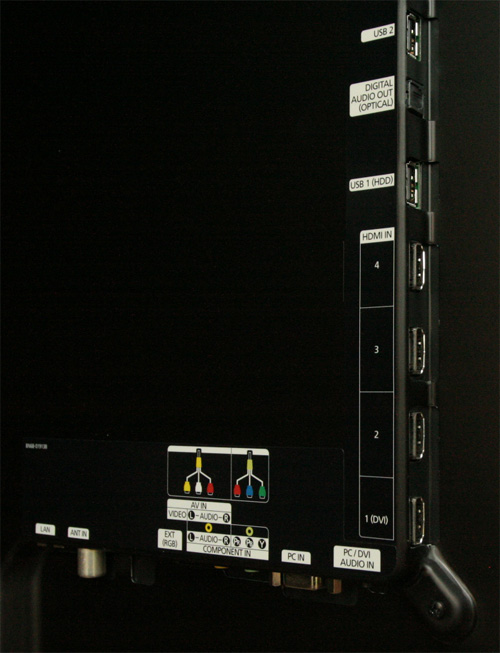 Rear: 4 x HDMI, 2 x USB, VGA, ethernet, aerial, digital audio out, CI slot (not shown)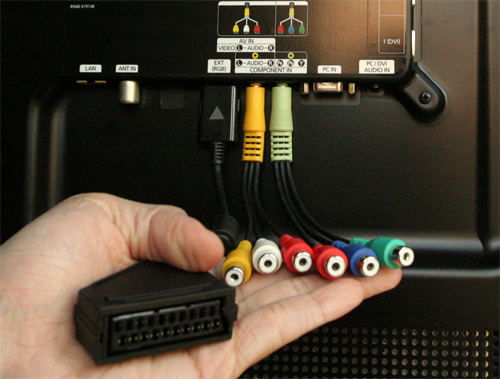 Breakout cables for Scart, composite and component connections
Operation
The on-screen user menu, EPG and multimedia interactive functionalities (such as [Internet@TV], [Media Play] and [Content Library]) on the Samsung UE40B7000 are essentially the same as those found on the LE40B650 which we have reviewed in depth last month, so please refer to the relevant sections if you need more detail.
Infrared Remote Control(s)
The Samsung UE40B7000 comes with not one, but two remote controls. Featuring a gloss black coating and user-friendly, backlit buttons, the first one is no different from that bundled with the LE40B650 apart from a peculiar hook-shaped appendage which curves backwards at the bottom of the remote.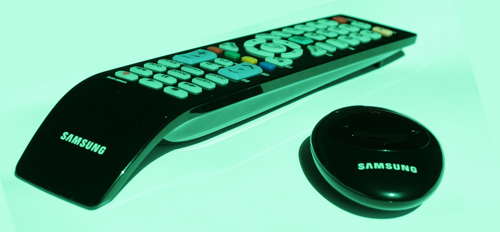 Left: Main remote; Right: Baby remote
The second, smaller remote looks like a supersized key fob, and lets you power the Samsung UE40B7000 on and off, as well as change volume and channels. We doubt this baby remote will be used much, if at all.
Calibration
Greyscale
Just like the LE40B650, out of the box "Movie" [Mode] with its default "Warm2" [Colour Tone] provided the greyscale closest to D65 standard on the Samsung UE40B7000:

Pre-calibration CCT with "Movie" [Mode] & "Warm2" [Colour Tone]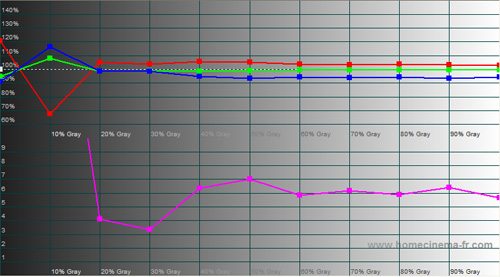 Pre-calibration RGB tracking and delta errors (dEs)
We performed our initial run of greyscale calibration on the Samsung UE40B7000 by adjusting the RGB offset and gain controls in the [White Balance] submenu. Here are the results:
CCT after greyscale calibration in "Movie" [Mode]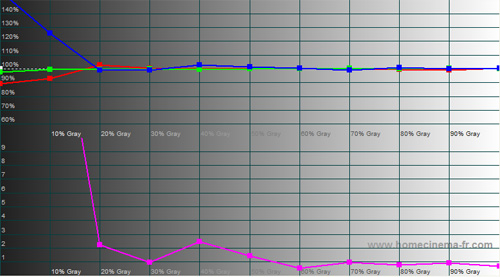 RGB tracking and delta errors (dEs) after greyscale calibration
At first glance a good job was done: delta errors (dEs) were curbed below 3 from 20% stimulus onwards. However, these CCT and RGB tracking graphs do not tell the full story… here's why.
Samsung has by default implemented auto-dimming on the UE40B7000, presumably to achieve the very deep blacks that edge-lit LED backlighting technology is capable of. What this means is, when the content on screen falls below a pre-defined Average Picture Level (APL) threshold, the light output on the Samsung UE40B7000 would dim down automatically.
And because the dimming effect on the Samsung UE40B7000 is of the global (again an unavoidable characteristic of edge-LED backlight) rather than local (i.e. individual LED arrays can be activated and deactivated separately) variant, once the auto-dimming is triggered there would be a corresponding drop in the luminance of even the brighter elements within the image on screen, resulting in reduced contrast (and, to a lesser extent, diminished colour saturation and intensity).
In other words, greyscale and point gamma could shift dynamically from frame to frame, particularly affecting darker scenes with lower APLs which would trigger the auto-dimming.
The auto-dimming/ black level fluctuation on the Samsung UE40B7000 can be defeated by engaging [Game Mode] and then setting [Dynamic Contrast] to "Off" (many thanks to Mr Laurent Grimal and Mr Seow who independently verified that this worked on their sets), though this solution is less than satisfactory as it entails some compromises in video processing (will be explained in a later section). Nevertheless, to remove low-APL greyscale and gamma fluctuation from the equation, we proceeded to calibrate the Samsung UE40B7000 in [Game Mode]:

CCT after greyscale calibration in [Game Mode]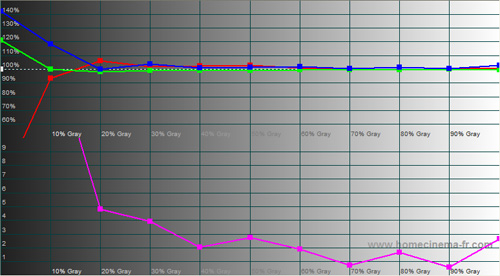 RGB tracking and delta errors (dEs) after greyscale calibration in [Game Mode]
Because [Game Mode] limits us to [Picture Mode] "Standard" and [Colour Tone] "Normal" (which yielded a pre-calibration colour temperature in excess of 8500K), the calibrated greyscale in [Game Mode] did not track as well as that in "Movie" [Mode]. Still, we managed to keep delta errors (dEs) below 4 from 30% stimulus onwards… not a bad result at all.
Colour
[Colour Space] "
Auto
" was faithful to HD Rec. 709 specifications, while [Colour Space] "
Native
" was oversaturated (especially green):
| | |
| --- | --- |
| | |
| [Colour Space] "Auto" | [Colour Space] "Native" |
By setting [Colour Space] to "Custom" on the Samsung UE40B7000 to access its colour management system, we had no problems mapping the x, y coordinates of all the primary (except blue) and secondary colour points to obtain accurate hues and saturation, but aligning colour decoding proved to be far more difficult because the colour intensities are heavily influenced by the aforementioned APL-dependent auto-dimming.
We advise sticking to [Colour Space] "Auto", unless you wish to calibrate the colours in [Game Mode] which of course disables the auto-dimming, making it possible to achieve supremely accurate hue, saturation and colour decoding: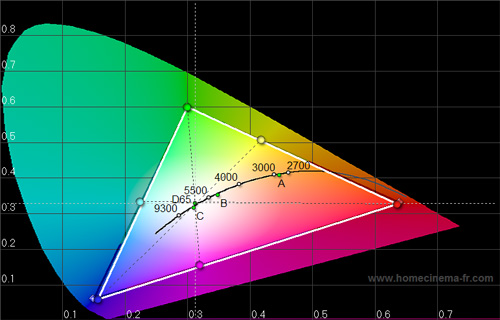 Post-calibration CIE chart in [Game Mode] with reference to HD Rec. 709
Benchmark Test Results
| | |
| --- | --- |
| Dead pixels | None |
| Screen uniformity | Mild clouding and backlight bleed |
| Overscanning on HDMI | 0% with [Size] set to "Screen Fit" |
| Blacker than black | Passed |
| Black level | 0.01 cd/m2 when auto-dimmed |
| Black level retention | Stable only in [Game Mode] with [Dynamic Contrast] "Off" |
| Primary chromaticity | Excellent in "Auto" [Colour Space] |
| Scaling | Good |
| Video mode deinterlacing | Excellent |
| Film mode deinterlacing | Passed 3:2 cadence in 480i and 1080i; and 2:2 in 576i |
| Viewing angle | 90° |
| Motion resolution | [100Hz Motion Plus] engaged: 550; "Off": 300 |
| Digital noise reduction | Acceptable at baseline |
| Sharpness | Defeatable edge enhancement |
| 1080p/24 capability (PS3) | Accepts 1080p/24 video signal; no telecine judder |
| Input lag (rel. to Samsung F96) | 22ms in [Game Mode] or over VGA; 85ms otherwise |
Power Consumption
| | |
| --- | --- |
| Default "Dynamic" [Mode] | 104 watts |
| Calibrated "Movie" [Mode] | 78 watts |
| Standby | <1 watt |
Picture Performance
Black Level
Because of the presence of auto-dimming, it's only fair that we qualify our black level figures with the Average Picture Levels (APLs) under which they are measured. On a totally black screen (video black), the Samsung UE40B7000's calibrated black level – enhanced by auto-dimming – was measured at 0.01 cd/m2, a superb figure that is beaten only by 9G Pioneer Kuro plasmas (e.g. the PDP-LX5090) and Samsung local-dimming LED-backlit LCD TVs like the F96, A786 and A956 series. On an ANSI checkerboard test pattern, we recorded a still excellent 0.06 cd/m2.
In [Game Mode] where auto-dimming is disabled by switching off [Dynamic Contrast], calibrated black level was 0.04 cd/m2, matching that measured on the CCFL-backlit LE40B650 LCD TV.
Screen Uniformity
Even after calibration, and even with the aid of auto-dimming, the Samsung UE40B7000 exhibited slightly worse screen uniformity than the latest conventional CCFL-backlit LCD televisions such as the Samsung B650 and Sony W5500 series. On a totally black screen (video black), we observed mild backlight bleed on all 4 corners of the screen, as well as several patches of clouding.
However, these screen uniformity issues probably fall within our expectations for non-plasma flat screen HDTVs, and to be fair were quite subtle and not really noticeable in real-life viewing (especially in brighter ambient lighting conditions).
Video Processing
As was the case with the LE40B650, standard-definition video processing was overall very good on the Samsung UE40B7000 LED TV. Because we're interested in using [Game Mode] for critical viewing due to the lack of auto-dimming/ black level fluctuation, we also investigated its video processing properties.
With [Game Mode] engaged, video processing on the Samsung UE40B7000 took a hit in the following manner:
Slightly worse video-mode deinterlacing (more jaggies seen);
No film-mode deinterlacing;
Marginally worse digital noise suppression at baseline;
[100Hz Motion Plus] greyed out and therefore cannot be activated; and
Subtle telecine judder witnessed with 1080p/24 material.
Points 1 and 2 can easily be circumvented by outsourcing the deinterlacing process to a competent external device (i.e. send a progressive video signal from your DVD player/ set-top box/ external video processor); and point 3 is basically a non-issue. As far as we're concerned, the 2 significant downsides to engaging [Game Mode] is lower motion resolution, and the introduction of subtle telecine judder when the UE40B7000 is fed with 1080p/24 signal.
Standard Definition (Freeview Digital TV)
Just like the B650 series, the Samsung UE40B7000 is blessed with high-quality upscaling and excellent deinterlacing (both video- and film-based), which makes standard-def material extremely watchable. We did witness some low-grade motion smear on slow-medium pans, but engaging [100Hz Motion Plus] – we liked a "Custom" setting of [Blur Reduction] "8" and [Judder Reduction] "0" – quickly rectified this.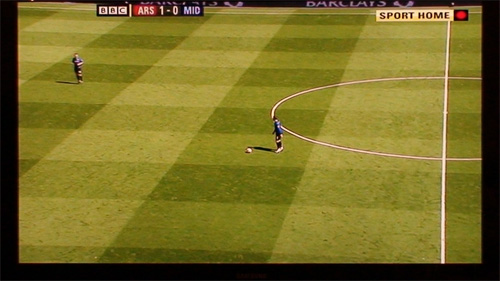 [Game Mode] is greyed out and hence not available when watching TV programmes through the internal tuner. Fortunately, most sports programmes – for instance football and snooker which were on TV all week – are usually shot in well-lit environments, delivering sufficiently high Average Picture Levels (APLs) to avoid eliciting auto-dimming/ black level fluctuation on the Samsung UE40B7000. In these brighter scenes, the combination of D65 greyscale and almost spot-on primary and secondary chromaticities resulted in beautifully accurate green hues on the football pitch and the snooker table, not to mention suitably convincing flesh tones. The aforementioned "
Custom
" [100Hz Motion Plus] settings did not introduce any significant interpolation artefacts.
High Definition (Blu-Ray)
With [Size] set to "Screen Fit" to attain 1:1 pixel mapping, the Samsung UE40B7000 portrayed the fine details in the spy thriller Body of Lies on Blu-ray – be it the grains of sand in the desert, or Roger Ferris' (Leonardo DiCaprio) facial hair, pores and scars – with impeccable sharpness and crisp definition. Along with the deep canvas of blacks, this appreciable sharpness contributed immensely to the sense of depth and dimensionality we so crave from high-definition material.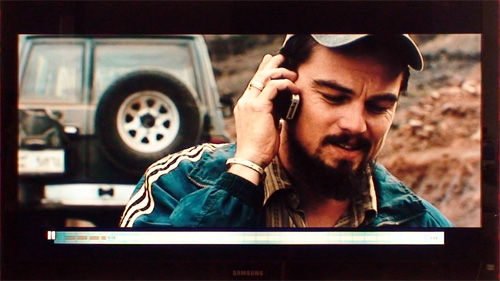 In brighter sequences (for example those filmed in sun-drenched deserts), colours looked wonderfully realistic judging from the skin tones and whatever little foliage there was on display, thanks to D65 greyscale (achieved with calibration), and mostly accurate primary and secondary colour points.
However, because the light output on the Samsung UE40B7000 was globally reduced once the Average Picture Level (APL) of the content being displayed on screen dropped below a certain threshold, predominantly dark scenes would appear a touch lifeless and desaturated. Needless to say, in these darker scenes shadow detail suffered a bit as well due to the drop in overall luminance.
Our main bugbear with the auto-dimming/ black level fluctuation on the Samsung UE40B7000 is not so much the black level fluctuation itself (we really do think that the actual dimming process is for the most part reasonably subtle and not distracting), but the depressed luminance of the brighter elements within a mostly dark scene resulting in poorer perceived contrast.
The most obvious examples in Body of Lies are the numerous insertions of faded-in white text on a black background stating the location of the next scene. In spite of inkier blacks, the lower overall luminance on the Samsung UE40B7000 (brought about by global auto-dimming) meant that the white text was not delivered with the desired impact. This was especially obvious during the daytime (not that we're recommending this for critical viewing… just trying to make a point): stronger competing ambient light made the dip in perceived contrast even more noticeable when it came to displaying predominantly dark content.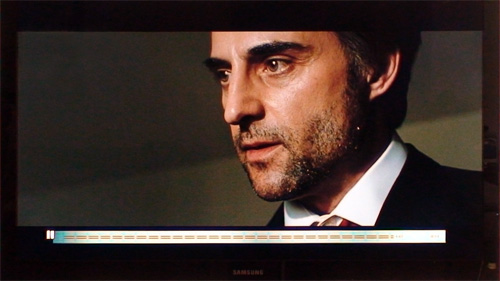 Engaging [Game Mode] and then disabling [Dynamic Contrast] eliminated any black level fluctuation while still maintaining deep blacks, exquisite detail, D65 greyscale and accurate colours, but introduced a subtle telecine judder to slow panning shots, for example the many high-resolution surveillance satellite tracking footages in Body of Lies. Whether or not this telecine judder will bother you depends on your individual sensitivity and whether you recognise it in the first place; to us, it was largely tolerable.
Sound Quality
As you can expect from the acoustic limitations imposed by the Samsung UE40B7000's super-slim chassis, its internal speakers sounded hollow and bereft of any meaningful imaging. It can go fairly loud without distorting, and dialogue is reasonably clear, but for critical viewing/ listening, we would go with external home theatre systems.
Our Samsung UE40B7000 review sample did not emit any significant background noise either in use or in standby.
Conclusion
Pros
Accurate colour chromaticities and decoding
Capable of 0.01 cd/m2 blacks (though with auto-dimming; see Cons)
Impressive SD video processing
"Custom" [100Hz Motion Plus] setting allows for blur reduction independent from dejudder processing
Stunning super-slim styling
Extensive networking and media playback versatility (Internet@TV, Media Play, DLNA, etc.)
Consumes less power than LCD televisions of similar size
Cons
Auto-dimming/ black level fluctuation at low Average Picture Level (APL), unless [Game Mode] engaged and [Dynamic Contrast] set to "Off"
Mild clouding and backlight bleeding
Input lag may affect sensitive gamers
Summary
The UE40B7000 is the fruit of Samsung's commendable maiden effort at implementing edge-lit LED backlighting technology on a flat screen HDTV. Not surprisingly, this first-generation product is not problem-free. For starters, the edge LED system can contribute to some backlight uniformity issues though the severity varies from unit to unit. Our review sample exhibited some mild clouding and backlight bleed, but these were barely noticeable in real-life viewing after proper calibration and ambient light setting.
To artificially generate deeper blacks and live up to its marketed contrast ratio (and perhaps even mask the uniformity issues), unfortunately Samsung has also introduced low-APL auto-dimming which can adversely affect the image quality of darker scenes. The auto-dimming can be thwarted by engaging [Game Mode] and then disabling [Dynamic Contrast], but this entails some heavy sacrifices in video processing, motion resolution and 1080p/24 handling… truly a case of being caught between a rock and a hard place.
Nevertheless, the Samsung UE40B7000 LED TV is not without its merits. The television set's stunning design, deep blacks, accurate colours, advanced motion-compensated frame interpolation (MCFI) technology, impressive video processing, superior energy efficiency and extensive networking/ media-playing functionalities did enough to earn the Samsung UE40B7000 a well-deserved recommendation from us here at HDTVTest.