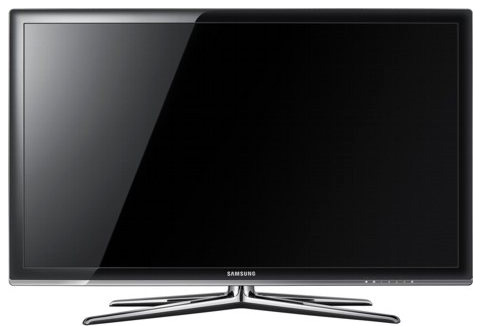 Samsung will be launching their new 2010 range of HDTVs – first unveiled at CES Las Vegas back in January – in the United Kingdom next month. Scheduled to first hit the stores (and the review desks) is the Samsung UE40C7000, an edge-lit LED-based 3D TV which will also boast the following features:

200Hz motion technology;
Freeview HD tuner;
"Internet@TV" offering access to selected online content such as BBC iPlayer and Lovefilm on-demand movie streaming; and
PVR functionality by plugging in a USB external hard drive or memory stick.
The 3D technology implemented on all Samsung 3D TVs including the UE40C7000 is the active shutter (also known as alternate-frame sequencing) variant powered by RealD. Requiring the use of shutter glasses dubbed "3D Active Glasses", Samsung's 3D technology works by first blocking the left and then the right lens to deliver alternating images to each eye to create the illusion of 3D depth.
Unfortunately these 3D glasses will have to be purchased separately as they are not included with the 3D TV, though some retailers may start selling various bundles at a discount. Two versions of these 3D active shutter glasses are available: a battery-powered one at £100, or a a rechargeable one at £150. The good news is that Samsung's 3D glasses are designed according to the specifications set by the Glasses Standardization Working Group of the Consumer Electronics Association (CEA), and so can potentially be used on 3D TVs from other manufacturers.
The Samsung UE40C7000 is expected to go on sale in the United Kingdom from March 2010 with a RRP of £1800. The Samsung C7000 series of LED-based 3D TVs will also be available in larger sizes: a 46-inch Samsung UE46C7000, and a 55-inch Samsung UE55C7000. Samsung will also release a C7700 range (e.g. the Samsung UE40C7700) which will sport an extra DVB-S satellite tuner.