Judging from Samsung's lineup of LCD HDTVs for 2011, it's clear that the Korean TV manufacturer is trying to phase out those equipped with traditional CCFL (cold-cathode fluorescent lamp) backlight, preferring to focus instead on LED-backlit models which have proven popular among consumers owing to their slender build and frugal power consumption. As a case in point, none of the company's 2011 CCFL LCD televisions feature 100Hz motion, 3D capabilities nor Smart TV internet-connected portal – potential buyers would have to venture into LED TV territory if these technologies are essential to them.
The Samsung UE40D5520 is one of the brand's entry-level LED LCD TVs on which 100Hz motion-compensated frame interpolation (MCFI) and Smart TV platform are specified. It doesn't do 3D though, which is not surprising given its price point. With an integrated Freeview HD tuner and four HDMI inputs thrown in, the UE40D5520 is certainly not found lacking on paper, but let's see if its real-world performance holds up…
Note: The specific model we tested was the Samsung UE40D5520RKXXU, which was updated to firmware 1013 (the latest at the time of review). While we did not test the smaller 32-inch UE32D5520, there shouldn't be any significant difference in the picture quality of these TVs given similar specifications.
Design
Despite being an entry-level model, the Samsung UE40D5520 boasts a slim profile that is truly something to behold – no wonder the mass market penetration of LED-based LCD televisions keeps going up. Even the shipping box is purposely streamlined to highlight the size-zero attraction of the TV contained within.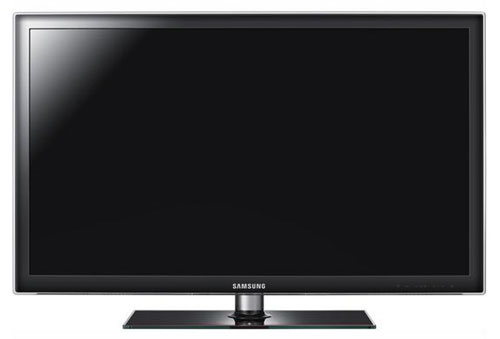 Although the polished black bezel on the D5520 is (much) chunkier than the nearly-invisible ones found on step-up D7000 and D8000 series, in this author's opinion the overall aesthetics remains elegant enough to adorn any respectable living room. Build quality is decent, but the thin LCD panel can feel a touch flimsy sitting on the rectangular swivel stand.
Connections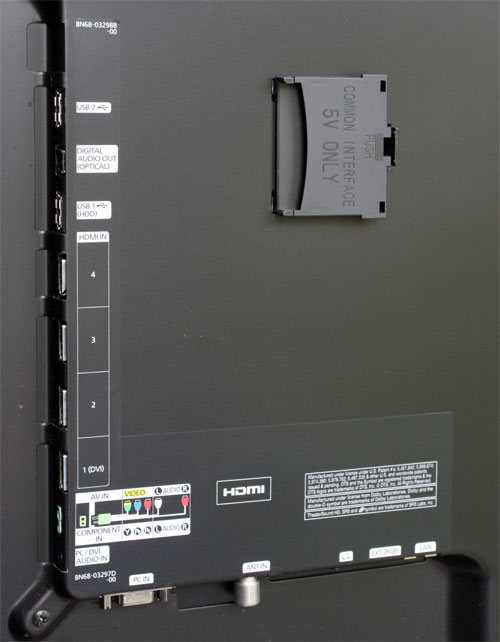 Rear: 4 x HDMI, VGA, 2 x USB, aerial, ethernet, CI slot, headphone and audio outs, etc.
Operation
| | |
| --- | --- |
| | |
| [Picture] menu | [Picture Options] submenu |
The cleanly designed graphical user interface (GUI) on the UE40D5520 is the same as those spotted throughout Samsung's 2011 HDTV ranges. A reasonable array of picture-affecting controls are offered within the TV's user menu, although 10-point [White Balance] (it still has 2-point WB) and 3-axis colour management system (CMS) have been omitted from this model. The [LED Motion Plus] control is also somewhat limited, presenting only an on/off toggle instead of highly customisable options found on higher-end D7000 and D8000 series.
[Advanced Settings] submenu
The Samsung D5520 series is the least expensive Smart TV range from the Seoul-based television maker. Pressing the [SMART] button on the remote summons the "Smart Hub" internet-connected portal on the UE40D5520 minus a few key functionalities (such as web browsing) which are reserved for higher-end models.
Calibration
Note: Our Samsung UE40D5520 review sample was calibrated using Calman Professional, the industry-leading video calibration software.
Greyscale
Out of the box, the [Movie] picture preset with its default [Colour Tone] of "Warm2" yielded the greyscale closest to D65 industry standard on the Samsung D5520 LED TV, though there remained a slight predominance of red:
Pre-calibration CCT in [Movie] mode with [Colour Tone] "Warm2"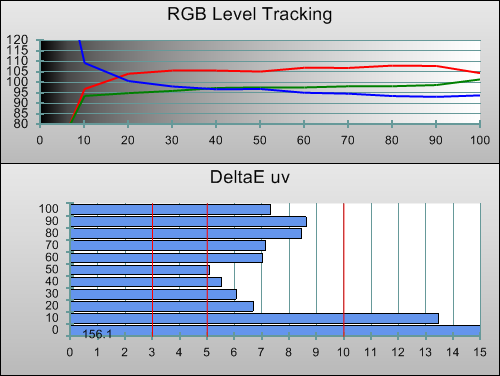 Pre-calibration RGB tracking and dEs in [Movie] mode
Even without the luxury of ten-point white balance controls, our Samsung UE40D5520 review unit calibrated superbly as far as greyscale was concerned. After some back-and-forth adjustments between RGB offsets and gains, we achieved delta errors (dEs) of less than 4 (widely accepted to be the perceptible limit) from 10% stimulus onwards, with the majority being below 2:
Post-calibration CCT in [Movie] mode with [Colour Tone] "Warm2"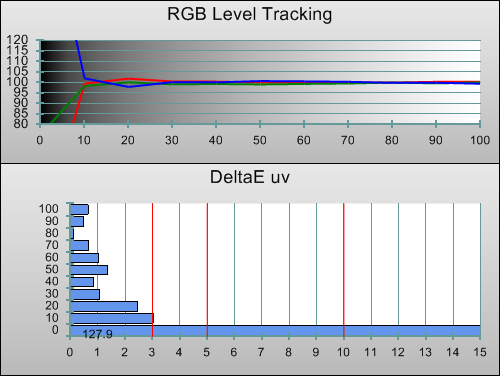 Post-calibration RGB tracking and dEs in [Movie] mode
This is an excellent outcome especially considering the lack of 10-point white balance controls on the HDTV, and should translate into real-world images that are free from overly warm or cool colour tinting.
Gamma
| | |
| --- | --- |
| | |
| Post-calibration gamma | Corresponding gamma tracking |
The default [Gamma] setting of 0 yielded gamma that tracked very closely to 2.2, with only a very slight dip below 30% stimulus which may obscure shadow detail marginally. The overall result is still wonderful though, delivering a punchy yet realistic transition from the dark to the bright areas on screen.
Colour
Starved of a full-fledged colour management system (CMS), there was precious little we could do to finetune the primary and secondary chromaticities on the Samsung UE40D5520. Fortunately, the out-of-the-box colours (following greyscale calibration) were decent enough, and we didn't even have to tinker much with the [Colour] or [Tint] controls.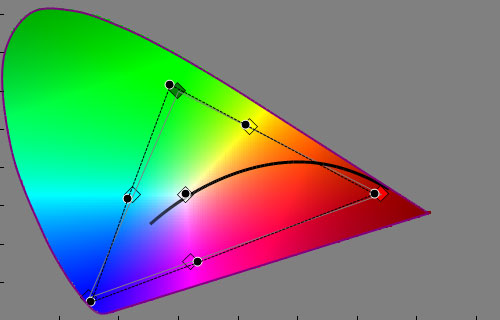 Post-calibration CIE chart with reference to HD Rec.709
Green primary was slightly oversaturated and tilted towards blue; red primary was a tad undersaturated; and there were some minor shifts in secondary colour points, but these really shouldn't be noticeable outside of a side-by-side comparison with a reference display. Colour decoding was acceptable, with no overt red push.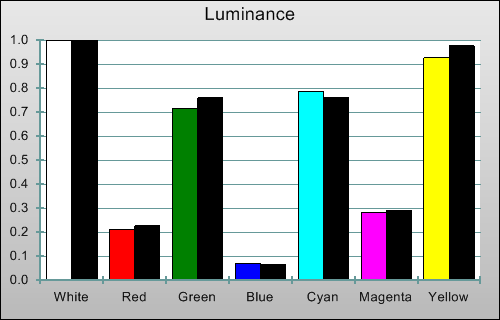 Post-calibration colour luminance (coloured bars = targets; black bars = measured values)
Benchmark Test Results
| | |
| --- | --- |
| Dead pixels | None |
| Screen uniformity | Some clouding |
| Overscanning on HDMI | 0% with [P.SIZE] set to "Just Scan" |
| Blacker than black | Passed |
| Calibrated black level (black screen) | 0.01 cd/m2 |
| Calibrated black level (ANSI checkerboard) | 0.03 cd/m2 |
| Black level retention | Undefeatable low-APL auto-dimming |
| Primary chromaticity | Very good in "Auto" [Colour Space] |
| Scaling | Excellent for progressive signals |
| Video mode deinterlacing | Excellent jaggies reduction |
| Film mode deinterlacing | Passed 3:2 cadence in 480i and 1080i; and 2:2 in 576i |
| Viewing angle | Good for a non-plasma TV |
| Motion resolution | 300 without [LED Motion Plus] |
| Digital noise reduction | Acceptable at baseline; effective when engaged |
| Sharpness | Defeatable edge enhancement |
| 1080p/24 capability | Accepts 1080p/24 video signal; no telecine judder |
| Input lag | 32ms in [Game Mode] and over VGA |
Power Consumption
| | |
| --- | --- |
| Default [Standard] mode | 61 watts |
| Calibrated [Movie] mode | 46 watts |
| Standby | <1 watt |
Picture Performance
Black Level
The Samsung UE40D5520 partakes in auto-dimming once the Average Picture Level (APL) on screen falls below a certain threshold, and this persists even in [Game Mode]. To make the auto-dimming less intrusive, we bumped [Shadow Detail] to the maximum value of "2", which served to minimise the difference between the dimmed and undimmed black levels. Even so, on a full black screen (video black) the blacks would drop to 0.01 cd/m2 from a more "natural" 0.03 cd/m2 measured on an ANSI checkerboard test pattern.
All in all though, this is a seriously impressive black-level response – on par with the company's D8000 LED LCD television higher up the ladder – which is surpassed only by Panasonic Neo Plasma displays among the HDTVs we've tested so far this year. The D5520's undefeatable low-APL auto-dimming does frustrate, but its effects can be mitigated somewhat with the help of ambient lighting which renders our eyes less sensitive to minor fluctuation in black levels.
Backlight/ Screen Uniformity
Some sacrifices need to be made to build a flat-panel TV this thin, and the area that is usually hit the hardest is backlight/ screen uniformity, due to the sheer proximity of the LCD sheet to the front glass, as well as the edge-mounted nature of illuminating LEDs. Even after calibration, the 40D5520 exhibited a few patches of clouding on predominantly dark scenes, although these became less apparent when there's a bright object on screen (to distract our gaze from the uneven patches), or under stronger ambient light (for example during the daytime). Dialing [Shadow Detail] down to the minimum setting of "-2" did mask the clouding to a degree, but then any jump in black level would become too conspicuous when auto-dimming kicked in.
Generally speaking, the severity of clouding on LCD panels can vary from one unit to another. The Samsung UE32D5520 may fare better in this regard: smaller screen sizes are usually less prone to uniformity issues since it's easier to illuminate them evenly.
Motion Resolution
The Samsung UE40D5520 is equipped with 100Hz "Clear Motion Rate" MCFI technology, which can be activated via the [LED Motion Plus] option in the user menu. However, the result was not really what we had hoped for: engaging [LED Motion Plus] introduced obvious interpolation artefacts around and even within the moving objects, so much so that measured motion resolution actually dropped paradoxically to 250 if we went by the test pattern found in Chapter 31 of the "FPD Benchmark Software For Professional" Blu-ray disc. Disabling [LED Motion Plus] restored the number of moving lines resolved to 300, the prevalent baseline figure for bog-standard LCD displays.
Standard Definition
For the most part, the standard-def video processing on the Samsung D5520 LED LCD television is exceptional, nay, class-leading. Jagged edges were suppressed almost completely; and the usual film cadences – such as 3:2 in 480i and 1080i, as well as 2:2 over 576i – were detected and processed correctly with [Film Mode] engaged. Here are the differences between [Film Mode] "Auto1" and "Auto2" (the latter should be used for SD viewing):
Auto1: passed 3:2 cadence over 1080i, but exhibited tearing on scrolling text overlay;
Auto2: failed 3:2 cadence over 1080i, but no tearing/combing on scrolling texts.
The quality of scaling/ upconversion was good, as long as the Samsung LED TV was fed with progressive video signals. When we sent an interlaced (576i) SMPTE RP-133 test pattern to the UE40D5520, the finest vertical details were lost, and the displayed image did not look as clean or crisp:
| | |
| --- | --- |
| | |
| SMPTE RP-133 over 576i | SMPTE RP-133 over 576p |
This may explain why off-air SD broadcasts on the panel veered on the soft side, almost demanding users to sprinkle in some artificial sharpening to counter the fuzziness. Thanks to the UE40D5520's commendable greyscale and colours though, standard-definition materials were still eminently watchable, as long as a sensible viewing distance was adopted.
High Definition
Owing to higher resolution, enhanced detail and richer colours, HD content more often than not looks good on almost any HDTV display, but the Samsung D5520 took it to the next level with its outstanding greyscale and gamma performance, which made watching the Blu-ray version of Inception on the TV an utterly captivating experience. Sun-lit scenes (for example the Paris dream sequence) received a first-rate treatment, with flesh tones and dark-to-bright transitions appearing wonderfully authentic.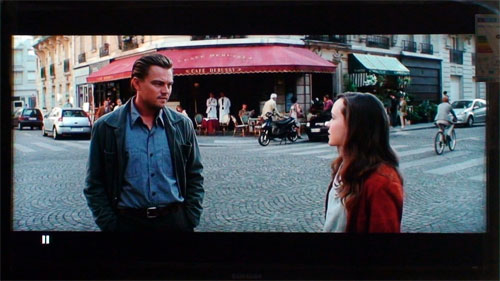 Unblemished by no superfluous edge enhancement nor noise smoothing, every last drop of detail in every intricate dream level was presented faithfully with pinpoint sharpness, rewarding viewers with an engrossingly textured feel.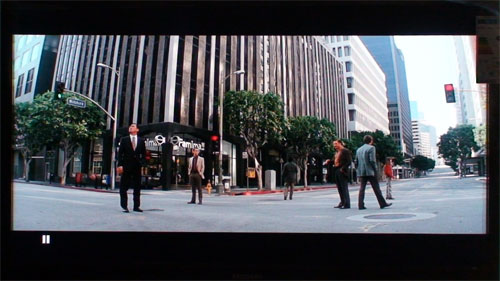 The UE40D5520 handled 1080p/24 video signal fluidly without any evidence of telecine judder. The soap-opera effect brought on by enabling [LED Motion Plus] was milder than other similar implementations, but as we failed to observe any improvement in motion clarity, we chose to leave it off.
Console Gaming
We measured the Samsung UE-40D5520's input lag in [Game Mode] and over VGA (or HDMI renamed to "PC") to be 32ms. Whilst not the lowest we've recorded, this is a perfectly acceptable figure: all but the most lag-sensitive of hardcore gamers should not find it wanting.
Conclusion
The Samsung UE40D5520 edge LED LCD TV has many virtues, such as deep blacks, excellent greyscale and gamma tracking, decent colours, solid standard-def video processing, svelte design and heightened energy efficiency. Although the TV's handling of terrestrial SD programmes is somewhat soft, and our review unit exhibited some clouding and undefeatable auto-dimming, these minor shortcomings do not stop the D5520 from joining our ranks of recommended HDTVs.