Samsung has discontinued this TV, and replaced it with the UE40H6400 which we've reviewed here.
Being the TV manufacturer that's largely responsible for making LED LCD televisions (specifically edge-lit ones) sexy in the eyes of the public, Samsung Electronics naturally offers a huge lineup of such displays in the United Kingdom. We've tested the top-end Series 8 (F8000) and the step-down Series 7 (F7000) LED TVs in recent months – now it's time for us to go one rung lower, and have a look at this year's Series 6.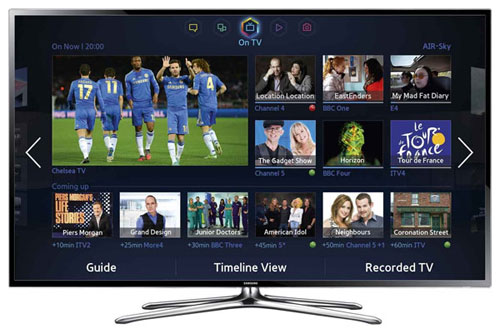 The UE40F6400 that we're reviewing today is the 40-inch model within the F6400 series, which is the lowest (and most affordable) range in Samsung's 2013 LED TV hierarchy to be equipped with active-shutter glasses (ASG) 3D technology. The F6400 does not have the Freesat HD tuner, inbuilt camera, Micro Dimming, quad-core processor (it only has dual-core) and 800Hz Clear Motion Rate (only 200Hz) reserved for the higher-up F7000 LED, but retains the Freeview HD DVB-T2 tuner, integrated WiFi capability and the Korean brand's new Smart Hub internet-connected platform.
Of course, here at HDTVTest we place a lot of emphasis on picture performance, so let's get down to business, and see if enough of the image quality goodness of the Samsung F8000 and F7000 series – both recipients of our "Highly Recommended" awards – drips down to the UE-40F6400.
Note: The specific model we reviewed was the Samsung UE40F6400AKXXU which denotes the UK 3-pin-plug version. Although we haven't seen the smaller, 32-inch Samsung UE32F6400 or the larger, 46-inch UE46F6400, there shouldn't be any significant difference in picture quality given similar specs within the F6400 range.
Design
The styling of the UE40F6400 is a notch down from the F7000 and F8000 (which is not surprising at all given the difference in price), but is still appealing in its own right. The glossy black bezel surrounding the LCD screen is not as thin, and is in turned framed by an acrylic casing instead of the brushed metallic silver one found on the UE46F7000.
Also making an appearance on the Series 6 LED LCD television is the company's archetypal four-legged "Quad Stand" (swivel-capable), although this year it's finished in silver rather than last year's black. Build quality on our review unit reflected its affordable price point: the plastic enclosure around the back was not of very high quality; and the supplied screws were slightly ill-fitting, making screwing them into the screw holes more difficult than it should be.
Connections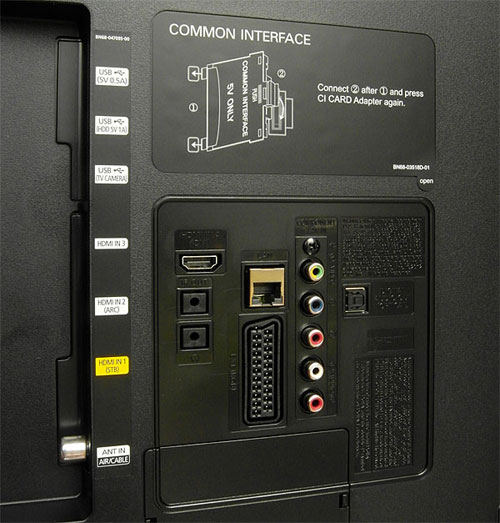 Rear: 4x HDMI, 3x USB, component, RGB Scart, Freeview HD tuner, LAN & audio outs
Operation
The absence of a quad-core processor – the Samsung UE40F6400 only features a dual-core one – was immediately felt when we first explored the user menu: navigating between the different options was certainly nowhere as zippy as the fantastic responsiveness experienced on the UE55F8000 and UE46F7000. In fact, there's a slight "lag-then-catch-up" effect which can be quite frustrating when you need to wade through the various submenus as much as we do for the purpose of calibration.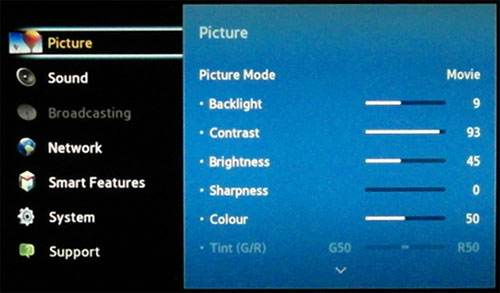 [Picture] menu
The graphical user interface (GUI) on the 40F6400 is clean and clearly labelled, though not quite as polished as those seen on the step-up F7000 and F8000 series. For video enthusiasts who wish to extract the most accurate pictures from their F6400s, Samsung offers an extensive array of advanced picture-affecting options (as the company has done for the Series 6 LED LCD televisions over the past couple of years), including 2- and 10-point white balance adjustments, an RGB-based colour management system (CMS), and control over the deblur and dejudder components of its motion-compensated frame interpolation (MCFI) system.
| | |
| --- | --- |
| | |
| [Advanced Settings] submenu | [Picture Options] submenu |
Remote Controls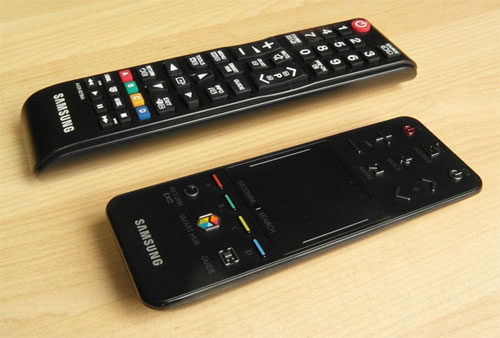 The UE40F6400 comes with two remotes: a basic-looking, no-frills one; and a Smart Touch version that sports a brushed metallic black finish (which we personally prefer to the silver one included with higher-up models).
Calibration
Wasting no time, we popped our review sample into [Movie] mode (usually the picture preset that's most accurate out of the box without any further calibration), and measured away.
Greyscale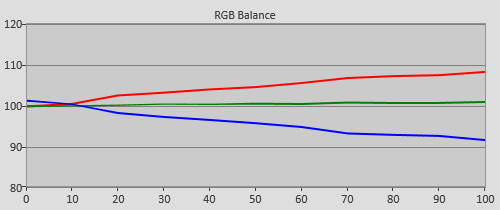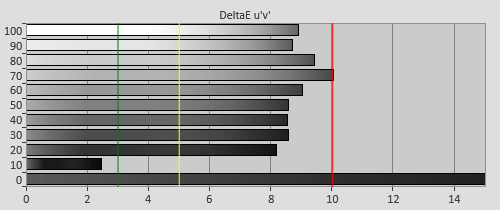 Pre-calibration RGB tracking and delta errors (dEs)
The default setting for [Colour Tone] in the [Movie] mode is "Warm2" which produced a greyscale whose excessive red and underfilled blue channels became increasingly divergent as they approached 100% stimulus, contributing to overly warm images. Of course, this is nothing that Samsung's excellent white balance controls cannot solve, as the post-calibration chart below beautifully demonstrates: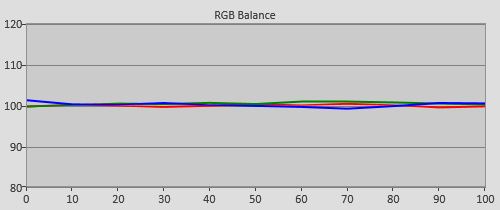 Post-calibration RGB tracking and dEs in [Movie] mode
It's worth stressing that we mainly used the two-point [White Balance] controls to achieve this result, instead of going gung-ho with the 10-point WB system. This is because we found that although the 10p white balance controls worked well at the lower end of the greyscale (10% to 20% stimulus), adjusting selected intervals higher up would inadvertently affect the immediately adjacent intervals (for example,  tweaking 70% stimulus would cause 60% and 80% to go awry), leading to an "infinite loop" scenario where we're effectively chasing our own tail.
Even with minimal help from the [10p White Balance] submenu, the calibrated greyscale was not to be sneezed at: the entire visible luminance range exhibited delta errors (dEs) of less than 3 which is commonly accepted as the human perceptible limit for colour inaccuracies.
Gamma
Overall gamma in [Movie] mode in its out-of-the-box state tracked closer to 2.2 than our target of 2.4 which has been deemed by the ITU as the reference EOTF (electro-optical transfer function) for flat-screen HD displays used for studio mastering in a dark environment.
| | |
| --- | --- |
| | |
| Pre-calibration gamma tracking (2.2) | Post-calibration gamma tracking (2.4) |
While Samsung's [10p White Balance] controls can double as a 10-point gamma editor (just increase or decrease RGB values in equal measure), the aforementioned cross-contamination of 10p WB adjustments especially at higher luminance meant that there was little we could do to totally flatten the tracking after lowering the global [Gamma] control to approximate 2.4. Nevertheless, post-calibration gamma was by and large linear particularly at the low end, giving images a realistic rise out-of-black and a very satisfying contrast-rich look.
Colour
Colours were relatively accurate on the 40in F6400 LED TV with [Colour Space] left at its [Movie] mode default setting of "Auto", which were further improved once greyscale was calibrated to D6500K. Of course, the manufacturer's top-notch colour management system is available on the Samsung UE40F6400 by switching [Colour Space] to "Custom", so we took full advantage of that to achieve near-perfect saturation tracking: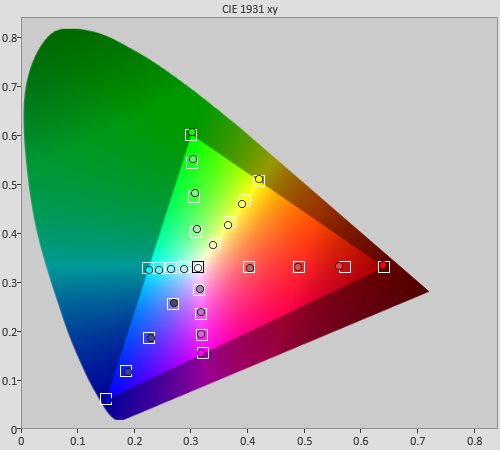 Post-calibration colour saturation tracking
… as well as supremely accurate colour decoding: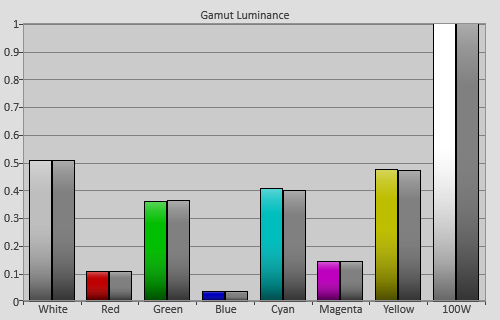 Post-calibration colour luminance (coloured bars=targets; black bars=measured values)
Benchmark Test Results
| | |
| --- | --- |
| Dead pixels | None |
| Screen uniformity | Very good for edge LED; very mild "dirty screen" effect |
| Overscanning on HDMI | 0% with [Picture Size] set to "Screen Fit" |
| Blacker than black | Passed |
| Calibrated black level (black screen) | 0 cd/m2 (LEDs shut off) |
| Calibrated black level (ANSI checkerboard) | 0.0448 cd/m2 |
| Black level retention | Auto-dimming with full black screen |
| Primary chromaticity | Excellent |
| Scaling | Good |
| Video mode deinterlacing | Good |
| Film mode deinterlacing | Passed 3:2 cadence over 480i & 1080i; and 2:2 over 576i |
| Viewing angle | Decent for VA LCD: washout occurs beyond 45° off-axis |
| Motion resolution | 1080 with [Motion Plus] engaged; 300 otherwise |
| Digital noise reduction | Optional; effective when engaged |
| Sharpness | Defeatable edge enhancement |
| Luma/Chroma bandwidth (2D Blu-ray) | Full luma; chroma horizontally blurred |
| 1080p/24 capability | No judder in 2D; forced soap opera effect in 3D |
| Input lag (high-speed camera) | 40ms compared to lag-free CRT |
| Leo Bodnar input lag tester | 43ms |
| Full 4:4:4 reproduction (PC) | Yes, with 60hz signal and "PC" input label |
Power Consumption
| | |
| --- | --- |
| Default [Standard] mode | 76 watts |
| Calibrated [Movie] mode | 61 watts |
| Standby | <1 watt |
Picture Quality
Black level is crucial to the contrast performance of any flat-panel HDTV (especially in a dimly-lit environment suitable for critical viewing), and the 40F6400 did not disappoint on this front. On both ANSI checkerboard and full-field video black – we displayed a pause icon on screen to defeat the auto-dimming – patterns, we measured the 40″ F6400's black level at 0.0448 cd/m2, which is certainly in the top tier as far as edge-lit LED LCD televisions go.
At the risk of sounding like a broken record, there are other TVs on the market that deliver deeper blacks, notably plasmas from Panasonic and Samsung themselves which can hit 0.02 cd/m2 or lower without so much as breaking a sweat. This difference in black level is perceptible in a dark room, but as a standalone set, the blacks put out by the UE40F6400 were sufficient to satisfy us. And if you're going to watch the TV in a brighter environment, its top-end luminance can go higher than plasma displays, which goes a long way towards boosting perceived contrast even in the presence of stronger ambient light.
Because of the way edge-mounted LEDs have to illuminate an entire LCD panel, coupled with how slim the chassis is, it's not easy maintaining perfect screen/backlight uniformity on such HDTVs, and so they've developed a bad reputation over recent years. To Samsung's credit, this year's LED LCD products that we've seen from the company have fared better in this area. We did not witness any clouding nor backlight bleed on our review unit even on a full-black screen with the lights switched off, although a very mild "dirty screen" effect was visible during panning shots against evenly toned backgrounds.
We observed a few quirks which confirmed that the Samsung F6400 features a different video processing chip from the one implemented on the step-up F7000 series. When fed with our battery of standard-definition test patterns, the UE-40F6400 exhibited more ringing during the upconversion process, and slightly more jaggies for video-based material, though these were hardly distracting in real-life viewing. On a positive note, the LED television correctly detected and processed 2:2 cadence, successfully eliminating moire and line twitter from our current torture test scene, namely the first few minutes of the final chapter in the PAL DVD of Bridget Jones: The Edge Of Reason (the F7000 would lose the lock from time to time).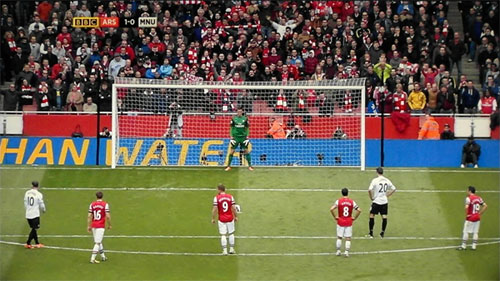 When it came to motion processing, we witnessed fewer interpolation artefacts on the Samsung UE40F6400 compared to the UE46F7000 we reviewed last month with [Motion Plus] engaged, indicating that the former is using a less aggressive algorithm. Nevertheless, the F6400 still managed to return 1080 lines from the horizontally scrolling chart in the FPD Benchmark test disc (up from 300 if [Motion Plus] was disabled), providing a welcome boost to the clarity of moving objects in fast-action sports content such as football.
Like most properly calibrated flat-screen TVs, the 40F6400 did HD with aplomb, what with its deep blacks, well-saturated yet accurate colours, and sublime detail that's unblemished by any unnecessary edge enhancement or noise reduction. 24p signal from 2D Blu-ray movies was presented with neither judder nor interpolation.
Things were very different with 1080p/24 playback from 3D Blu-rays – the UE40F6400 imposed some motion interpolation with such content in the third dimension even with [Motion Plus] set to "Off" in the user menu, causing what should be cinematic films to look like hyper-real, overly smooth TV soap opera. The forced MCFI (motion-compensated frame interpolation) could be defeated by engaging [Game Mode] which unfortunately introduced fairly significant judder, making this potential solution a no-go in our book.
Readers who follow our reviews regularly will recall that the Samsung UE55F8000 we tested back in March also exhibited the same behaviour (forced interpolation for tri-dimensional 24fps playback), whereas the UE46F7000 we reviewed last month did not. There seems to be no rhyme or reason as to which sets are affected: is it the model range, the screen size, the firmware? In any case, this marks the fourth consecutive year that Samsung's LED LCD-based 3DTVs haven't been able to do native 24p playback in 3D mode.
Which is a real shame, because otherwise the extra-dimensional pictures put out by the Samsung UE-40F6400 were bright, colourful, gloriously full-res, and relatively free of flicker which has been a not insignificant issue on most active-shutter 3-D televisions we've seen in the past. The set did evince more crosstalk than the F7000, as well as some interpolation artefacts (for example, we observed some tearing around Night Fury's wings as it hard-banked to the left at 0:43:50 in the 3D Blu-ray disc of How To Train Your Dragon) stemming from the undefeatable MCFI.
Smart TV
Like the F7000 and F8000 series, the Samsung F6400 features the Korean manufacturer's new 2013 Smart Hub internet-connected platform that categorises accessible content into five distinct home pages. Unlike the higher-up models which are blessed with a quad-core processor though, the dual-core UE40F6400 suffered from some sluggishness when navigating from page to page or even from icon to icon, which may put owners off from embracing the onboard Smart TV functions in spite of inbuilt WiFi connectivity.
We tried out the 40F6400's Netflix app, and were initially taken aback by the soap opera effect forced upon 24fps films and US dramas, with seemingly no way to switch motion interpolation off since all picture-affecting controls except [Picture Mode] and [Backlight] were greyed out. Thankfully we found a way to defeat it: simply open the BBC iPlayer app (or any other applications where the picture options aren't greyed out), disable [Motion Plus], and voilà! The settings will get transferred over to the Netflix app.
Console Gaming
While we're still not 100% sold on the accuracy of the Leo Bodnar input lag tester particularly when comparing results across different display technologies, we absolutely love its speed and consistency. Using the device on our UE40F6400 returned 116ms in [Movie] mode, a figure which was slashed down to 45ms once we engaged [Game Mode]. Labelling the HDMI source as [PC] shaved a mere 2ms from the input lag to 43ms (another sign that the F6400 does not use the same chipset as the F7000 and F8000 whose input lag gap between [Game] and [PC] modes was a lot larger).
Using the old-school high-speed camera/ digital stopwatch method, input lag was measured to be 40ms which, while passable, is not as responsive as some ultra-fast plasmas and LED LCDs that can go as low as 16ms. Whether or not your gaming performance will be affected by this amount of input lag depends on the reflexes demanded by the particular genre (e.g. first-person shooter and arcade games), not to mention your individual sensitivity.
Sound Quality
Half-expecting a drastic drop in audio quality (because of how affordable the TV is), we were pleasantly surprised by the sound put out by the UE-40F6400's downfiring speakers. This was evident even from the moment we first set up the flat-screen television: the grand entrance snippet that accompanied Samsung's logo was delivered with sufficiently satisfying bass, and the soothing background music that played throughout the setup procedure continued to tickle our auditory senses with decent resolution and dynamic range.
Conclusion
The Samsung UE40F6400 is a highly capable LED LCD television whose only major letdown is its handling of 3D Blu-ray movies: the undefeatable motion interpolation imparts soap opera effect onto what should appear filmic, which will bother you if you're a video purist like us. We certainly hope the Korean manufacturer will be able to issue a firmware update (as they do occasionally) to fix this – we think the very mild judder present on the UE46F7000 for 3D 24p playback is an acceptable compromise.
By far the biggest attraction of the 40-inch F6400 is its price: for less than £800, you get an HDTV that has deep blacks, is supremely calibratable to yield accurate colours, sounds good, and comes with two pairs of active-shutter 3D glasses as well as Samsung's comprehensive suite of Smart TV functionalities. Its standard-def upscaling and jaggies suppression are less accomplished than the F7000 and F8000's, and navigational responsiveness is more sluggish too, though these are probably reflective of the lower price and processing power available (dual-core vs quad-core).