We've seen a number of LED LCD TVs from Samsung Electronics this year, including the Series 6, Series 7 and the flagship (at least in the non-4K realm) Series 8. Today we're focusing on a 42-inch model from the Korean manufacturer's Series 5 range: the F5500 features edge LED backlighting, 100Hz Clear Motion Rate (CMR), dual-core processor, Freeview HD tuner, and inbuilt wireless connectivity which makes the onboard Smart TV functionalities all the more accessible, but lacks 3D capabilities.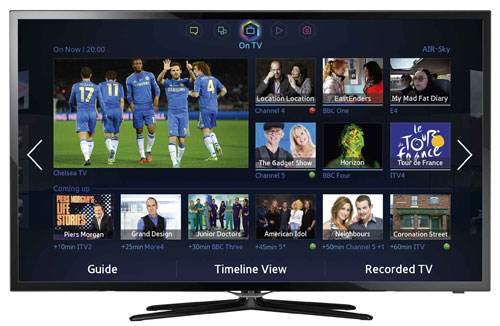 This is the first 42in LCD-based HDTV we've seen from Samsung – avid followers of the company will be aware that previous Samsung LED/LCD televisions come in 40″ and 46″ screen sizes which of course is a strong indicator of VA-type panel boasting deep blacks (by LED/LCD standards) though narrower viewing angles. That said, this year we've reviewed some corking LED TVs in the 42-inch size class (namely the Sony KDL-42W653A and the Panasonic TX-L42E6B), so who's to say the UE42F5500 won't join them? Let's check it out.
Note:The specific model we tested was the Samsung UE42F5500AKXXU which denotes the 3-pin-plug UK version. The television may also be sold by high-street retailers such as John Lewis and Currys, or ecommerce sites like Amazon as the UE42F5500AK. Please be careful extrapolating the findings of this review to the smaller, 32-inch Samsung UE32F5500, since Samsung has been known to source their LCD panels from different vendors which may affect the picture characteristics of the sets.
Design
The Samsung UE42F5500's polished black bezel and chassis are thicker than most edge LED LCDs we've seen in 2013, which is hardly surprising given its entry-level status. This is not to say the TV doesn't have its own appeal aesthetically: a classy lower "lip" bearing the brand's logo hangs from the bottom of the screen which is in turn propped on a swivel-capable four-legged "claw" stand that's finished in gloss black just like the bezel.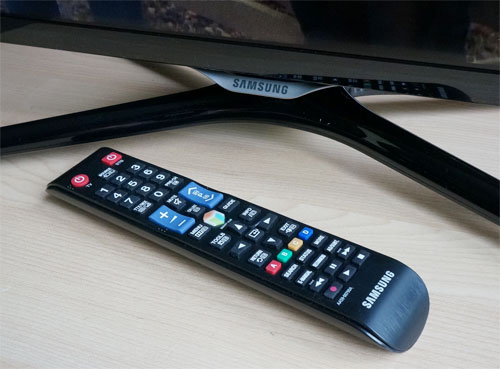 Build quality is acceptable given the set's budget proposition.
Connections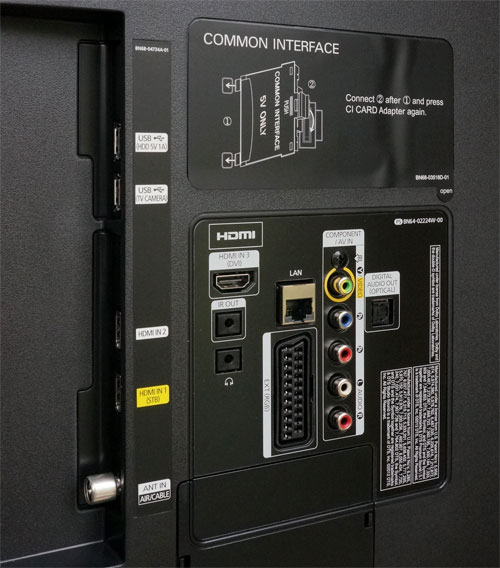 Rear: 3x HDMI, 2x USB, component, RGB Scart, aerial, LAN, headphone & audio outs
Operation
The graphical user interface (GUI) on the UE42F5500AK is essentially the same as that found on the UE40F6400 we reviewed back in May, sporting Samsung's clearly labelled, blue-themed on-screen menus. The 10-point white balance controls and RGB-based colour management system (CMS) available on higher-up models have been omitted from the F5500, but the television at least still provides a 2-point [White Balance] system, a choice of two [Colour Space] options, and a global [Gamma] slider on top of the basic picture-affecting controls like [Backlight], [Contrast], [Brightness], [Sharpness], [Colour] and [Tint].
There's better news on the Smart TV content front, where none of the apps in the South Korean firm's Smart Hub internet-connected platform have been withheld. This means that UE42F5500 owners can enjoy the full suite of catch-up television services including BBC iPlayer, ITV Player, 4oD and Demand 5 – Samsung is the only TV maker offering the whole shebang in the United Kingdom for the time being.
Calibration
Note: Our review sample was calibrated using CalMAN 5, the industry-leading video calibration software.
The Samsung UE-42F5500 defaults to a [Picture Mode] of "Standard" right out of the box, causing images to appear far too blue-tinted. We switched the HDTV to [Movie] mode, which immediately made pictures look more realistic, though there remained room for improvement.
Greyscale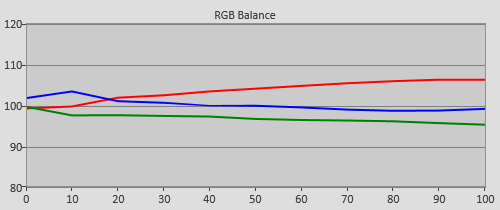 Pre-calibration RGB tracking and delta errors (dEs)
The default [Colour Tone] of "Warm2" in [Movie] mode still yielded an overly-warm greyscale. We swiftly went to work with the supplied two-point white balance controls…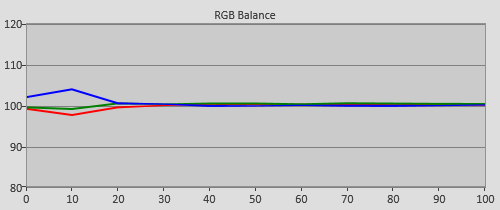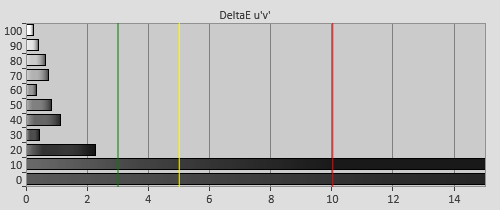 Post-calibration RGB tracking and dEs in [Movie] mode
… and managed to reduce delta errors (dEs) to below 3 (generally accepted as the perceptible limit for the human eye) from 20% stimulus and up. Due to limited precision with the WB controls, we could not dial out the blue tint pervading darker parts of the on-screen picture, which is fairly common on LED LCD televisions.
Gamma
Overall gamma measured 2.2 on the Samsung 42in F5500 in [Movie] mode, which is acceptable in a moderately lit room. However, since March 2011, the International Telecommunications Union (ITU) has recommended a reference electro-optical transfer function (EOTF) of 2.4 for flat-screen displays used in HDTV studio production, and this is the value we usually target for critical viewing in a dim room.
| | |
| --- | --- |
| | |
| Pre-calibration gamma tracking (2.2) | Post-calibration gamma tracking (2.43) |
Adjusting the [Gamma] control from the default value of "0" to "-2" allowed us to approximate gamma 2.4 in a reasonably linear fashion, providing a punchy yet realistic tonal distribution from black to white without significantly compromising shadow detail or bright highlights.
Colour
In the absence of a CMS, the only tools we have at our disposal are the [Colour], [Tint] and [Colour Space] settings, none of which is ideal because each affects at least two out of the three colour parameters we measure – saturation, hue, intensity – together, meaning that our calibration effort is more one of balancing out the errors than eradicating them.
Two [Colour Space] options are offered: "Auto" and "Native". Both resulted in oversaturated green primary – the latter more so. Out of the box, [Colour Space] "Auto" suffered from undersaturated blue and green sub-100% saturation tracking; whereas "Native" was just ultra-vibrant globally.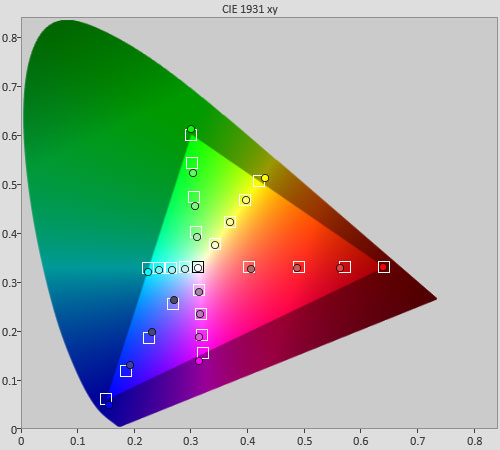 Post-calibration colour saturation tracking in "Auto" [Colour Space]
After calibrating greyscale and bumping [Colour] up to "52", delta errors (dEs) dropped to under 3 across the 25%, 50%, 75% and 100% saturation points for all six primary and secondary colours with the exception of 100% blue. This represents a very good result for a display that is not equipped with advanced colour management system (CMS).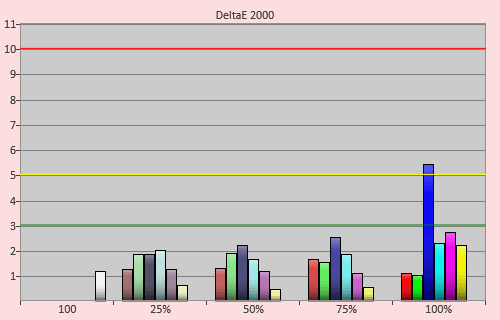 Post-calibration colour errors (<3 not appreciable to the eye)
Benchmark Test Results
| | |
| --- | --- |
| Dead pixels | None |
| Screen uniformity | Very good for edge LED; very mild "dirty screen" effect |
| Overscanning on HDMI | 0% with [Picture Size] set to "Screen Fit" |
| Blacker than black | Passed |
| Calibrated black level (black screen) | 0 cd/m2 (LEDs shut off) |
| Calibrated black level (ANSI checkerboard) | 0.053 cd/m2 |
| Black level retention | Auto-dimming with full black screen |
| Primary chromaticity | Oversaturated green primary |
| Scaling | Good |
| Video mode deinterlacing | Good |
| Film mode deinterlacing | Passed 3:2/480i & 2:2/576i with [Film Mode] engaged |
| Viewing angle | Acceptable for a VA LCD panel |
| Motion resolution | 300 |
| Digital noise reduction | Optional; effective when engaged |
| Sharpness | Defeatable edge enhancement |
| Luma/Chroma bandwidth (2D Blu-ray) | Full luma; chroma horizontally blurred |
| 1080p/24 capability | Subtle telecine judder |
| Input lag (high-speed camera) | 16ms compared to lag-free CRT |
| Leo Bodnar input lag tester | 28ms in [Game] or [PC] mode |
| Full 4:4:4 reproduction (PC) | Yes, with 60hz signal and "PC" input label |
Power Consumption
| | |
| --- | --- |
| Default [Standard] mode | 77 watts |
| Calibrated [Movie] mode | 59 watts |
| Standby | <1 watt |
Picture Quality
Our Samsung UE42F5500AKXXU review unit uses a 50Hz LCD panel from Taiwanese vendor AUO (AU Optronics). Like most LED TVs nowadays, the screen shuts off when asked to display full-field black, though this is easily defeated by pressing the [Info] button on the remote to make sure some pixels are lit. Using this method, we measured black level on the 42F5500 to be 0.053 cd/m2, a figure which held true on a 4×4 ANSI checkerboard pattern too. This is in line with the contrast ratio VA-type LCD panels are capable of, contributing to deep blacks by LED LCD standards.
Despite being an entry-level flat-panel television, backlight uniformity was very good on the UE42F5500AK, in keeping with other 2013 Samsung HDTVs that have passed through our test room. We detected no backlight bleed or clouding on our retail set, but as is the case with most edge LED televisions whose entire screen needs to be illuminated by a limited number of LED bulbs arranged along the sides, some dirty screen effect (DSE) was visible particularly on panning shots over an evenly toned background. That said, DSE was very mild on our review unit, and rarely troubled us in real-life viewing.
As long as you sit on-axis, the Samsung UE-42F5500 is a rewarding watch, thanks to unadulterated HD detail and competent standard-definition processing. Pictures were accurately tinted after calibration, with skin tones looking particularly realistic once [Flesh Tone] was adjusted to the correct value.
Motion resolution came in at 300 based on horizontally scrolling line chart in Chapter 31 of the FPD Benchmark Software test disc, which is par for the course for an LCD TV unassisted by motion-compensated frame interpolation (MCFI). Although the UE42F5500 is advertised as featuring 100Hz Clear Motion Rate (CMR), this is purely a marketing term: the refresh rate of the underlying LCD panel is 50hz, though Samsung thinks that the display is capable of mimicking 100Hz motion through video processing.
The F5500 is not blessed with any MCFI technology, but does offer some sort of backlight scanning through the [LED Clear Motion] toggle found in the [Picture Options] submenu. While activating this processing subjectively improved motion blur when we watched some real-world content, it paradoxically reduced motion resolution to 250 in the FPD Benchmark Chapter 31 test sequence due to the introduction of motion artefacts which made the horizontally scrolling lines harder to discern. Another major downside of engaging [LED Clear Motion] is that it darkens the picture quite a bit – overall we don't think it's worth the compromise.
The 42F5500 evinced a subtle telecine judder when fed with a 1080p/24 video signal for Blu-ray playback. The effect was very mild, and would probably only be picked up by eagle-eyed viewers who sit rather close to the television.
In terms of gaming responsiveness, the Samsung UE42F5500 is one of the best HDTVs available to buy on the market at the moment, only lagging behind (pun intended) the all-conquering Sony 2013 Bravias. On higher-up Samsung TVs, relabelling the [HDMI] input to "PC" can sometimes produce lower lag than enabling [Game] mode, but on the 42-inch F5500 we found that both methods returned the same number of 28ms as measured via a Leo Bodnar input lag tester. Using [Movie] or any other non-[Game] mode for playing video games is not advisable, with a recorded lag of 80ms.
Conclusion
Armed with deep blacks, largely accurate colours and rich 2.4 gamma after calibration, the UE-42F5500 delivers very good picture quality especially when you consider its affordable price point. Furthermore, the 42″ LED HDTV offers low input lag which is excellent news for hardcore gamers, as well as the broadest Smart TV content on the market with all the catch-up TV services in the UK. Those who are working on a budget and do not need 3D should put the UE42F5500 on their shortlist.
Note: If you're interested in buying this TV, please support us by considering making your purchase from established UK retailer Crampton and Moore who kindly loaned us a retail sample for review.