The 3D TV market isn't exactly packed at the moment, but unlike their current competitor, Samsung has a comparatively wide selection of 3D HDTV models on offer — although they do sit at the higher end of their product catalogue. Today, we're reviewing the Samsung UE46C8000, which, as part of the C8000 series, is just one rung below the priciest C9000 TVs.

The Samsung UE46C8000 features a 1920x1080p LCD panel (no surprises there), which is illuminated by LEDs placed above and below the screen. This placement (as opposed to situating a light source behind the panel) allows for the incredibly thin chassis design that Samsung has been pushing lately. Of course, the Samsung UE46C8000 is also 3D capable, and is the first 3D LCD-based display we've reviewed here at HDTVTest. Let's see if this sleek display can look great when it's switched on as well as off!
Note: The specific model we tested was the Samsung UE46C8000XKXXU, denoting the United Kingdom version. However, high street stores like John Lewis and Comet, and online retailers such as Amazon and Dixons may sell this 3D TV as the Samsung UE46C8000, Samsung UE46C8000XK or Samsung UE46C8000XKXXU. All these terms refer to the same 3DTV. Although we did not review the 40-inch Samsung UE40C8000 or the 55-inch Samsung UE55C8000, there shouldn't be any drastic difference in picture performance.
Design
Make no mistake, the Samsung UE46C8000 is one stunningly designed HDTV. The screen is surrounded by a thin border which has a silver "brushed titanium" appearance, which is in turn surrounded by an even thinner transparent acrylic border, the bottom of which has touch-sensitive zones. The display itself is unfathomably thin, measuring about 2cm at its deepest point. This is, of course, achieved by situating the light sources (LEDs) around the edges of the panel, and scattering this light across the entire screen with light guide plates.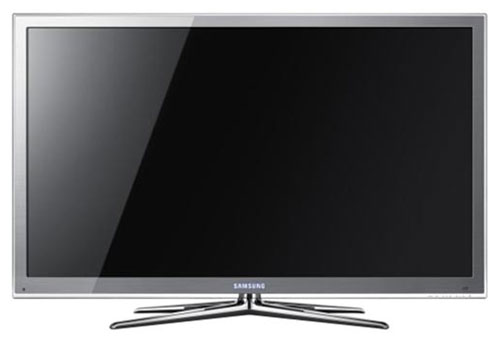 Silver TVs haven't really been "in" since around 2005, and we're sure there enough buyers who will be happy to see this styling return. With that said, after so many years of seeing only black, we did find the bezel mildly distracting at first. To stop the display falling over, it is supplied with a large "four-legged" silver stand.
The remote, too, has undergone a transformation to match the TV design. Like the TV, it's styled in brushed titanium with a glossy silver trim. All of the "buttons" are hidden below the face, so although they do provide a little bit of feedback when you press them, operating takes a little bit of getting used to because you can no longer run your finger over the remote's surface to find your way around (at least, not to the same degree as before – the remote does include some raised lines and a tactile dot for this purpose). We did appreciate that, like some of Samsung's other remotes, the UE46C8000's remote control features backlighting which can be enabled by pressing the dedicated button at the top-right.

Samsung supplied the UE46C8000 with a pair of their 3D active shutter glasses (model number SSG-2100AB), which came in a nifty triangular-shaped box. Unlike Panasonic, who supplied their glasses in a rigid-looking (but durable) plastic case, Samsung have taken a more fashionable approach and package them with a soft pouch — not unlike sunglasses. These glasses are definitely more comfortable to wear than Panasonic's, which put pressure on the top of my nose. Samsung's 3D glasses seem to transfer most of the weight to around the ears, which is considerably more comfortable, especially over long periods of time.
Critically, unlike the recently reviewed Panasonic TX-P50VT20, Samsung does not ship their display with 3D glasses (whereas Panasonic gave away 2 pairs with their 3D TV). This seems pretty stingy, given that the Samsung UE46C8000 is generally selling for at least as much as Panasonic's display. Samsung is doing a deal though where you'd get two pairs of SSG-2100AB 3D glasses and a Monsters Vs Aliens 3D Blu-ray disc free if you buy the UE46C8000 together with the Samsung BD-C6900 3D Blu-ray player.
Connections
Whilst HDMI cables can be plugged directly into one of the Samsung UE46C8000's 4 inputs, this LED LCD TV is so thin that most other connectors — especially the comedy-sized SCART cables which were cutting edge back in the 1980s — must be plugged into breakout adapter cables, which then plug into the TV. This is also the case for the RF aerial input. This isn't terribly inconvenient, but it is a little unsightly. Of course, you're never going to look at the back of the TV (or the sides either!)
With these supplied breakout cables, the Samsung UE46C8000 effectively has 2 SCART connections, a Component video input, a Composite video and stereo audio input, a PC "VGA" input, an Ethernet jack, and an Optical audio output. Since the physical inputs aren't located on the TV itself, we wonder if Samsung would be able to let users customise the connectivity options of their ultra-thin TVs in the future. For example, the option to swap the SCART connectors out for extra sets of Component video connections would be a more useful feature, especially for gamers.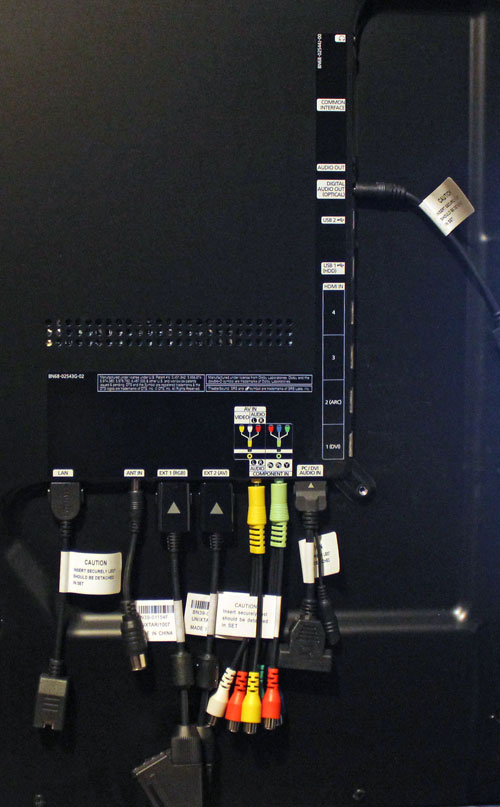 Rear: 4x HDMI, breakouts for aerial, SCART, Composite, Component, VGA, LAN, Optical out
Operation
The Samsung UE46C8000 LED 3D TV uses the company's familiar user interface, which looks and feels good. All of the details are stored per-input, just like the previously reviewed LE40C650 LCD TV. As with that display, we wish that Samsung included a "Copy to all" function so we could copy Greyscale and Colour settings to all inputs, then make minor adjustments as needed, rather than having to write down all our settings and re-enter them manually.
| | |
| --- | --- |
| | |
| [Picture] menu | [Advanced Settings] menu |
Like all of the higher end Samsung displays, the UE46C8000 3D TV features Greyscale controls, a fully-fledged 3D CMS (Colour Management System), and a basic Gamma control — in other words, almost everything we need to fine-tune the display and get the best possible picture from it. New for 2010, there is also a 10-point Greyscale adjustment — called [10p White Balance] — which is a more precise method of controlling Greyscale. If the Samsung UE46C8000's Greyscale linearity is not good by default, we should hopefully be able to use this control to achieve a near-perfect result. (The [10p White Balance] feature is disabled when the Samsung UE46C8000 LED-lit LCD TV is in 3D mode or Game mode).
There are some other useful controls tucked away inside these menus, however, some of which we haven't encountered before. The first of these is [LED Motion Plus], which has three different settings (as well as a fourth "Off" switch). This control houses options for backlight scanning and black frame insertion, which should increase the perceived motion clarity by countering the traditional sample-and-hold effects of LCD panels. The "Normal" setting claims to improve motion clarity across the whole screen, whereas "Cinema" and "Ticker" are said to improve motion in the middle (for use with Letterboxed 2.35:1 ratio movies), and the top and bottom of the screen, respectively. The difference between the different modes was difficult to discern, so we stuck with "Normal".
There's also the [Motion Plus] menu. This is Samsung's 200hz system, and it's our favourite out of all manufacturer's attempts to improve LCD motion clarity. The reason for this is simple: [Motion Plus] allows you to set the De-blur and De-judder controls independently, which means that you can improve motion clarity without giving films the dreaded "soap-opera effect". In other words, motion is clearer (albeit not at the same level as a Plasma TV), but the intended look of the film is not lost. This makes [Motion Plus] equally suited to film and video content, and we are baffled as to why more manufacturers don't implement their 100hz/200hz systems in this way. We'll discuss the effects of this control in more detail in the Motion Resolution section of the review.
Finally, [Smart LED] combines a variety of processing features in an effort to improve contrast.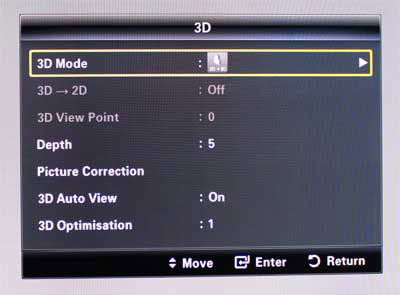 Above: 3D Settings on Samsung UE46C8000
The controls for the 3D mode are housed in the main [Picture] menu, and are easy enough to get to. [3D Mode] has various settings, including the "2D > 3D" conversion mode (which we'll take a good look at later), Side-Side, Top-Bottom, Line-by-Line, Vertical Stripe, CheckerBoard, and Frequency, the correct choice depending on how the 3D content is stored. All of these different modes are indicated by icons.
[3D > 2D] does exactly what it says, and flattens 3D content into 2D, by displaying the Left eye image only — useful for when you run out of glasses for everyone. [3D View Point] adjusts the overall depth of the 3D images, moving objects backwards or forwards on the Z-axis. [Depth], on the other hand, adjusts the intensity of the 2D-to-3D conversion. [Picture Correction] swaps the left and right eye images around, for use with content mastered out-of-phase (we're unsure if any of this exists, but Samsung are not the only manufacturer to include the option, just in case). [3D Auto View], if engaged, will automatically enable the 3D mode when the Samsung UE46C8000 detects 3D content (it requires metadata inside the HDMI signal in order to work). Lastly, there is a [3D Optimisation] control, the effects of which were difficult to spot. Samsung's manual and on-screen text do a predictably poor job of describing these settings, which is a shame — the controls on 2D TVs already mystify users enough.
2D Calibration
Note: Our Samsung UE46C8000 review sample was calibrated using Calman Professional, the industry-leading video calibration software.
2D Mode Greyscale
After unboxing the Samsung UE46C8000, we took it out of it's blazingly bright "Normal" picture mode and instead selected the "Movie" preset. We then set as many picture parameters as we could without the help of a measuring device. We were able to set [Brightness], [Contrast], [Sharpness], [Colour], and [Tint] in this way. Normally, it is not possible to set [Colour] and [Tint] without a measuring device, but we were able to in this case thanks to Samsung's inclusion of Red/Green/Blue only options.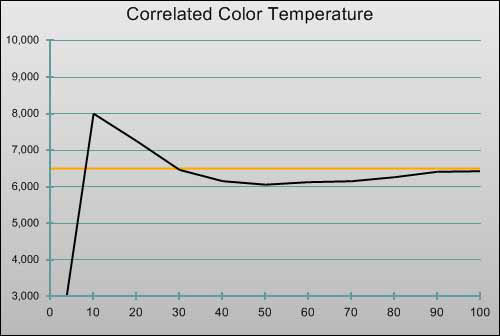 Pre-calibration CCT in [Movie] mode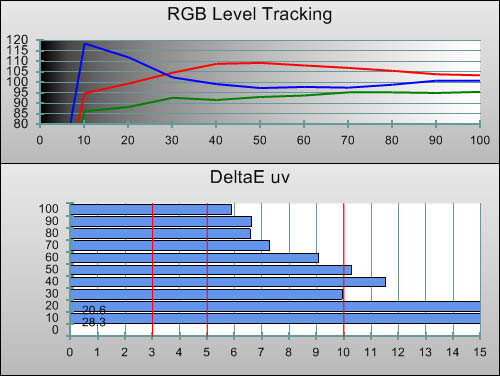 Pre-calibration RGB tracking and delta errors (dEs)
As delivered, the Samsung UE46C8000's Greyscale tracking was not especially linear, nor accurate. The image was somewhat red-biased, except at 10% stimulus, where it was visibly pushed toward blue. Furthermore, the greyscale characteristics shifted visibly when the Samsung UE46C8000 was viewed from the sides, making the "Greyscale Logs" test pattern look somewhat pastel-coloured.
To start with, we used the LED TV's [White Balance] menu to have a first pass at cleaning up Greyscale tracking. This produced an improvement, but our initial attempt produced a large spike of green at 10% stimulus, making shadows visibly sickly-looking. We used a different calibration strategy (calibrating at 10% and 90%, rather than at 20% and 80%) and managed to shift the inaccuracies to a place where they would be less noticeable (tints in brighter areas are harder to detect than those in shadows).
After this, we began using the [10p White Balance] controls, which add to the changes made in the basic [White Balance] screen. Our original attempt at calibration in this screen actually made Greyscale tracking considerably worse. On the CCFL-backlit Samsung LE40C650 LCD TV, we simply worked our way through each point and fine-tuned tracking as much as we could. Unfortunately, on the Samsung UE46C8000, this strategy would correct the point we were trying to tune up, at the expense of adding even worse, new problems elsewhere.
In the end, we managed to get great results with the 10-point control, but we had to use it very gently. We first attacked the middle of Greyscale tracking spikes and worked our way outwards, gently balancing the values as we went, being sure not to push the controls too far for fear of creating new problems elsewhere. The end result produced excellent Greyscale tracking (a miniscule bump at 60 IRE can still be seen):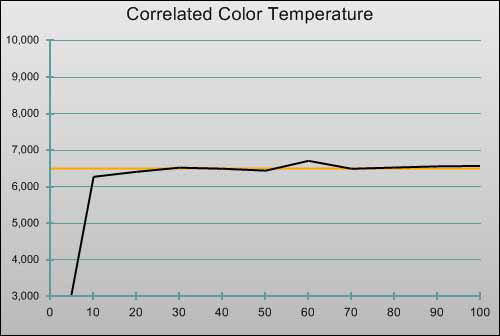 Post-calibration CCT in [Movie] mode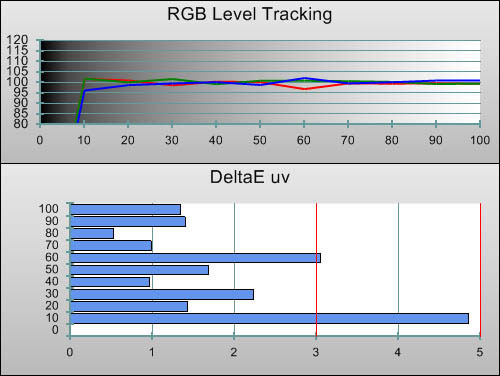 Post-calibration RGB tracking and dEs in [Movie] mode
Likewise, Gamma was surprisingly accurate on the Samsung UE46C8000. We had to adjust the LED LCD TV's [Gamma] control to -2 to achieve this result.
| | |
| --- | --- |
| | |
| Gamma curve in [Movie] mode | Corresponding gamma tracking |
2D Mode Colour
There were few surprises with colour on the Samsung UE46C8000 HDTV. Samsung's colour management system is highly effective and allowed us to fine-tune the saturation, hue and luminance of each colour to a high degree of accuracy. As with other Samsung TVs, we occasionally ran out of range in which to adjust the controls: in some cases, it would have been beneficial to take some of the settings below zero, but this was not possible.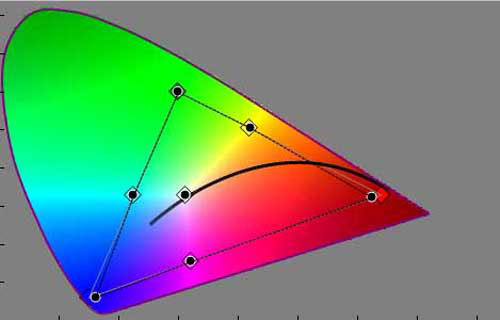 Post-calibration CIE chart with reference to HD Rec.709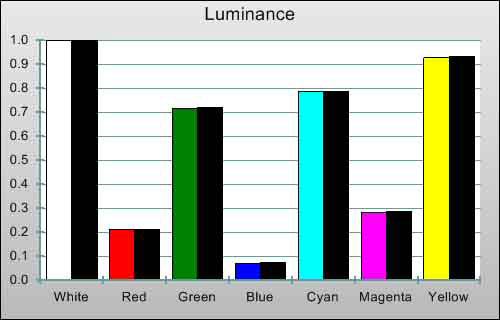 Post-calibration colour luminance (coloured bars = targets; black bars = measured values)
However, the calibrated colour accuracy is still very good. We managed to correct the minor hue errors that existed with green, red, cyan and yellow, but were unable to fully saturate red or blue. We did manage to saturate red more during our tests, but this brought its luminance level up to an unacceptably high level. Naturally, we calibrated to achieve the lowest overall error possible. As is typical with Samsung's newer HDTVs, colour decoding errors were effectively non-existent after calibration, meaning that no colour was over-represented on screen.
3D Calibration
The uncharted waters of 3D calibration are a scary place, since just like the industry itself, we are learning as we go. Of course, no relevant standard for home 3D content exists at the time of writing, but because content is developed using existing 2D equipment, we are currently calibrating the Samsung UE46C8000 3D TV to the same standards.
In order to get a better idea of the accuracy of this process, we enabled the Samsung UE46C8000's 3D mode and measured it "bare", to get an idea of how the panel's Greyscale and Gamma tracking would hold up. The characteristics were slightly different, but the Samsung UE46C8000's tracking was more linear and similar to the 2D mode than that of Panasonic's VT20 Plasma when we measured it "bare". Armed with this knowledge, we attached (OK, OK… sticky-taped) the Samsung SSG-2100AB 3D glasses to our Klein Instruments K-10 colorimeter and began measuring.
Only the "Standard" and "Movie" picture modes are accessible when the Samsung UE46C8000 is in 3D mode. Changing the "Movie" mode settings which we had already calibrated for 2D content was not a path we wanted to take, so instead we chose the "Standard" mode, matched the settings of "Movie", and then calibrated from there. We also increased the Backlight setting to its full value of 20 to compensate for the brightness loss stemming from the 3D glasses.
3D Mode Greyscale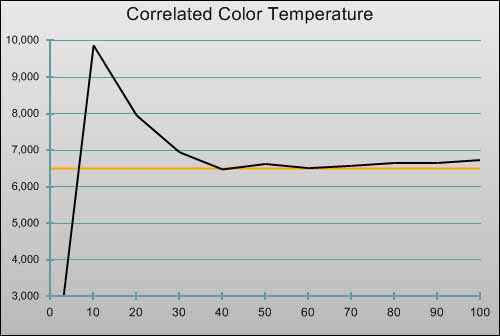 3D Pre-calibration CCT in [Movie] mode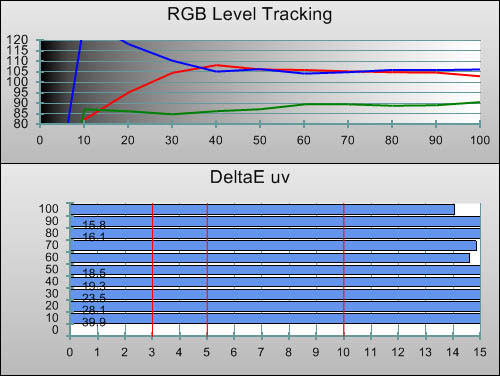 3D Pre-calibration RGB tracking and delta errors (dEs)
The final greyscale tracking in 3D mode was not as impressive as that of 2D mode. Part of this was because the [10p White Balance] control is not active in 3D, but we imagine that the glasses themselves are also partly guilty. Additionally, the fact that the 3D glasses keep shutting off (depending on their location relative to the TV) means that it is much more time consuming to calibrate in 3D — perhaps if we had a way of forcing the glasses to stay on, we could have spent more time improving the result. Regardless, the 3D greyscale measurements from the Samsung UE46C8000 3D LCD TV were more accurate than that on the Panasonic VT20 Plasma 3D TV.
The results of this were mirrored with the 3DTVs' real-world performance. The Samsung UE46C8000's 3D images did indeed have a slightly more natural look (albeit with other downsides, which we'll discuss later). We are unsure how much of this is related to the fact that the LED LCD TV can pump out more light than a Plasma (to compensate for the brightness loss of the glasses). Loss of light has a tremendous effect on our perception of colour, which could also help explain the differences.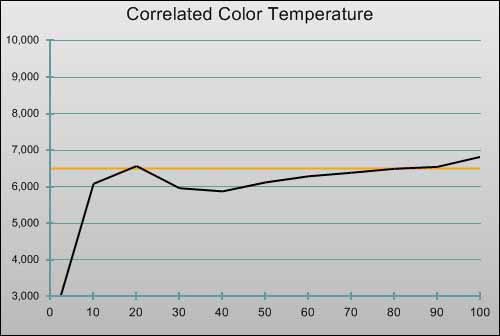 3D Post-calibration CCT in [Movie] mode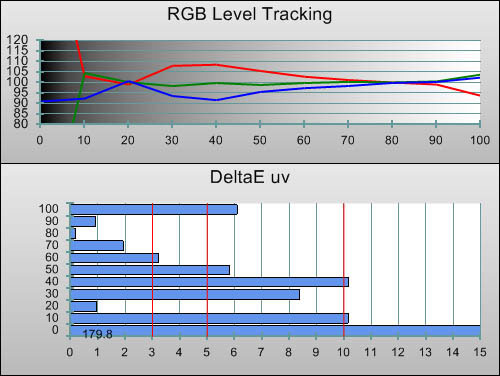 3D Post-calibration RGB tracking and dEs in [Movie] mode
| | |
| --- | --- |
| | |
| 3D Gamma curve in [Movie] mode | 3D Corresponding gamma tracking |
3D Mode Colour
Irritatingly, Samsung's colour management settings are stored per-input — not per viewing mode, like Panasonic's implementation. This means that calibrating 3D mode on the same HDMI input would have affected 2D colour performance. Since 3D content makes up a minority of viewing right now, and since we didn't think anyone would want to dedicate a second input and a second player just for 3D content, we simply set the [Colour Space] to "Auto", which resulted in decent colour. We originally tried "Native", but through the glasses, this resulted in some colours appearing undersaturated.
Samsung are aware of our request for separate 2D and 3D Colour Management memories.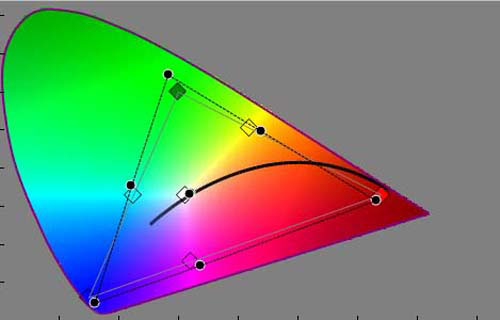 3D Post-calibration CIE chart with reference to HD Rec.709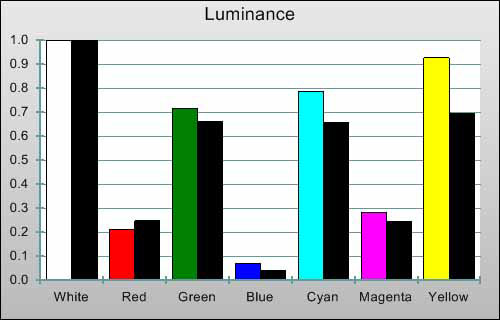 3D Post-calibration colour luminance (coloured bars = targets; black bars = measured values)
Benchmark Test Results
| | |
| --- | --- |
| Dead pixels | One dead pixel in top middle |
| Screen uniformity | Negligible clouding face-on when calibrated |
| Overscanning on HDMI | 0% with [Aspect Ratio] set to "Screen Fit" |
| Blacker than black | Passed |
| Calibrated black level | 0 cd/m2 due to Dimming, 0.06 cd/m2 with APL test pattern |
| Black level retention | Unstable, light output fluctuates |
| Primary chromaticity | Very good after calibration in [Movie] mode |
| Scaling | Very good in 2D, below average in 3D |
| Video mode deinterlacing | Very effective jaggies reduction |
| Film mode deinterlacing | Passed 2:2 PAL and almost all NTSC cadences! |
| Viewing angle | Average, characteristics shift from sides, clouding appears |
| Motion resolution | 1080 with [Motion Plus] and [LED Motion Plus] |
| Digital noise reduction | Effective 3D NR; forthcoming firmware update eradicates subtle undefeatable NR |
| Sharpness | Defeatable edge enhancement |
| Luma/Chroma bandwidth | Full Luma, slightly blurred Chroma except in [Game] mode |
| 1080p/24 capability | Subtle judder (see notes*) |
| Input lag | 32ms in "Game Mode" compared to lag-free CRT |
| Full 4:4:4 reproduction | No, 4:4:4 input subsampled |
* Notes on judder: see the "High Definition" section below for more info on this TV's 24p playback performance.
Power Consumption
| | |
| --- | --- |
| Default [Standard] mode (2D) | 107 watts |
| Default [Standard] mode (3D) | 120 watts |
| Calibrated [Movie] mode (2D) | 82 watts |
| Calibrated [Standard] mode (3D) | 111 watts |
| Standby | 1 watt |
* Measurements taken with full 50% grey screen.
Picture Performance
Black Level
The most obvious thing to mention regarding the Samsung UE46C8000's black level is the fact that this HD TV, like Samsung's previous LED LCDs, has quite aggressive auto-dimming, meaning that the intensity of the LEDs is varied according to the average picture level of the programme content. This is a little distracting, and basically means that the picture visibly dims and brightens at times.
This auto-dimming does mean that the Samsung UE46C8000's black level can be as deep as 0 cd/m2, because the light output from the television can be turned off entirely. Of course, the only thing that would be good for would be watching a black screen! To measure the Samsung UE46C8000's useful black level, we used an Average Picture Level pattern which let us better assess the black level quality that will be seen with actual video material. Blacks here measured at 0.06 cd/m2, which is a good result.
Of course, you might be thinking, "Does it really matter how the black level is achieved if the television can manage deep enough blacks?" — and the answer to that is yes, because black level is only one part of contrast performance. The TV's peak white output is also important. Deep black levels are highly sought after in display devices because they allow for a very high, sastisfying contrast ratio (the measurement of the deepest blacks to the whitest whites). On an LCD / LED LCD TV which lowers its lighting during dark programme content, the entire picture is dulled, meaning that the quality of the whites is decreased in order to gain deeper blacks. This means that material such as, for example, a mainly black sci-fi scene with small white stars, would lose much of its impact. In fact, the Samsung UE46C8000 doesn't just lower its LEDs, it sometimes turns them off completely, so during a prolonged fade to black, you may get a brief glimpse of what absolute black looks like, followed by the picture rapidly brightening again.
Viewing Angle
The viewing angle of Samsung UE46C8000 appears to be slightly poorer than that of cheaper Samsung CCFL-backlit LCD TVs, such as the recently reviewed LE40C650. Like all VA panels, off-axis viewing results in slightly lightened black level, and selectively shifted gamma characteristics. The effect seems a little more extreme here, but the off-axis image is by no means unwatchable. Unfortunately, the lightened black level also results in more clouding (un-uniformity) being visible when the Samsung UE46C8000 LED TV is viewed from the sides. It would appear that slightly poorer off-axis picture quality is one of the compromises of such a remarkably thin flat-screen HDTV.
Motion Resolution
Samsung's Motion Plus system is without a doubt our favourite attempt at fixing the age-old problem of LCD motion blur. Its "Blur Reduction" and "Judder Reduction" controls can be indepently adjusted, meaning that users can reduce LCD blur (in exchange for some much less frequent errors and overall cleaner motion) without having to rely on a motion interpolation feature. Motion interpolation is what gives films and film-derived content (like high-budget US shows and of course, films) the cheesy "soap opera" look, so it is fantastic that we can avoid it on the Samsung UE46C8000.
We ran our very challenging motion resolution test patterns using the Motion Plus feature, and confirmed that there was no motion interpolation going on in the "Clear" mode. Instead of LCD blur, though, we noticed digital processing artefacts during the very challenging portions. We never noticed them during actual viewing, though, so we left the system enabled to reap its many other benefits. Using the FPD Benchmark Software test disc, we confirmed a motion resolution of no less than 1080 lines (albeit with a few digital processing glitches visible). Regardless, this is a shockingly high number (least of all from an LCD screen), which puts the Samsung UE46C8000 on the same numerical level as Panasonic's top-end Plasma, the TX-P50VT20. Of course, this is not the whole story, because the sample-and-hold nature of LCD still produces a little bit more perceived motion blur during actual content.
We have one other important to point to make regarding [Motion Plus] and 3D content. For some reason, if you enable the "Smooth" or "Custom" Motion Plus modes, the Samsung UE46C8000 will enable overscan, causing the edges of the picture to be lost. Normally we can use the remote control's P.SIZE button to select the "Screen Fit" mode for a clear 1:1 picture, but the aspect ratio control is locked out when the TV is in 3D mode. This significantly decreases picture quality, because the quality of the Samsung UE46C8000's scaling is considerably worse (in fact, pixellated) in 3D mode. Therefore, users must be absolutely sure that they have the [Motion Plus] option either disabled or set to "Clear" to get the best 3D picture quality. Fortunately, this was no real loss, because the "Clear" Motion Plus mode arguably the most useful, anyway. However, we imagine that there are many Samsung UE46C8000s intalled out there that are operating at much less than their full potential, so we must stress this point to our readers.
3D Material
After we got to the bottom of why the Samsung UE46C8000 was initially producing blurry 3D video and managed to bypass its scaling process (noted above), we slipped on Samsung's comfortable SSG-2100AB 3D glasses, and had a look at the small amount of 3D content that we currently have access to.
We started with the best first — 3D Full HD Blu-ray discs (both of them). First up, Monsters Versus Aliens (I can tell I'm going to get sick of re-watching this film VERY quickly!). We could immediately see that there was indeed more crosstalk visible than on the last 3D TV we reviewed, which was based on Plasma display technology. Crosstalk is when images intended to reach one eye leak into the other, producing a ghosted double-image around objects in the picture. LCDs have never been known for their motion clarity, but in the 2D world, panel response time issues only meant that remnants of previous frames stayed on screen longer than they should, causing smearing. In 3D, motion blur has a much worse effect, since the Left and Right eye images effectively get smeared into one another. What was once a temporal-only limitation now affects still pictures, too. Crosstalk was especially noticeable during the dark opening scenes in the bedroom at the start of this film, producing strange off-white ghost images around facial features.
However, with all of this said, the crosstalk situation is nothing like as bad as we were expecting, and it's not a clear case of 3D LCD being inferior to PDP, because Samsung's 3D implementation does have a few advantages over Panasonic's. The first is overall light output, which is better on this display. LCD and LED LCD televisions have always been able to pump out nauseatingly high amounts of light, a trait which has only previously been useful in situations where the TV must compete with other ambient light in order to produce a sufficiently bright picture. However, the light loss caused by 3D shutter glasses means that we have a newfound use for this high light output.
The second is Greyscale linearity. Although it's not perfect, the Greyscale tracking (in 3D mode, calibrated through the active glasses) is superior on the Samsung to the Panasonic. In a nutshell, this results in more natural looking images which do not have as strong a blue tint to them. (Natural, that is, if you discount the crosstalk artefacts, which can be slightly irritating at times).
One downside that has been noted of Samsung's 3D TV design is that the viewer must be sitting upright in order to see the 3D image. If you tilt your head to the sides, you'll notice that the image will become darker, to the point of being almost fully black if you're lying with your head to the side. This is the result of the polarizers in the LCD shutter glasses clashing with the polarizing filter in the LCD screen itself. Frankly, we don't feel this is a significant performance limitation.
One other notable characteristic is the slightly "stippled" look that the entire screen has when the Samsung UE46C8000's 3D mode is enabled. We understand that this is due to the new drive mechanism that Samsung has implemented in their 3D-capable LCD panels in order to increase response time. On the other hand, the Panasonic TX-P50VT20's Plasma panel produced more PWM noise (dithering) in the picture when showing 3D content, but overall this is less noticeable and less frequent than the Samsung's "stippled" look. Neither of these characteristics are especially troubling, and are mentioned for completeness only.
Another downside of Samsung's 3DTV display is scaling, which we briefly mentioned above. The Samsung UE46C8000's scaling performance in 3D mode is below average. With the 3D test pattern we made, fine pixel-thin text became eroded when the Samsung UE46C8000 was scaling the side-by-side images to the full width of the screen. This is a major consideration for anyone who investing in a 3D TV to use with Sky 3D satellite service (or equivalent services across the world). This limitation did not exist on the Panasonic VT20 3D TV, which did a much better job of side-by-side 3D material. Samsung are investigating this issue as we speak.

Ideal scaling performance on Side-by-Side 3D resolution test chart

Flawed scaling in 3D mode on Samsung UE46C8000
2D > 3D Conversion Mode
One potential ace up Samsung's sleeve is their 2D-to-3D conversion mode. If this works, it'll be a fantastic way to address the current dearth of 3D content. Before we discuss the results, readers are probably wondering how on earth Z-axis (depth) information can come out of nowhere — especially in real time, in the back of a semi-affordable TV set!
During 2D-3D conversion, Samsung's processing first analyses the frequency range and motion characteristics of the incoming 2D image. Next, the video processor chip separates images into low frequency, middle frequency, and high frequency components. In photography, the goal is to have the subject focused (resulting in high frequency content) with the background being more blurred (low frequency). Therefore, some information about depth can be obtained via this frequency analysis. Theoretically, it is HD content transferred from Film that will benefit the most from this process, since this content has an inherently wide frequency range.
So, how did it look? Frankly, much of the "feel" came from the novelty of wearing the glasses and observing the different look that the active shutters gave the on-screen image. The effect is not entirely convincing, and to be honest, we think that many people will become disinterested quite quickly. With this said, Samsung's approach of deriving depth information from frequency analysis is a great idea, and we hope that the technology will mature to the point of being more useful.
One other point to note regarding this which is of special interest to us here in Europe (and also any other readers in 50hz areas such as Australia and New Zealand): the 3D modes of this display operate around a 60hz-centric design. Any 50hz content (European DVDs and Digital TV broadcasts) will no longer be displayed at a multiple of 50 when the 2D-to-3D mode is enabled, so there will be visible motion judder in this case. Unfortunately, this also affects HD content, since Europe made the poorly judged decision to drag the now-inferior 50hz refresh rate into the HD era.
Standard Definition
Ah, standard definition 2D TV. Anyone remember that? Of course, all joking aside, this still makes up an (unfortunately) high proportion of viewing. Fortunately, Samsung's recent displays have been doing a fantastic job here, and the UE46C8000 LED TV is no different.
Samsung's scaling doesn't produce quite as crisp a picture as Panasonic's (who, coincidentally, probably have the best in-TV scaling around right now), but that's not to say it's necessarily worse. In fact, it is very slightly more suited to overcompressed digital TV content because it does not put as much emphasis on high frequencies (which results in mosquito noise being less visible).
In terms of deinterlacing, the Samsung UE46C8000 also did a great job. It retrieved full resolution from 2:2 PAL Film material (even when the pulldown pattern was out of phase, as is the case on some old analogue telecine material from the 1970s and 1980s – something we almost never see a TV do). For the American-centric NTSC standard, the 2:2, 2:2:2:4 DVCAM, 2:2:2:4 DVCAM, 3:2:3:2:2 Varispeed, 5:5 Animation, 6:4 Animation, 8:7 Anime, and 3:2 Film cadences all passed, which is an outstanding result (the only one which failed was clean for the most part but produced jaggies occasionally). It was also equally adept at smoothing jagged edges in the video mode deinterlacing tests, meaning that jaggies will essentially never appear in SD material.
The Samsung UE46C8000's performance here is outstanding, making the most of the SD situation.
High Definition
Unfortunately, one of the first things I noticed on the Samsung UE46C8000 was the fact that the finest high-frequency grain and noise textures were not being cleanly reproduced. This is a characteristic that the Samsung UE46C8000 shares with the LE40C650 which we reviewed recently, and we really wish that the company would allow the user to turn off all forms of noise reduction should they wish. (These TVs do feature a Noise Filter setting which does have an "Off" option, only setting it "Off" does not stop this subtle blurring from taking place).
We have reported this issue to Samsung, who had their engineers in Korea work around the clock to get us a new firmware revision with the undefeatable smoothing disabled. This worked wonderfully, and we are assured that a firmware update for all users is forthcoming. We also hope that Samsung will apply this change across the rest of their product range.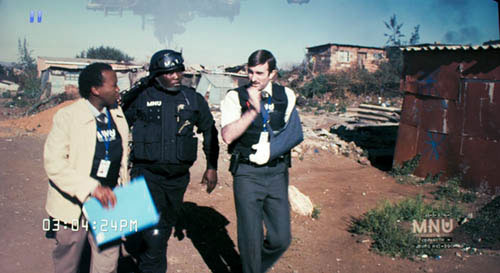 The Samsung UE46C8000's auto-dimming was also apparent. One of the most obvious manifestations came during a candle-lit dinner scene in the Region A Blu-ray Disc release of Weeds: Season 5, where one of the actors moves their head down out of the frame. When the actor's face is absent, the scene has less bright picture content, so the UE46C8000 LED LCD TV immediately dims its light output. This is really pretty distracting, and it would be good if more control was given to the user.
These quirks are not to say that HD material on the Samsung UE46C8000 can't look good, though. If the viewer is sitting face-on and can tolerate the dimming (or is watching bright content that will not reveal it) then the picture quality has most of the strengths we commonly associate with Samsung's LCD TVs: namely accurate Greyscale, clean motion, great colour, and contrast performance that is great by LCD standards.
* Notes on judder: when I first used my favourite test sequence (chapter 12 of Wall-e) to look for 24fps motion judder, I was surprised to see that the Samsung UE46C8000 was not rendering the gentle pans across outer space smoothly, even in 2D mode. I later discovered that [Motion Plus] set to either "Off" or "Clear" produced mild judder, whereas selecting "Custom" with the settings Blur Reduction: 10 and Judder Reduction: 0 cured the judder, but instead produced mild motion interpolation (yes, even with both controls set to 0) — something we haven't noticed on previous Samsung displays. Both of these small flaws are mild, however.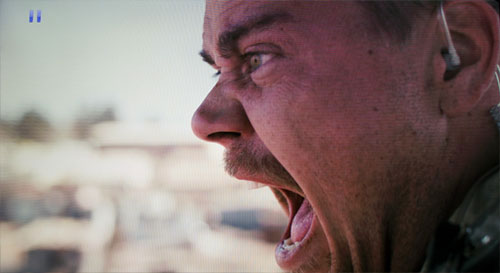 We then tested all of the main 3D modes (2D to 3D conversion, 3D Side by Side, and Blu-ray 3D frame-packed video) to look for judder. 3D had subtle (tolerable) judder at all times, regardless of the mode. Interestingly, with 3D, the [Motion Plus] settings often made no difference to the picture, but they could still be selected.
Console Gaming
Gaming was a decent experience on the Samsung UE46C8000. In its normal mode, there is enough input lag to make games completely unplayable, but thankfully, "Game mode" shaves this figure down to a much better 32ms. This is not an amazing figure, but it's pretty standard for an LCD display and should please most users.
Since a good number of upcoming 3D games are likely to use the "Side by Side" method, we also tested the input lag in this mode. Input lag here measured at 41ms.
Note that both of these figures were measured sending 1080p/60 to the display. Input lag measurements for 720p were higher. Please ensure that your console's video output is set to 1080p (in the case of the Xbox 360, this means that scaling will take place in the game console).
Conclusion
As a 2D TV, the Samsung UE46C8000 is potentially decent. Despite featuring excellent post-calibration greyscale performance and standard-def video processing, the package comes with a few other caveats: namely auto-dimming, non-uniformity, undefeatable noise reduction, poor scaling in 3D mode, and viewing angle issues. Some of these points seem to be specific to Samsung's ultra-slim LED LCDs, making these displays something of a compromise between style and performance. Videophiles are unlikely to tolerate these deficiencies all for the sake of reducing the size of the chassis by a few centimetres, but style-conscious viewers would likely have a different view.
Unfortunately, this is at odds with the fact that the Samsung UE46C8000 is on the 3D cutting edge. It's one of a handful of 3D displays available at the moment, meaning that early adopters (who probably have a serious interest in the highest quality video) will be keeping a close, discerning eye on it.
As for 3D LCD vs 3D Plasma: both Samsung and Panasonic's 3D TVs have advantages and disadvantages. We think that most consumers will find the additional crosstalk on the Samsung UE46C8000 more objectionable than the less linear Greyscale tracking (which results in a less natural-looking image) on the Panasonic TX-P50VT20. Viewers who are buying a 3D TV with Sky's 3D satellite content in mind should be wary of the Samsung UE46C8000, due to the poor picture quality it presented in Side-By-Side 3D mode. Round one, overall, goes to Panasonic, who managed to produce an outstanding 2D display with a good first attempt at 3D with their TX-P50VT20. However, the gap is not as close as we were expecting, so we will be very interested to see how traditional "bulky" (term used ironically) CCFL-backlit Samsung LCDs (the C750 series) do 3D. Viewers who are willing to sacrifice overall picture quality to gain an incredibly thin chassis, and gain access to the world of 3D, will likely find a lot to like with the Samsung UE46C8000 — but the price of entry is high given the overall performance.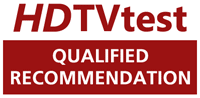 Note: Since Samsung is producing ongoing firmware updates for the UE46C8000 to tackle the issues we reported, we are likely to re-visit this review at a later date to keep track of any improvements, and amend the rating accordingly.