Samsung officially unveiled the ultra-slim C9000 series of 3D LED TV designated for the UK market in a launch party held in the Saatchi Gallery in London on the 27th of April. Also included were interactive demos of the Samsung C7000 and Samsung C8000 series of 3D-ready edge-lit LED-based LCD televisions.
The Samsung C9000 series — which includes the 46-inch UE46C9000 and the 55-inch UE55C9000 — is the flagship of the company's LED-backlit LCD TV range, with top-notch features and style to match. It boasts a native frame-sequential stereoscopic 3D (FS-S3D) panel, a chassis thickness comparable to a standard pencil, and is supplied with an iPhone-esque remote control with touch-screen capability.
Samsung UE46C9000
The Samsung UE46C9000 LED LCD TV is truly an engineering marvel, raising Samsung's status to a whole new level once exclusive to a select group of Japanese brands. The Samsung UE46C9000 may not be able to compete directly with the Sharp XS1 series (which features local dimming LED backlight) in terms of 2D image quality, but it certainly remains appealing considering its price, form factor and native 3D support.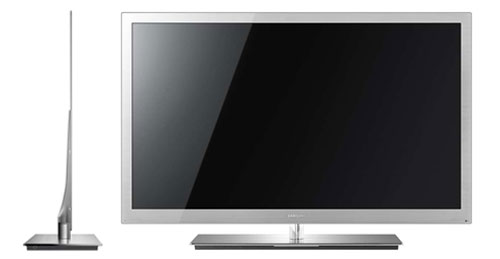 As illustrated by the above picture, the processing unit is located within the base of the stand, which can be detached and used as a separate set-top box when wall-mounted. It would have been nice to see an induction unit embedded within the stand to charge the 3D Active-Shutter Glasses wirelessly, but this may take some time to become viable.
2D-3D Conversion
The interactive demo set up by Samsung was quite simple and straightforward, consisting of two C7000 series of LED-based 3D TV connected respectively to two Xbox 360 running Forza Motorsport 3 and HALO 3. To enable synthesised 3D, you only need to switch the Picture Mode to 3D, and then engage 2D to 3D.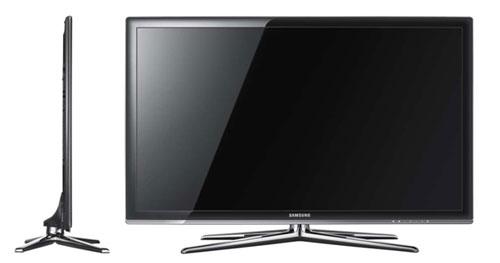 When playing HALO 3 in 3D using Samsung's 2D-to-3D conversion technology, I was quite amazed by the perceivable depth, and failed to notice any obvious input lag or irritating artefacts. It was pleasantly surprising to witness stereoscopic depth that is so much more realistic that the notorious pop-up book effect, due to the absence of multiple layers.
The HUD was on the front, and remained clear and readable throughout the gameplay. However, I did experience some difficulty focusing on the bullet counter, but that could have been caused by incorrect settings or the viewing distance (the physical space allocated for the demo was limited). An option to configure the level of stereo depth was available, which was quite effective in controlling the 3D depth. I would have loved to spend more time analysing the unit, but unfortunately I had to move on. Personally, I believe that Samsung have managed to produce a strong line-up of 3DTVs with a good functional selling point (i.e. 2D-3D conversion) which sets Samsung 3D TV apart from its competitors.
3D Configurations, Crosstalk and Flicker
All Samsung 3D TV series are embedded with user-configurable 3D View Mode that governs the level of Stereoscopic 3D, which essentially controls the stereo widening of both native 3D formats and 2D-to-3D conversions. It is an essential tool to tackle problems that may arise with certain individuals and contents. For example, if a particular content has too much depth or pop-out effect, it can cause side effects such as headache induced by eyestrain, so minimising widening to comfortable level is essential in providing lucid 3D experience. This user control also helps to minimise cross-talk.
Talking of which, cross-talk is a problem that is very difficult to combat on LCD TVs. It is caused by leakage of the left image that is perceived by the right eye (and vice versa), creating a ghost-like double image that can strain your eyes as they try to focus on the image. The main reason is pixel lag, and VA panels happen to be the worst offenders since they exhibit the highest greyscale response time compared to TN and IPS panels.
Because of this, Samsung had to improve their panels and implement BFI (Black Frame Insertion) in conjunction with Backlight Scanning to reduce the level of perceived crosstalk to a minimum. During the demonstration of the Samsung UE46C7000, UE46C8000 and UE46C9000, I did notice a few hints of cross-talk, but it was mostly negligible. I also detected some low-level flicker, but only when the brightness on screen was above a certain level. So during calibration, it's probably best to keep the screen brightness/ luminance under the flicker threshold for comfortable 3D viewing.
Backlight Bleed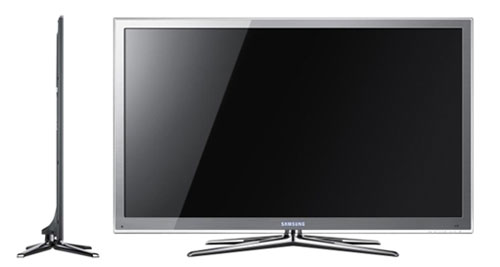 Unfortunately, the dreaded backlight bleed was visible during the demo of the Samsung UE46C8000 — I had hoped to see it eliminated or drastically reduced, especially when LG's first-generation LED-backlit LCD series managed to yield excellent black uniformity from day one. It is perhaps a flaw or characteristic of the VA panel design, but as ever we would reserve judgement until we get a sample to review.
Update 29 May 2010: We have completed and published a full review of the Samsung UE46C8000 3D TV.
User Menu GUI (Graphic User Interface)
On a positive note, Samsung have upped the responsiveness of their user menu GUI by increasing the number of frames to deliver smooth fluid motion, a welcome improvement from last year's Samsung B750 which I criticised for its GUI sluggishness. In fact, I believe that most people will find it comparable to Windows Aero, which is a joy to interact with.
Stay tuned for an upcoming in-depth technical report about Samsung's LED-based 3D TV technology.