Summer is officially here, and it's time for yet another Samsung flat-screen HDTV to light up our test room. In for review today is the UE46F8000, which is the 46-inch model within the Korean manufacturer's top-end (as far as 1080p sets go anyway) Series 8 range of LED LCD TVs. The 55″ Samsung UE55F8000 previously bagged our "Highly Recommended" award back in March, so can its smaller, 46in sibling repeat the feat? Let's find out.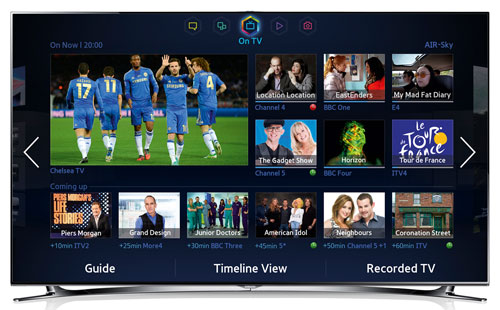 The specific unit we tested was the Samsung UE46F8000STXXU which denotes the 3-pin-plug United Kingdom version that features edge LED backlighting with "Micro Dimming Ultimate" technology, quad-core processor, 1000Hz CMR (Clear Motion Rate), Freeview and Freesat HD tuners, as well as active-shutter glasses (ASG) 3D capabilities. The company's new Smart Hub internet-connected platform is also on board, boasting undoubtedly the most comprehensive suite of Smart TV apps (including the full range of UK catch-up TV services like BBC iPlayer, ITV Player, 4oD and Demand 5) and functionalities (S-Recommendation, alongside voice and motion control with inbuilt camera) at this time of writing.
Design
Even though this is not the first Samsung F8000 LED TV we've seen, the UE46F8000's stunning design still wowed us no end. The incredibly slim black bezel – measuring a mere 5mm – virtually dissolves into the background, leaving nothing between you and the gorgeous picture on screen. A brushed metallic silver trim adorns the outer edges of the bezel; and along the top border lies a 5-megapixel press-to-pop-up camera which is useful for facial recognition, gesture controls and Skype video calls.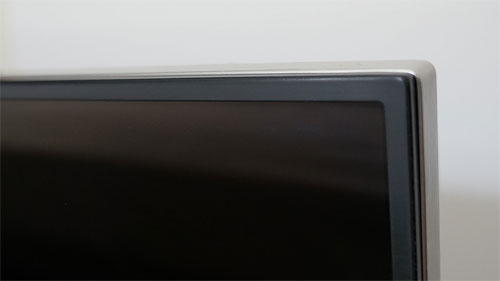 The entire panel is supported on a chrome-plated, non-swivel "Arc Stand", delivering a sufficiently convincing "suspended in air" effect. Because of how the stand is shaped, the weight of the television is actually loaded near both ends of the curvature, which means that unless you have an AV rack that's at least as wide as the screen, the whole set will topple forward. That'll ruffle a few feathers when it comes to accommodating the 46F8000 at home then.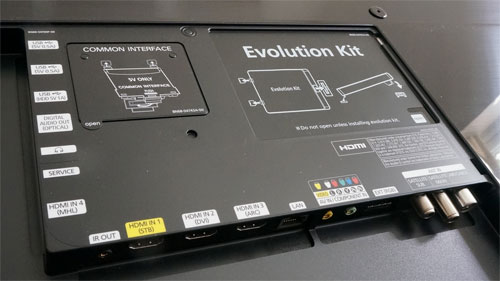 Note: The user menu, connection ports, remote controls and Smart TV interface on the UE46F8000 are exactly the same as the ones available on the UE55F8000 we've tested in March – please refer to that review if you haven't read it, or need a refresher.
Calibration
The picture preset that's closest to Rec. 709 HDTV standard is usually [Movie] mode on Samsung flat-panel televisions, and so it proved on the 46″ F8000. Here's how it measured.
Greyscale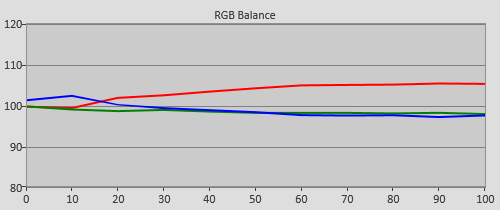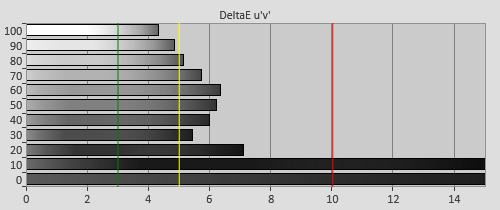 Pre-calibration RGB tracking and delta errors (dEs)
In [Movie] mode, the default [Colour Tone] of "Warm 2" yielded decent out-of-the-box greyscale accuracy without any further advanced calibration, though a slight red tint could be observed in the image. Samsung provides an extensive set of picture-affecting controls including 2- and 10-point [White Balance] on its high-end HDTVs, allowing us to rectify these errors directly from the on-screen menu with the help of a colorimeter (profiled to a spectrophotometer) plus SpectraCal's excellent CalMan 5 video calibration software.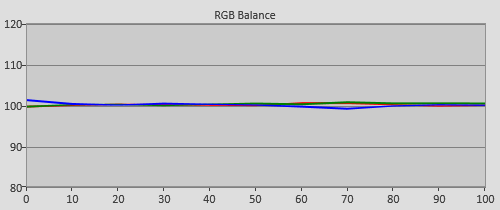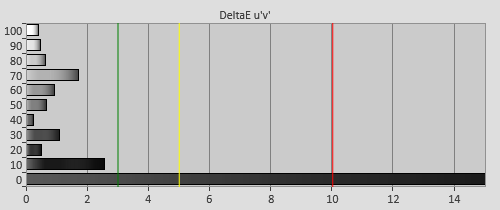 Post-calibration RGB tracking and dEs in [Movie] mode
Our Samsung UE46F8000 review sample calibrated superbly: dialling down [R-Gain] control in the [White Balance] submenu was enough to achieve outstanding results. The [10p White Balance] controls worked well, but we found that adjusting one at higher luminance intervals affected the next (for example, changes made at 70% stimulus would leak into 80%, necessitating further adjustments and creating a domino effect). In any case, only a couple of 10-point WB tweaks were required: one at 10% stimulus to neutralise the low-end blue tint commonly seen on VA LCD panels; and the other at 90% stimulus.
Gamma
Like most TVs nowadays, the 46F8000's overall gamma came in at around 2.2 in [Movie] mode out of the box, which is suitable for use in a moderately-lit viewing environment.
| | |
| --- | --- |
| | |
| Pre-calibration gamma tracking (2.2) | Post-calibration gamma tracking (2.4) |
Since ITU has specified 2.4 as the reference electro-optical transfer function (EOTF) for flat-screen high-definition displays used for studio mastering in a dark room, we are now targeting this gamma value on all HDTVs we review that are capable of deep blacks (however, if a display has shallow black level, or if the ambient lighting is stronger, it would be better to stick to 2.2). On the UE46F8000, reducing the [Gamma] setting to "-2" was all that's needed.
Although the [10p White Balance] controls can easily be repurposed as a 10-point gamma editor to flatten the gamma tracking even further, we decided not to do so due to the aforementioned cross-contamination issue. In any case, gamma tracking on the 46-inch F8000 was linear enough, providing a smooth transition from dark to bright areas without exhibiting unnatural tonal disruption.
Colour
The default [Colour Space] setting of "Auto" in [Movie] mode was quite accurate, but ran "hot" (i.e. was oversaturated) at 25% and 50% colour saturation tracking points. We used Samsung's excellent RGB-based colour management system (which can be unlocked by switching [Colour Space] to "Custom") to suppress this somewhat without compromising 75% and 100% saturation points: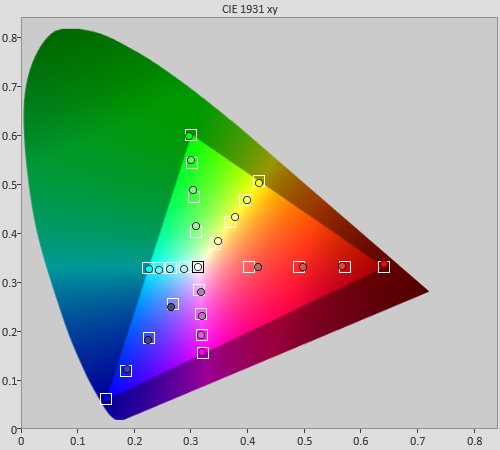 Post-calibration colour saturation tracking
… while prioritising colour decoding/brightness/intensity at all times to get it spot-on: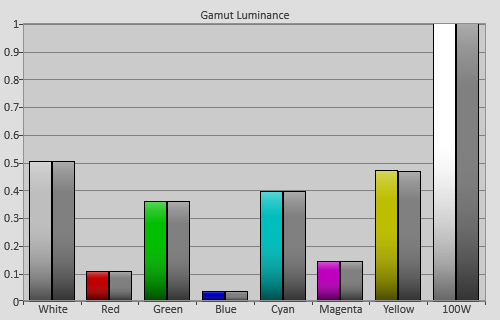 Post-calibration colour luminance (coloured bars=targets; black bars=measured values)
Benchmark Test Results
| | |
| --- | --- |
| Dead pixels | None |
| Screen uniformity | Excellent for edge-lit LED LCD TV |
| Overscanning on HDMI | 0% with [Picture Size] set to "Screen Fit" |
| Blacker than black | Passed |
| Calibrated black level (black screen) | 0 cd/m2 (LEDs shut off) |
| Calibrated black level (ANSI checkerboard) | 0.051 cd/m2 |
| Black level retention | Auto-dimming with full black screen |
| Primary chromaticity | Excellent |
| Scaling | Excellent |
| Video mode deinterlacing | Excellent – very effective jaggies reduction |
| Film mode deinterlacing | Passed 3:2 cadence over 480i & 1080i; and 2:2 over 576i |
| Viewing angle | Decent for VA LCD: washout occurs beyond 45° off-axis |
| Motion resolution | 1080 with [Motion Plus] engaged; 300 otherwise |
| Digital noise reduction | Optional; effective when engaged |
| Sharpness | Defeatable edge enhancement |
| Luma/Chroma bandwidth (2D Blu-ray) | Full luma; chroma horizontally blurred unless in [Game] mode |
| 1080p/24 capability | No judder in 2D; mild judder in 3D |
| Input lag (high-speed camera) | 45ms compared to lag-free CRT |
| Leo Bodnar input lag tester | 42.5ms |
| Full 4:4:4 reproduction (PC) | Yes, with 60hz signal and "PC" input label |
| 3D crosstalk level (Spears & Munsil) | 1.0% |
Power Consumption
| | |
| --- | --- |
| Default [Standard] mode | 69 watts |
| Calibrated [Movie] mode | 68 watts |
| Standby | <1 watt |
Picture Quality
The UE46F8000 LED TV put out a supremely lush high-definition image, which was made all the more compelling by the nearly non-existent bezel and largely recessed arc stand, contributing to a spectacular effect where the picture seemed to float out of nowhere from your typical living room backdrop. Samsung's generous provision of highly effective calibration controls let us attain neutral greyscale, accurate colours and eye-popping 2.4 gamma, injecting a wonderful sense of authenticity into whatever was displayed on screen.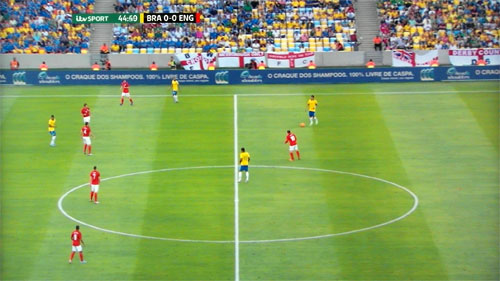 The South Korean brand had been misapplying undefeatable noise reduction even to pristine HD content on its high-end flat-panel televisions over the past couple of years; fortunately 2013 is the year the company finally listened to our pleas and rectified this oversight. With both [Digital Clean View] and [MPEG Noise Filter] set to "Off", there's truly no underhanded noise smoothing at play, allowing sublime detail and texture in high-quality films to burst into life on the 46in F8000. And with [Sharpness] dialled down to "0", there's no unnecessary edge enhancement either. This is an absolute feast for the eyes – one that had us flipping through our catalogue of Blu-ray movies (not to mention high-def broadcasts from the Freesat/Freeview HD tuners) in appreciation.
After pegging peak white to 120 cd/m2 and setting the correct [Brightness] with a PLUGE pattern, black level measured 0.051 cd/m2 on the 46F8000, which is very good by LED LCD standards – most of the 3D-capable, edge-lit models with VA-type LCD panels this year seem to be hitting this mark. Backlight uniformity was fantastic on our review unit: this is the fourth consecutive 2013 edge LED television from Samsung that have had minimal issues on this front, so well done to the company for paying particular attention to this problem which has plagued many LCD TVs over the years.
Our Samsung UE46F8000 review sample exhibited a couple of different behaviours from the larger 55in UE55F8000 we tested in March, which we believe is the result of some picture quality-related fixes Samsung implemented in its latest 1102 firmware update. The first one we noticed was with the [Cinema Black] feature which is meant to darken the letterbox bars in cinemascope films. On the 55F8000 we complained that both the "Medium" and "High" settings introduced brightness fluctuations to the entire picture, but on the UE-46F8000 (loaded with 1102 firmware) only the latter was affected – "Medium" is now a viable option for viewers who wish to dim down the top and bottom letterbox bars when watching movies.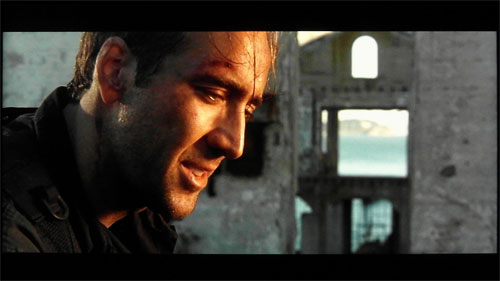 The other change relates to how 1080p/24 signal from 3D Blu-ray movies is handled. The Samsung 55-inch F8000 applied undefeatable motion interpolation to such content even with [Motion Plus] disabled, which smoothened out any judder but created a subtle if unmistakable "soap opera effect". This was not the case on the 46-incher: [Motion Plus] "Off" was indeed truly off in 3D mode. This meant that 24fps tri-dimensional material exhibited some judder, but it's very mild, and preferable to always-running motion interpolation which corrupts the very fabric that makes 24p films unique. Whether this is because of different screen sizes or the newer firmware is unknown, but either way it's good news for UE46F8000 owners.
Continuing on the theme of 3D, the 46F8000 provided us with a first-rate extra-dimensional viewing experience. It produces brighter images and significantly less flicker than rival active-shutter 3DTVs from Panasonic and Sony, making the Samsung F8000 actually watchable during daytime for 3-D content. And of course, it delivers true full HD 3D resolution which passive 1080p sets and most Panasonic 3D plasmas are not capable of. Some crosstalk was visible, but did not detract from our enjoyment of three-dimensional material which was heightened by realistic greyscale and colours after calibration.
One small matter that we still noticed on the UE46F8000 – new firmware or not – was the occasional presence of motion hiccups after scene cuts. This seemed to occur more frequently with standard-definition broadcast of a lower quality (SD processing was otherwise top-notch on the TV, by the way). For example, while watching some French Open tennis on ITV4 on Freeview or Freesat, when the scene changed from a slow-motion replay back to the live court view as a player was going to serve, the entire picture would stutter, with some noticeable tearing thrown-in – as if Samsung's video processing was taking a fraction later to kick in following the scene cut. To be fair, these motion artefacts did not crop up as much in high-definition content: we only saw a few instances during similar Roland Garros coverage on ITV HD; and almost none in the various Blu-rays we sampled.
Conclusion
Samsung has not held anything back in creating its flagship LED LCD TV this year, showering the F8000 with an utterly gorgeous design, sumptuous high-definition pictures, class-leading standard-def handling, bright and full-res 3D images (which also manage to be nearly flicker-free), as well as an impressive array of Smart TV apps and functionalities.
Compared to the 55″ Series 8 LED we previously reviewed, the UE-46F8000 was even better in two areas as far as picture quality is concerned, probably because of the latest 1102 software update released by Samsung. First, [Cinema Black] "Medium" no longer introduced brightness fluctuations to the whole picture, making it a worthwhile option for those who'd like to darken the top and bottom letterbox bars during critical viewing. Second, any motion interpolation during playback of 24p 3D content was optional instead of forced: there remained very mild judder through slow pans, but it's very subtle, and in any case superior to undefeatable "soap opera" effect.
Taking into account 2D, 3D and Smart capabilities, as a package there's no better 46-incher available to buy on the market than the Samsung UE46F8000. Like its bigger brother, it's a worthy recipient of our "Highly Recommended" award.