If you're desperate to experience the wonders of 4K in your own living room but feel that Samsung's 85-inch Ultra HD S9 TV is a little beyond your budget, you'll be glad to know that it looks like a cheaper option could be winging its way to a retail outlet near you soon.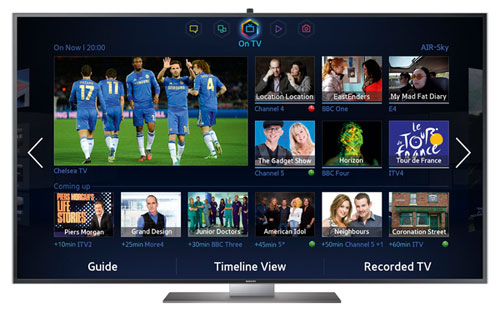 Samsung's 55-inch and 65-inch F9000 LED-based 4K TVs, namely the UE55F9000 & UE65F9000, have been launched in the USA and France, giving us good reason to suspect that ol' Blighty could be next.
Although not quite on a par with their 85in cousin, the smaller F9000 UHD TVs has been declared by Samsung to be capable of delivering "the highest resolution and best-in-class picture quality", only at a much more affordable price. The UE55F9000 has been priced at $5,500 and €4,990 in the USA and France respectively, while the larger UE65F9000 is tagged at $7,500 and €6,990 – admittedly they're still not cheap, but next to the £35,000 asking price of the 85-incher, these are almost bargain basement prices in comparison.
Samsung UK is yet to make any official announcement, but what with France being such a short hop away, we're optimistic that the TVs will land on these shores soon. Evidence of this comes from British electrical retailer Currys, which has over this week put up a preorder page for the Samsung UE55F9000 priced at £4,299, with an availability date of between 4-6 weeks which brings us to August
Speaking at the US launch, Joe Stinziano, executive vice president of Samsung Electronics America said that the F9000 would "revolutionize the home entertainment experience," and give consumers great peace of mind with their entertainment investments.
Both ultra high-definition TVs come with Samsung's Smart TV platform, which allows content to be organised into five categories – namely On TV; Movies and TV shows; Smart TV Apps; Music, Photos and Clips; and Social. The 4K TVs also come with the Korean manufacturer's S-Recommendation function, while the company highlighted elements like its LED pseudo-dimming technology, which produces a greater contrast between lighter and darker areas to create a sharper image, and its Smart Interaction features, including hand gesture and voice controls for when the remote is out of reach.
The Samsung F9000s also boast built-in WiFi, active-shutter 3D technology, an embedded camera to facilitate video chat, and two-way 2.2 channels of 70-watt sound to complement the stunning picture.