The last time we analysed the first in a series of cutting-edge TV products here at HDTVTest, we took the future success of the display technology for granted, and proclaimed that the first 3D television we were putting through our review process was the beginning of a new era. The market, and subsequently, the industry, seems to have had different ideas, with CE companies instead hoping that web-connected "Smart TV" technology will be of more interest to buyers.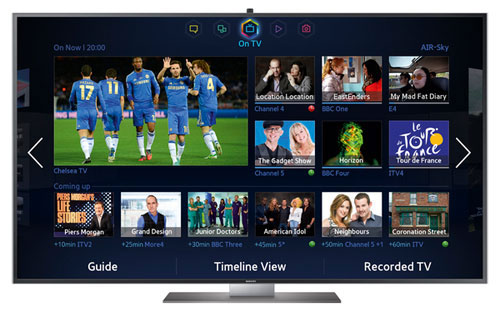 So, should we be more cautious before suggesting that Samsung's Ultra High Definition (UHD) UE65F9000 LED LCD TV is a sign of things to come? Owed to Moore's Law, probably not. Just as with the early days of HDTV, UHDTV content is scarce, but it is coming.
None of that will stop tech pundits and consumers dismayed at the thought of their current flat panel no longer being cutting edge from predicting the failure of UHD. Already, the usual reasons are being cited: "you'll need a huge screen", "only experts will care for the difference", "we'll need to buy new screens", "there's no content"… in other words, the exact same arguments that were floated for the refusal of 720p-centric "HD Ready" displays, and shortly thereafter, the 1080p full HD screens which followed (apparently early technology refuseniks also suffer from short-term memory issues).
These complaints cease almost immediately after the TVs become affordable. What we're saying is that technology naturally moves forward (at an increasingly breakneck pace). 1920×1080 is not going to be the dominant TV resolution forever. Naturally there will be a time where the continual improvements stop being noteworthy, but anyone who's witnessed Ultra HD content will attest to the fact that we're not at that stage yet. The content is frustratingly scarce at present, but the upgrade is worthwhile.
The first UHD televisions – widely marketed as "4K Ultra HD" TVs – are coming to market at a time alongside "normal" HD OLED screens. For some perspective, given the choice of Ultra HD LCD and 1080p OLED, we'd be more interested in OLED (resolution is only one factor determining picture quality, and OLED's other strengths would win out for us). And while we're not hugely dissatisfied with 1080p HDTV when done right (that means on properly mastered Blu-ray Discs), there's no denying that good ultra high-def content is a sight to behold. Hopefully Ultra HD OLEDs follow quickly so we can enjoy the benefits of the new display technology and the higher resolution.
Back specifically to the display at hand, the Samsung UE65F9000 is the 65in model within the Korean manufacturer's F9000 series of 4K LED TVs. There's a smaller 55-inch version (the UE55F9000), but if you want an Ultra HD TV larger than 65 inches, you'll have to go all the way up to the 85-inch S9 which is styled in the iconic "Timeless Gallery" design (the F9000s use a more traditional, but still very slick design). The company's Smart TV features are naturally on board, and the 4KTV ships with both a standard remote control and Samsung's unique (and surprisingly usable) redesigned touchpad remote.
In an effort to keep concerns about the lack of 4K content from stifling early adoption, Samsung promotes the UE65F9000's "Quadmatic Picture Engine", which can apparently detect the originating resolution of the content by way of image analysis. In other words, the video processor will be able to detect the presence of standard definition content, even if it's been scaled to HD by an upscaling DVD player (or TV receiver box) already, rather than deciding that content is SD, HD or UHD based on the resolution of the signal being input. Noise reduction (optional), scaling, and detail enhancement are the remaining three steps. We'll find out how well that works later in the review.
Note: Throughout this article, the terms "4K", "Ultra HD" and "2160p" will be used to mean the same thing, in the same way they're used interchangeably by various consumer electronics manufacturers, even though technically 4K refers to the Digital Cinema 4096×2160 resolution.
Jump To: Calibration • Picture Quality • Conclusion
Design
It's a given that a premium television coming out of Samsung is going to sport a tasteful and high-end design. The UE-65F9000 naturally doesn't buck the trend of having almost no screen border to speak of, and features a subtle silver edge around what border there is. There's also a recessed white LED which shoots a cool glow underneath the silver "SAMSUNG" logo. The stand is a sharp-edged brushed steel affair, and was easy for us to assemble.
In other words, the design is typical of a 2013 Samsung flat-screen TV: premium and understated. In fact, we would go as far as to say that the Samsung F9000's style is reminiscent of pre-recession Sony, albeit scaled back to match today's slimmer LED-centric LCD hardware.
Connections
Similarly to the earliest plasma and LCD flat-panel HDTVs, the UE65F9000's inputs are housed in a separate media box, which Samsung calls "ONE CONNECT". This features connections for the cable/terrestrial and satellite tuners (one shared cable/terrestrial input and two satellite feeds), as well as 4 HDMI inputs, some audio outputs, and provision for the hookup of analogue sources (Component, Composite and RGB SCART) by means of supplied adapter cables.
The ONE CONNECT box does not need its own power hookup, with output to the screen and power being supplied by what looks like a slightly modified DisplayPort cable.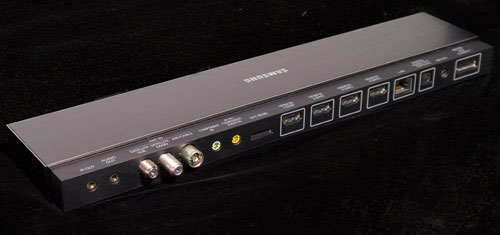 Rear of ONE CONNECT media box
The choice to house the connections externally is likely to provide an upgrade path for current owners. The F9000 UHDTVs were released prior to the finalisation of the new HDMI 2.0 standard, which will allow Ultra HD 2160p (sometimes referred to with the digital cinema name of "4K") resolution video to be passed from source to screen at frame rates higher than 30fps. The current HDMI version limits UHD content to 24 or 30 fps, which is obviously fine for 24fps movies, but falls short of what's required for the smooth display of high-motion video content like sports.
We can't find any confirmation from the company itself on this, but several sites are reporting that Samsung representatives have hinted at a future HDMI 2.0-capable ONE CONNECT box being made available to support the higher frame rate. We can easily believe they'll make good on that promise – although it might have helped slim the panel down too, future upgrades seems to be the best reason for housing the connections externally.
Operation
The now-familiar blue-and-white Samsung menus are present on the Samsung 65F9000. Not surprisingly for debut 4K TV models, the menus appear to be rendered at 1080p HD resolution, and are scaled to meet the UHD panel size.
The picture setup controls available are the same as on other high-end Samsung TVs. On top of the basic picture setup controls, owners are given access to 2-point and 10-point White Balance (greyscale) adjustments, a basic Gamma control, and a full three-axis colour management system (CMS). As with the rest of the current Samsung lineup, this European model lacks access to the unlockable Day and Night calibration memories, although we should point out that the implementation of these on the American versions is not entirely trouble-free at present.
Calibration
Note: Our Samsung UE65F9000 review sample was calibrated using CalMAN Professional, the industry-leading video calibration software.
Greyscale
Pre-calibration, the UE-65F9000's images (in the "Movie" mode, which by default uses the "Warm2" colour temperature mode) were fairly naturally coloured by uncalibrated TV standards. Dark areas of the picture (left of chart) had a blue tinge, something we often see with LED-based LCDs before calibration: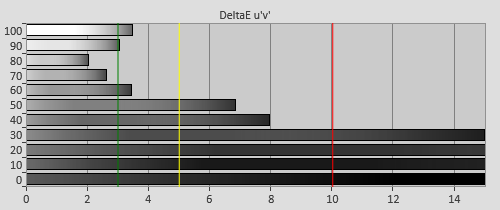 Pre-calibration RGB tracking and delta errors (dEs)
The F9000 features 10-point calibration controls, so it's a cinch for a calibrator to achieve neutral RGB mixing at these positions with the right equipment and time. Doing this left us with neutrally-coloured grey shades at each of the ten measured brightness levels.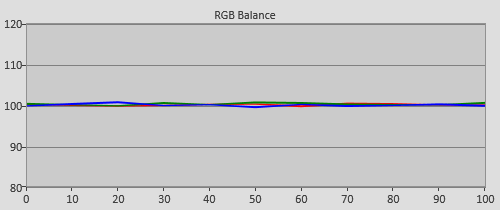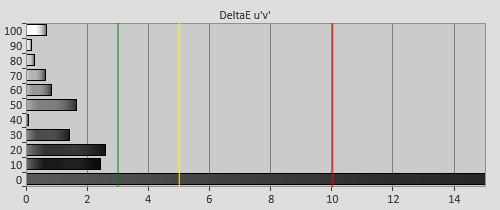 Post-calibration RGB tracking and dEs in [Movie] mode
Gamma
In the pre-calibrated state, the Samsung UE65F9000 exhibited brighter-than-ideal shadow details, as can be seen by the dip downwards at the 10-30% positions in the gamma tracking chart relative to the yellow target line. It didn't harm our enjoyment by a huge amount, but we were aware of the brightened dark areas in a side-by-side comparison. After calibration (right), dark content appeared that bit "richer" owed to the slower, more gradual transition out of black:
| | |
| --- | --- |
| | |
| Pre-calibration gamma tracking | Post-calibration gamma tracking (2.4) |
Colour
The 65F9000's pre-calibrated colour accuracy was very good. We find that it takes substantial hue and saturation errors or non-linearities to really dent our enjoyment of a display, and as you can see from the chart, where the measurements (circles) match the targets (white squares) quite closely, the UE65F9000 didn't have any of these: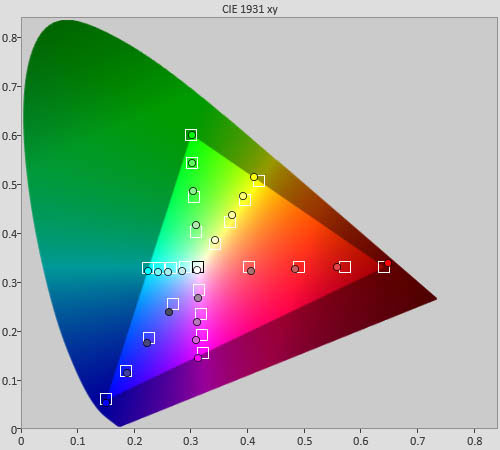 Pre-calibration colour saturation tracking
Pre-calibration colour errors (<3 not appreciable to the eye)
After greyscale calibration and then further colour fine-tuning in the [Colour Space] menu, we were satisfied that we had achieved the best result possible from this screen. The biggest error we were left with was with fully saturated red, which remained a little over-saturated relative to the Rec.709 HDTV standard. As usual, we chose to spread the errors out across the different saturation levels, rather than achieving perfection at one level at the expense of all others.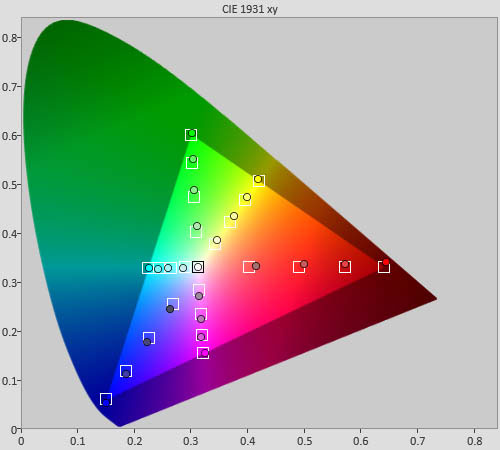 Post-calibration colour saturation tracking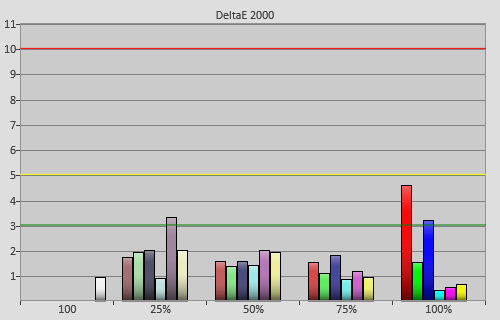 Post-calibration colour errors (<3 not appreciable to the eye)
It's worth noting here that we calibrated the Samsung F9000 in accordance with the "normal HDTV" Rec.709 standard. The standards document for Ultra-HD, called Rec.2020, lays out a considerably wider gamut, allowing for more saturated colours (the current 709 HDTV colour specification dates back to 1990). Out of curiosity, we did put the UHDTV in its widest gamut mode to see how far out it could reach. The answer is, like most LED LCD televisions, the UE65F9000 can't go much farther than the Rec.709 gamut, and falls far short of meeting Rec.2020, which, again, is a huge gamut.
We're not sure what's going to happen with Ultra HD content as it begins to be rolled out. Given that it's going to take OLED – if that – to meet this huge colour gamut, we wouldn't be surprised if studios stick with the old HDTV colour standard. Sony has also been releasing "Mastered in 4K" 1080p Blu-ray Discs that playback with a widened colour gamut on compatible Sony hardware, but this is not Rec.2020. The situation should become clearer when the first 4K Blu-ray Discs and players begin rolling out.
Benchmark Test Results
| | |
| --- | --- |
| Dead pixels | None noted (likely hard to see subpixel defects at this resolution) |
| Screen uniformity | Very good for edge-lit LED, slight blue tint at edges |
| Overscanning on HDMI | Defeatable with 1080p and 2160p (UHD) content |
| Blacker than black | Passed |
| Calibrated black level (black screen) | 0.048 cd/m2 (with [Smart LED] off and dimming defeated) |
| Calibrated black level (ANSI checkerboard) | 0.048 cd/m2 |
| Black level retention | Stable above black, but lights cut out with full black signal |
| Primary chromaticity | Excellent |
| Scaling | Excellent |
| Video mode deinterlacing | Very effective jaggies reduction |
| Film mode deinterlacing | Passed 2-2 PAL and 3-2 NTSC tests in SD and HD |
| Viewing angle | Very good for VA-type LCD |
| Motion resolution | High motion sharpness with [Motion Plus] enabled |
| Digital noise reduction | Excellent: Present, optional |
| Sharpness | Excellent: Defeatable edge enhancement |
| Luma/Chroma bandwidth (2D Blu-ray) | Full Luma, horizontal chroma resolution lessened |
| 1080p/24 capability | No judder in 2D |
| Input lag (Leo Bodnar tester) | 69ms |
| Full 4:4:4 reproduction (PC) | Yes, with PC input label |
Power Consumption
| | |
| --- | --- |
| Default [Standard] mode | 206 watts |
| Calibrated [Movie] mode | 144 watts with [Smart LED] "High"; 163 watts, "Off" |
| Standby | 1 watt |
Picture Quality
Black Level & Contrast Performance
Most of the first 4K Ultra HD TVs we saw at trade shows were using LG's IPS panel. Although we haven't had the chance to do a thorough testing of a 4KTV using that display, like other IPS panels, it should offers superior viewing angle performance but with the trade-off of less impressive black-level depth. The UE65F9000 represents the first time we've seen one of Samsung's own SPVA panels in higher-than-1080p resolution, and we're impressed by the contrast performance. We feel that in the LCD world, the strengths and weaknesses of SPVA represent the best compromise.
After we aligned the peak luminance of the panel to sit at around 120 cd/m2, blacks measured at 0.048 cd/m2 (this is after defeating the auto-dimming, by the way). That's the same result we measured from the 1080p Samsung UE55F8000, indicating that this attribute is independent of screen size or resolution.
The Samsung UE-65F9000 also has a [Smart LED] function, which is a dimming system that improves the contrast performance. It appears in the menu in place of the [Cinema Black] feature which appeared on the UE55F8000, and has three levels of severity as well as an "Off" setting. Many purist users who, like us, want to see an accurate representation of a film or TV show without manipulation, often scorn these features out of a long-term distrust of extraneous video processing. However, we recommend users and calibrators don't dismiss settings which work to conceal limitations of the display technology so quickly. [Smart LED] is a case in point: it's a carefully designed piece of processing which works to improve the contrast performance of the panel.
[Smart LED] works by dimming the intensity of the LED lights in synchronisation with the brightness of the video signal being displayed by the LCD panel. So obviously, in a dark night-time shot, with [Smart LED] enabled, the LEDs will dim. On its own, this would make the entire picture dim, even any bright details which existed in the dark scene (street lamps in the dark being a good example). To counter this, the video processor manipulates the white level and boosts the pixel values of these areas to compensate for the darkening, to prevent the bright details appearing grey after the LEDs have been dimmed. This isn't completely without compromise, because eventually, we run out of dynamic range in the panel (that is to say, we can't boost the bright areas enough to fully compensate for the dimmed light sources). For that reason, you might occasionally see clipped highlights in dark scenes if you use this setting (as far as we can ascertain, the purpose of the three sensitivity settings is to control this side-effect). Still, we thought it was worthwhile overall, and users in dark rooms will want to check this feature out – the results can be quite impressive, especially thanks to the fact that such a well-integrated dimming system has been matched with an SPVA LCD panel, which has contrast that's already very good by LCD standards on its own.
Motion Resolution
The UE65F9000 doesn't rock the boat in terms of motion clarity, which is no better and no worse than we've seen on similar LED LCD TVs in the past. Even with the [Motion Plus] system set up to boost motion resolution without abstracting the look of films, high-motion video content, doesn't appear as crisp as it does on a plasma (or CRT). This is owed to the workings of LCD panels themselves, and can (at present) only be overcome fully by dark frame insertion (which doesn't appear to be viable on LCD owed to the fact that no TV manufacturer we currently know of implements it) or backlight (actually, edge-light) blinking.
The Samsung F9000 does have what sounds like an edge-light blinking system (it's called [LED Clear Motion]), but we didn't feel that it made any obvious difference – not enough to justify the slight drop in light output, anyway.
Our usual resource, the FPD Benchmark Software Blu-ray Disc, was designed for 1920×1080 HDTVs, meaning that after scaling, the readings for the number of lines the screen can clearly show will not be valid since there is no longer a 1:1 relationship between the pixels from the source and those on the panel. However, we can still make the generalised visual observation that the motion performance is basically the same as Samsung's 1080p HD LCD panels: using the "Custom" [Motion Plus] setting with a high deblur value (and 0 dejudder to keep filmic motion intact with film content), all of the lines in the HD-resolution chart appeared crisp.
Ultra-High Definition
To address the dearth of UHD content, Samsung shipped us a USB memory stick with some 2160p content to enjoy on the new screen. The experience brought back memories of watching downloaded Windows Media HD clips on our first 768p LCD HDTV in 2004, owed to the inevitable repeatability and the novelty of the higher resolution, only this time around, we're treated not to flying logos, dolphins or movie trailers, but Samsung's own cityscape and "great outdoors" footage, which is bursting with high frequency detail.
We did also bring our own UHD content to the UE65F9000, but amusingly enough, the television threw us an error telling us that the resolution of 3840×2160 was not supported! It seems that the AVC (H.264) video decoder in the 65in F9000 doesn't yet support resolutions higher than 1920×1080. To address this, Samsung's own content was supplied in four separate "tiled" 1920×1080 files, which the 4KTV then seamlessly stitched together.
Samsung's Ultra-HD SPVA LCD panel uses a vertically striped subpixel layout, meaning that the red, green and blue sub-pixels are arranged in straight rows from top to bottom, without being alternated. Combined with the ultra-high resolution, this gives the picture a very silky appearance, even if you're sitting close to the screen. Non-striped layouts (usually referred to as "pentile") are more common in emerging display technologies like OLED, although Samsung has used them on some of its entry-level plasmas and LCDs before. Other manufacturers (notably Sharp, which actually controls the layout depending on the brightness level of the pixel) have used pentile-like arrangements even on high-end televisions, like the eye-wateringly expensive ELITE LCD. We're glad Samsung has continued to use a striped layout, since we're of the opinion that anything else harms the perception of fine details.
For some comparison, here's a close-up of the screen showing some of Samsung's sample 3840×2160 content: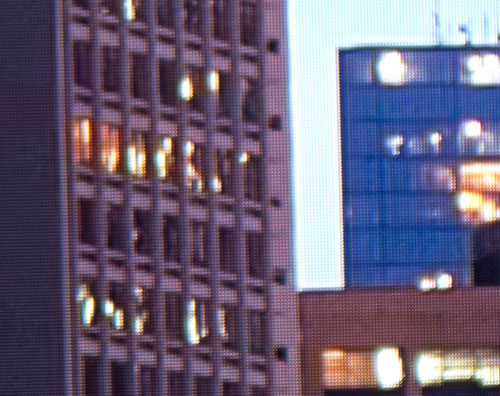 And here's our own version downscaled to 1920×1080 (using AVISynth's Spline64Resize command) and fed back into the 4K TV via the same media player: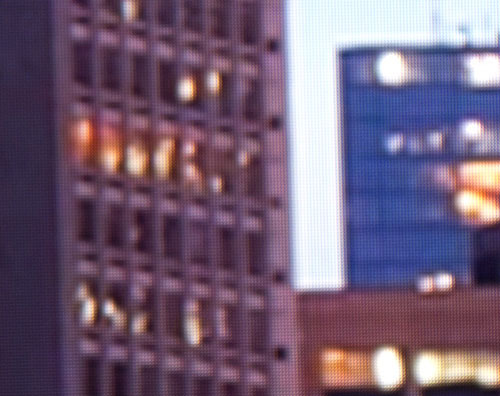 High Definition and Scaling
As a higher-than-HD resolution display, the UE65F9000 further delineates the good from the great when it comes to 1080-line (or less!) high-def content. This is inevitable owed to the size and resolution of the panel, rather than a shortcoming of the display.
Due to Europe being so late to the HDTV party, we've been spoiled by the (usually) excellent picture quality of Blu-ray (and HD DVD). While consumers in the USA and Japan got to experience tightly compressed broadcast HDTV first, with the higher quality delights of Blu-ray following later, actual HD television service appeared here in the UK almost simultaneously with HD discs, making the smoothed-over, compressed HD television channels look fairly underwhelming to video enthusiasts who'd seen fully textured content from disc. Broadcast HDTV still looks good, but the differences between decent and the great are exacerbated on a big screen Ultra HD 4K TV.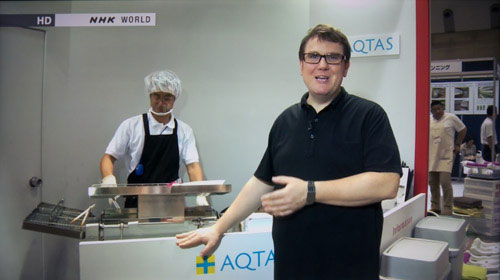 Compression artefacts and textures that have been stripped out by video compression no longer have visible gaps between the pixels to hide behind – everything is laid bare on the silky UHD panel. Still, HD content holds up very well on the UE65F9000 owed to Samsung's scaling process, which is marketed as the "Quadmatic Picture Engine".
Speaking of scaling, when we comment on the SD-to-HD scaling on Samsung HDTVs (at least Samsung HDTVs using the company's own video processor, which now seems to make up the majority of the mid-range and high-end models), we point out that the scaling algorithm which calculates new pixels based on the lower-res input favours a smooth result instead of one with a lot of aliasing or ringing. Broadly speaking, scaling involves a tradeoff between aliasing, ringing, and apparent sharpness, and Samsung's approach, as with SD-to-HD, minimises overshoot artefacts (which often get referred to as "edge enhancement" but in fact aren't necessarily the same). Comparing single-pixel diagonal lines input to the UE65F9000 as 1080p compared to being scaled by one of OPPO's recent upscaling BD players, Samsung's is many times cleaner, without the ringing. Probably as a consequence, Samsung's result doesn't look as immediately sharp. Users who find 1080p content lacking in "punch" might want to add some in-TV sharpening, but don't take the control above 6-8, which is where halos start to become a problem.
One of the aspects of the said upscaling process is a noise reduction stage. Just to dismiss any fears, there is no forced noise reduction on the Samsung UE65F9000 like there was on some older Samsung displays. You can see every motion detail from the source, without in-TV attempts to remove grain or noise texture, by turning off [Digital Clean View]. We're not sure if the noise reduction in the Quadmatic Picture Engine refers to this optional switch, or if it's perhaps a filter which is used behind the scenes to make cleaner scaling decisions. Regardless of what's going on behind the scenes, the fact is that the UE65F9000 doesn't partake in any unwanted NR, which is excellent: the choice is fully in the user's hands.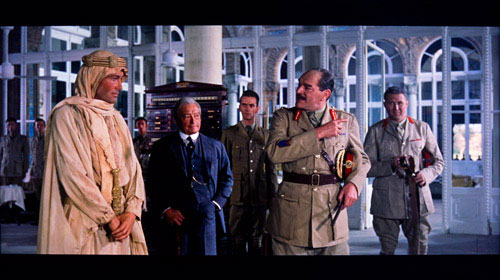 The only small problem we came across relates to motion stutter. Rarely, when watching 1080p content, we'd see a small motion hiccup where the 4K Ultra HD television appeared to advance backwards one frame before skipping back to the correct place. We're sending Samsung a small clip which reproduces the issue as well as this description (as we do as a matter of course with all manufacturers who are open to such dialogue).
All in all, we were very happy with how 1080p content appeared on the UE-65F9000, with Samsung's usual tight hold on greyscale, gamma and colour accuracy paying off when combined with the high-quality SPVA LCD panel. The only small disappointment we came across related to chroma resolution. Consumer video sources store the coloured details in the picture at half-resolution relative to the brightness/luminance pixels, meaning that the coloured detail is already lessened compared to the studio master, and indeed, the original film (or digital camera file). Many 1080p HDTVs have chroma bandwidth limitations, or phrased more simply, they show even less of the coloured pixels than the incoming data has available. It's true that our eyes are less sensitive to coloured details than they are to brightness, so this is rarely a huge problem unless the limitation is excessive.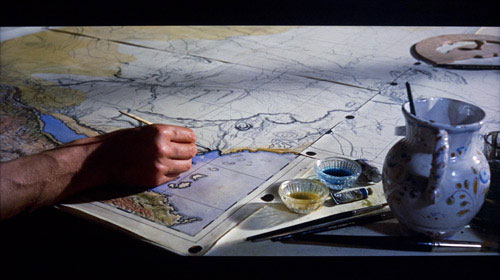 Samsung's 65-inch F9000 follows in the footsteps of most HDTVs on the market today, and doesn't resolve full chroma resolution, even from the already limited consumer sources. In fact, its chroma resolution limitation seems slightly more severe than the company's normal full HD 1080p displays. For reference, if you check out the chroma multiburst pattern on the Spears & Munsil test disc, the two rightmost boxes in the second row (which measure horizontal resolution) appear blurred. It's a small issue, but one we think Samsung should take a look at, since it would make sense to get every single drop of detail out of a 1080p source, especially when it's being blown up to UHD resolution on a 65″ screen.
3D support is provided by means of an active-shutter system. The UHD resolution does allow competing (if there's actually any competition in the 3-D display market) passive 3DTVs to present HD 3D sources without the visible resolution loss caused by Passive 3D 1080p displays, but the UE65F9000 sticks to Samsung's preferred active-shutter glasses (ASG) technology. Understandably, tri-dimensional performance is a little less refined, with 24p content displaying with some 60hz judder (as is common for 3D on LCD), and scaling of side-by-side content showing some aliasing.
Standard Definition
It speaks volumes for how slow progress and rollout can be when we have a 3840x2160p Ultra HD TV, and yet most of the actual television content in this part of the world is still 720x576i – and compressed into oblivion by real-time MPEG-2 encoding at low bit rates. Watching these channels on a UHD display is obviously not going to take full advantage of the image quality potential of the panel, but Samsung's scaling which delivers a less overly-sharp picture with fewer visible compression artefacts (rather than a razor sharp but blocky one) arguably presents them in the most flattering light.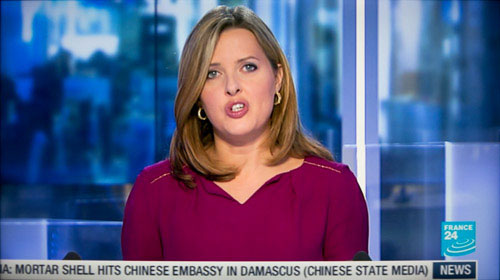 One thing we should point out relates to motion interpolation and 50hz content. Normally we recommend that users who want to see high motion clarity but without the "soap opera effect" applied to films select the "Custom" [Motion Plus] mode. On the UE65F9000, this trick doesn't work: touch any of the [Motion Plus] modes, and films from a 50hz source (such as PAL DVD or over-the-air TV) will display with a little bit of motion smoothing. Turning Off [Motion Plus] resolves that, although you'll obviously be at the mercy of LCD blur. (This actually applies to 50hz HD content as well, but most 50hz usage is likely to be SD, so we listed it in this section).
Console Gaming
Although still fast enough to offer enjoyable gaming performance, the Samsung UE-65F9000 won't break any records for responsiveness. The fastest device-to-screen responsiveness we could get from this 4KTV was 69ms, which for once came from the "Game Mode" – recently, Samsung TVs have seen faster results from the alternative trick of setting the "PC" label on the relevant HDMI input.
While not unplayable, this is on the slower side, which we'd guess is the result of first-generation UHD hardware and the amount of silicon used. Hopefully, as components are streamlined, these figures will come down in future generations.
Conclusion
Samsung's F9000 series represents an exceptionally promising 4K Ultra HD debut for the South Korean TV manufacturer. It carries over the many strengths and relatively few weaknesses of the company's HD-resolution SPVA LCD panels into the new Ultra-HD world.
As is often the case, early adopters of cutting-edge technology are rewarded with a display which is one of the best in its class. 2160p or not, the UE65F9000 is one of the best quality LCD TVs we've seen. Samsung have reached a stage of having a high-contrast LCD panel which is married to a video processor which gives enthusiast users full control over the picture quality: full calibration controls are present, and there's no obtrusive unwanted video processing. While not a substitute for the contrast performance of a full-array LED local dimming LCD (or an HD plasma, for that matter), the [Smart LED] function is a great example of video processing and LED control working together to provide deeper blacks while avoiding dimming whites.
Our only criticisms – beyond the inevitable edge-lit LED problems of some slight non-uniformity (which Samsung has taken great steps in mitigating recently) – relate to the resolution of the coloured components in the picture, which is a minor issue. We'd also like to see input lag reduced a little further for smoother-feeling video gaming use (Sony has been putting out some incredibly snappy HDTVs lately, although we should point out that these are 1080p, and we haven't measured lag on one of their UHD efforts yet).
The only hold-up now before the ultra high-definition party can truly start is a high quality source, and 4K OLED TVs. It's very unlikely we'll ever see commercialised Ultra HD plasmas, and there are some things that LCD still can't do – although having said that, we do appreciate the dither-free, clean image they produce. Perhaps the Blu-ray Disc Association will have some good news about 4K Blu-ray come CES time, which will be an important step in upping the resolution stakes. Bring on the content!