Samsung has launched a super-high-end series of LED-backlit LCD TV in its native country of Korea this week. More than just a successor to last year's flagship C9000 range, the Samsung D9500 series will feature one model – the UE75D9500 – that the company claims is the largest 3D-capable LED LCD television in the world at this time of writing.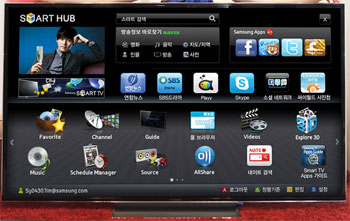 A step up to the D7000 and D8000 LED TVs currently available on the market, the D9500 will initially come in a gargantuan screen size of 75 inches. This means that the Samsung UE75D9500 effectively usurps the 72-inch 72LZ9700 first unveiled by cross-town rival LG Electronics at CES 2011 in January as the world's biggest LED-backlit 3D TV.
Exact specifications are sparse at the moment, but the Samsung D9500 is meant to sport an ultra-slim chassis and a bezel that is even thinner than the almost non-existent one found on the D8000 LED LCD, an aesthetic combination dubbed "Secret Design" by the Korean TV manufacturer. The HDTV's "Black Diamond" LCD panel features a full HD native screen resolution of 1920 x 1080, and is illuminated by edge-mounted LEDs which are controlled via a micro-dimming algorithm, mimicking local-dimming LED systems to deliver deeper blacks and brighter whites through more precise backlight control.
Samsung is a strong advocate of active 3D, so it's not surprising to find the 75D9500 equipped with active-shutter 3D technology, as well as 200Hz/ 240Hz motion-compensated frame interpolation (MCFI) to reduce crosstalk during tri-dimensional viewing. Having spent time and resources developing and perfecting its Smart Hub internet-connected platform, the company has decided to furnish the D9500 series with a QWERTY remote control featuring traditional buttons on one side and a mini-keyboard on the other. This should make it easier for users to enter text into various services (including Twitter, Facebook, Skype and a full-fledged web browser) on the Smart TV.
Available only in Korea at present, the UE75D9500 is being showcased at the 2011 World IT Show (WIT) held at Coex, Seoul this week. Samsung remains tight-lipped about whether the behemoth screen will eventually be released in the United Kingdom. It will certainly not be cheap.