Samsung has confirmed that its premium ES9000 series of 75-inch LED LCD TV, which was initially rolled out in the company's native country of South Korea and then in the USA, will be coming to the United Kingdom especially for discerning buyers who do not wish to compromise on design, picture quality nor functionality. The announcement came at the company's press conference at the IFA 2012 consumer electronics trade show in Berlin this afternoon.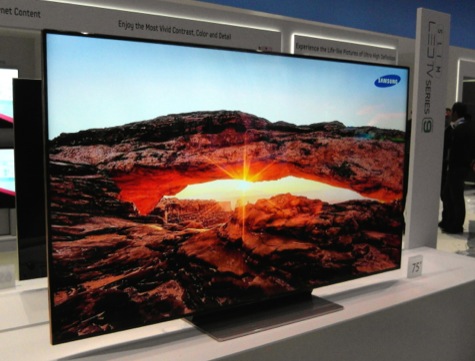 Samsung UE75ES9000 LED LCD TV is UK-bound
Samsung has stayed away from full-array local-dimming LED backlight technology for a good few years now, and this trend continues with the UE75ES9000. However, the edge-mounted LEDs on the set are still capable of being locally dimmed via the company's Micro Dimming Ultimate and Precision Black technologies to deliver deeper blacks and brighter whites, contributing to higher contrast ratio.
Aesthetically the ES9000 is a stunner, as you would expect from a luxury HDTV aimed at the super wealthy. Sporting a 7.9mm-thin curved bezel that bears a "rose-gold" finish and no visible seam, the Samsung UE75ES9000's minimalistic appearance is capped off by an integrated pop-up webcam/microphone unit which can be stowed away out of view when not in use.
Of course, Samsung's Series 9 LED TV comes complete with the company's assortment of smart functionalities, including the Smart Hub internet-connected portal, voice and gesture controls, as well as Smart Evolution upgrade capability for futureproofing purposes. The Korean television manufacturer is sticking to its active 3D guns, and will bundle four pairs of active-shutter glasses with the display.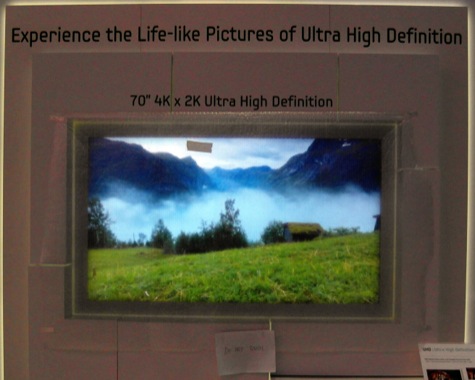 During our sneak preview at its booth, we also spotted Samsung preparing to showcase a 70-inch 4k ultra-high-definition television (UHDTV). The firm probably didn't make a big deal of it given that the screen has already been outsized by several 4k unveilings from rival TV brands at IFA this week.