Determined to cement its position as one of the smartest Smart TV manufacturers around, Korean electronics firm Samsung has this month unveiled a whopping 75-inch flagship television, the UE75ES9000 3D-capable LED Smart TV.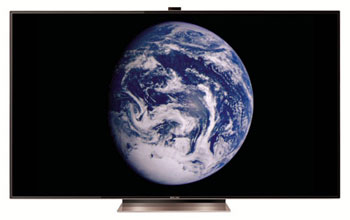 Samsung unveil UE75ES9000 Smart TV with Angry Birds app
While it boasts dozens of exciting on-board features and sports a curved bezel measuring only 0.31 inches, many buyers are instead likely to be lured by an altogether different offering – the Samsung ES9000 will become the first HDTV to feature a gesture-controlled version of the hit Angry Birds game.
Retailing for an eye-watering $9,999 (around £6,400) when it hits stores in the USA next month, the Samsung UE75ES9000 nevertheless delivers a huge array of high-end features for any consumer willing to bust a hole that size in their wallet. The display features the company's latest Micro Dimming Ultimate and Precision Black Local Dimming Technology, as well as an integrated camera that allows users to make video calls using Skype and other messenger tools. In addition, as with the rest of Samsung's Smart TV range, the ES9000 comes with the full repertoire of Smart TV functions, including facial recognition software, voice control, apps such as Tetris and Facebook, and of course, the aforementioned gesture control.
Users will also be able to hook up the UE75ES9000 to a variety of wireless audio devices via Sound Share, which connects using Bluetooth. As well as all this, Samsung has also rather generously thrown in four pairs of active-shutter 3D glasses as part of the package, while the electronics giant makes a promise that the ES9000 boasts the best picture quality of any Samsung LED LCD television currently available (we'll be sure to let you know if that claim is true if we ever review it).
Although the high price of the UE75ES9000 will probably be a roadblock to widespread adoption, by releasing the HDTV together with a big name title like Angry Birds and its unique control method, Samsung is sending out a strong message that it's determined to stay ahead of the game in the Smart TV stakes.
The Seoul-headquartered TV maker hasn't yet announced a UK release date for the ES9000, but US-based readers with a large enough wallet will be able to get their hands of the new flagship television sometime this August.