Last week, Samsung Electronics America (SEA) invited journalists and industry members to New York's Solomon R. Guggenheim Museum to show off its upcoming 2014 lineup of predominantly curved, ultra high-definition (UHD) LED LCD televisions.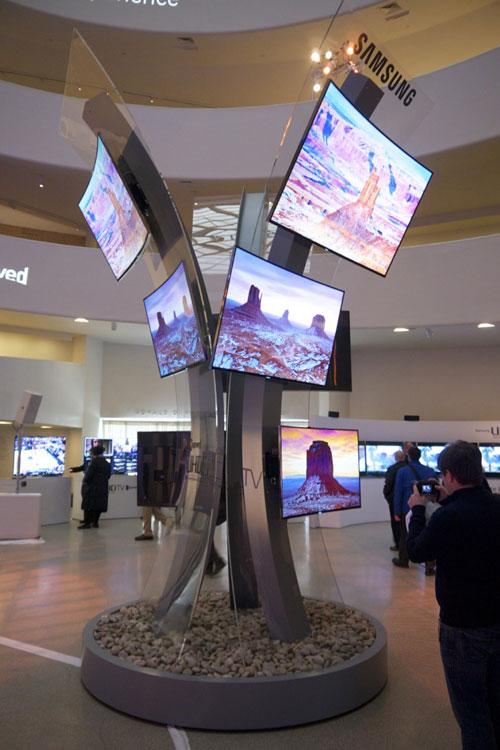 The first half of the event was made up of a presentation which reinforced Samsung's commitment to all things curvy, and also addressed the elephant in the Ultra HD room – the current dearth of content. Samsung has partnered with several streaming content providers including Amazon, Netflix and MGo, as well as American cable and satellite TV providers Comcast and DirecTV.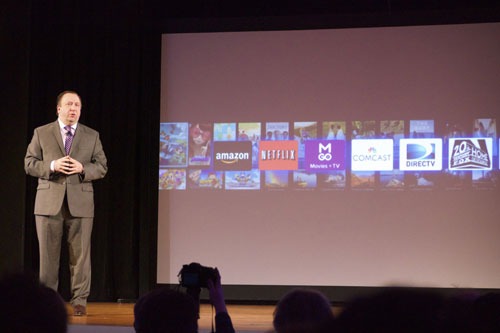 Most interestingly to us from our picture quality perspective are Samsung's partnerships with 20th Century Fox and Paramount, which see it providing a total of 5 movies from the studios in UHD on a USB hard disk drive, which can be decoded and played simply by connecting to Samsung's UHD TVs. 20th Century Fox Home Entertainment president Mike Dunn stood with SEA Executive VP Joe Stinziano, while the two exchanged happy words about the new partnership. Given that internet video can't deliver full quality 1080p video at present, we'd call supplying UHD movies on hard disk a very wise move, given that the Blu-ray camp isn't yet ready to put 4K UHD movies on disc) – although at $300 for the drive, the value for money is outside of the territory we're used to seeing with mass-replicatable optical discs. No word yet on whether the films are encoded with the emerging HEVC (H.265) standard, although given the 200gb-per-film breathing space available, we wouldn't be surprised if they were in fact using AVC (H.264), which at present, often looks better than HEVC anyway (owed to high bit rates and mature rather than emerging encoding technology). We can confirm that the films are mastered for the 1980s HDTV Rec.709 colorimetry, however, which is yet another knock against the new, and as of yet, unproven Rec.2020 wide color gamut.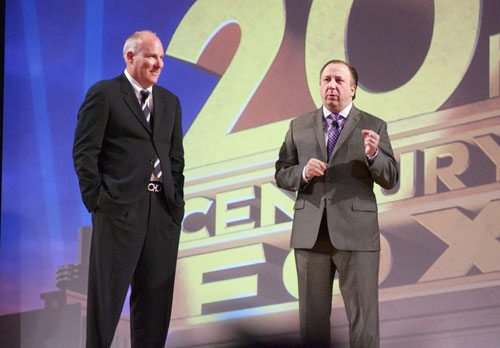 Samsung also didn't shy away from discussing its "Evolution Kit". Picturing its ONE CONNECT box (which houses tuners, HDMI inputs and HDCP decoding circuitry outside of the TV itself), the company reminded us that it's doing its part to reassure consumers in the fight against planned obsolescence. Although they didn't mention this, we would bet money also that the company has chosen to house these components away from the panel to reduce heat and therefore improve screen uniformity.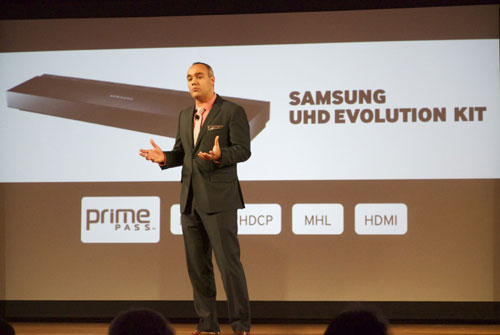 Later in the day, Mike Wood, one of Samsung America's image quality experts, demonstrated some of the picture quality improvements we can expect from Samsung's 2014 LED LCD lineup. First and foremost was the superior motion resolution of select displays when operating in their backlight (okay, edge-light) scanning mode. Samsung LED LCD televisions have had a edge-light scanning mode for some time now, typically labeled as "LED Clear Motion", but we found it to be of limited effectiveness.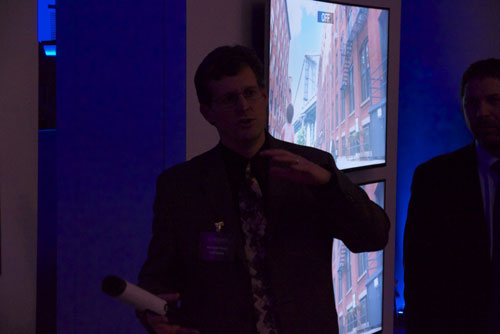 The 2014 revamp, which goes under a new name, is a vast improvement in terms of motion resolution – without resorting to any sort of digital motion interpolated processing. Samsung's "Motion Plus" system was the first to provide video purist users the ability to increase motion resolution without introducing interpolation to film content, but to achieve high motion resolution on an LCD via opto-electric means is a huge advantage.
This isn't the first time an LCD manufacturer has implemented such a feature; Sony's BRAVIA LCDs have featured an "Impulse" Motionflow setting for some time now. In Sony's earliest iteration, the flicker and brightness loss were extreme, but the performance versus tradeoffs improved over the years. Naturally, increasing the motion resolution in this way does result in some added flicker. Our friends from other review sites and news outlets expressed more concern over the flicker than we did (we'd chalk that down to our love of 35mm film projection as well as our European roots – few American viewers grew up watching flickery 50hz CRT TVs). In any case, the feature is optional and we absolutely welcome its inclusion: with impulse-driven plasma display technology heading south, any feature which brings the look and feel of LED LCD closer to our favorite display technology is welcome.
Also on display was Samsung's "PurColor" feature, which is included on the Series 9 UHD displays. Our understanding is that this is a more precise 3D LUT (Lookup Table) which forms the heart of the company's Color Management processing, and in the pre-prepared demonstration content, displayed highly saturated areas of the image (a red-purple flower, in this case) with better gradation and less digitally introduced posterization. (With that said, we haven't counted either of those as problems with any high-end or even midrange Samsung TVs in a while, but it's nice to know that improvements are continuously being made "under the hood").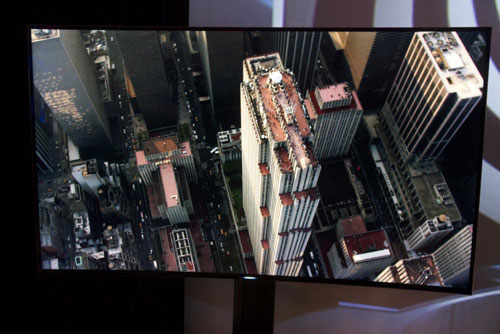 As well as demonstrating Samsung's scaling process (which we'd like to spend some more time examining), we were also shown an example of the curved display benefiting the apparent "immersiveness" of displayed video. This is a more emotive rather than scientific feeling, so is inherently difficult to quantify; however we'd agree with Samsung that the curved display did give a greater feeling of depth compared to its flat equivalent (although the two weren't 100% like-for-like in terms of video settings, with the curved display also benefiting from the aforementioned edge light scanning).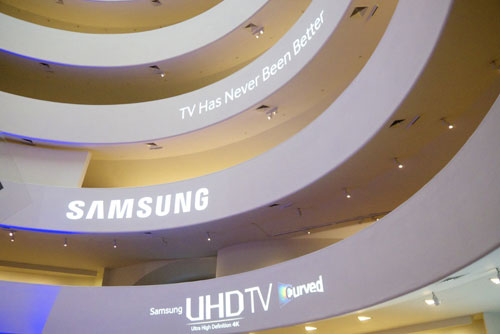 We look more forward than ever to checking out Samsung's 2014 range. It's great to see that as well as adding "lifestyle" credentials like unique styling and enhanced "Smart" features, the company is not resting on its laurels and continues to make picture quality enhancements.