Samsung has unveiled its first Ultra HD Blu-ray player at the company's press conference today at the IFA 2015 consumer electronics trade show in Berlin. Also making an appearance at the event was a mocked-up packaging for one of the first 4K UHD Blu-ray discs to be released on the market.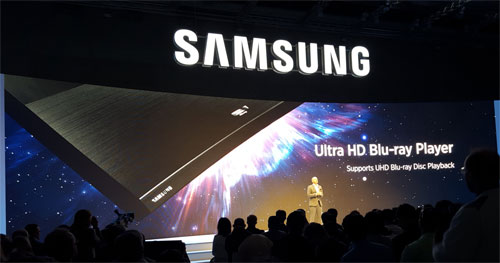 With no announcement forthcoming from Panasonic and Sony, Samsung appears to be the only manufacturer committed to Ultra HD Blu-ray at this year's IFA. Video enthusiasts who are keen to get their hands on the first 4K Ultra HD material on physical media may be in for a slight disappointment though, because the launch timeline has been pushed back from end of 2015 to early 2016.
Update 4 September 2015: A Samsung spokesperson has revealed that the UBD-K8500 may provisionally be launched at its European Forum in Barcelona in February 2016, with hardware arriving in stores end of April.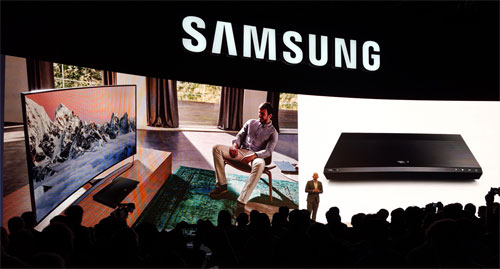 Samsung's Ultra HD Blu-ray deck is the UBD-K8500 which will feature a gently curved design to complement the South Korean manufacturer's UHD (ultra high-definition) TVs. The device will have all the necessary HDMI 2.0a, HDR (high dynamic range) and HDCP 2.2 capabilities, which ties in well with the firm's other announcement today that all its 2015 UHD televisions including SUHD models will get a HDMI 2.0a firmware update.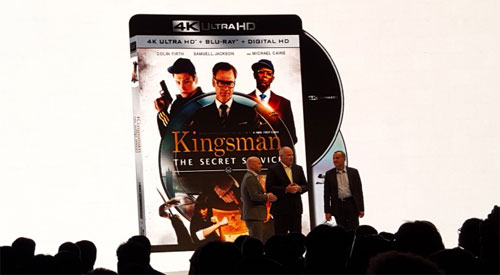 We also got our first look at the potential packaging of one of the first UHD BD discs, namely the colourful Kingsman: The Secret Service. Interestingly, the term "4K" is displayed prominently on the case, despite the Blu-ray Disc Association (BDA) choosing not to include the moniker when the next-gen content system got given an official name back in January.
With almost every TV manufacturer announcing compatibility with Amazon Video Prime 4K HDR (high dynamic range) streaming service, it feels like UHD Blu-ray is already two years too late. But for videophiles, a disc-based media remains the holy grail for the best picture and sound quality, and that's why Ultra HD Blu-ray is worth waiting for.