Samsung TV owners should never be caught in the cold again, after the Korean firm announced a new partnership with The Weather Channel to deliver its app onto its smart TVs. The Weather Channel's new app features live TV streaming, severe weather reports, detailed weather forecasts and user-generated content. The app has been made available to download today in the Samsung Apps Smart TV store.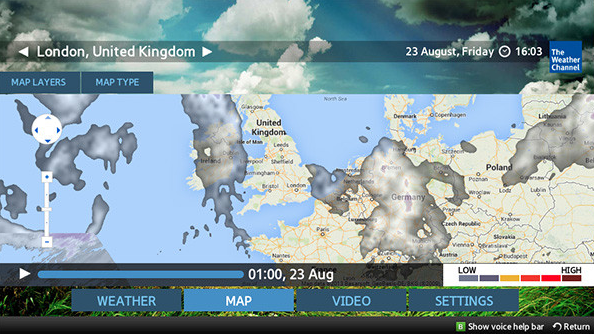 Whilst most of us probably already have some kind of weather-themed app on our Smartphones already, The Weather Channels says that it's Smart TV app is far easier on the eyes. Content is displayed in an intuitive and easy-to-use interface, while various background images mimic current weather conditions. More importantly, the app is designed to make full use of Samsung's voice and motion controls, which means that it'll be easier than ever to access those all-important local forecasts, come wind rain or shine.
One of the best features for more ghoulish Smart TV owners might be the live TV streams which broadcast from around the country during severe weather conditions, allowing you to appreciate the full force of those gusty gales and ferocious floods that have been battering the UK recently. Other features for more enthusiastic weather-watchers include cloud layer maps and radar maps, severe weather warnings and on-screen notifications, as well as current conditions and detailed forecasts for every hour, for the next 36 hours, and for the next ten days.
Guy Kinnell, head of TV and AV at Samsung Electronics UK & Ireland, said that the Weather App would provide a highly accurate service for Samsung TV viewers:
"From being a conversation starter through to how it will affect our journey into work, as a nation we're often fascinated by the weather," said Kinnell.

"By adding The Weather Channel App to Samsung Smart TVs, we are providing viewers with the most accurate weather updates on the biggest screen in the home, along with the most interactive and immersive Smart TV viewing experience."
The addition of The Weather Channel app means that there's now more than 650 apps available on the Samsung Smart TV app store, including more popular apps like Facebook, YouTube, Twitter, Spotify and Rightmove.