Determined to become a major player in the Smart TV industry, consumer electronics firm Samsung has announced the adoption of Microsoft's Windows Azure as its cloud platform of choice to manage its infrastructure. The Korean manufacturer said that by migrating to the cloud, it had already managed to achieve a "significant reduction in operating costs", together with an expanded capacity to meet the demands of its growing consumer base, and a higher level of productivity.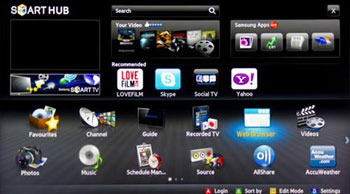 Samsung picks Windows Azure for Smart TV cloud platform
Samsung, which currently offers its internet-connected HDTV service to more than 120 countries around the world, is planning on expanding this service further. In order to achieve this goal, the company said that it required a system that would help to support both a reliable, ongoing service, and its expected continual increase in traffic.
After rigorously testing several other unnamed products, Samsung finally decided to use Windows Azure to provide its service infrastructure, saying that the platform offered the stability it needed to meet its mission-critical needs. "After extensive testing, Windows Azure is the only cloud offering that met our exacting conditions," said the Seoul-headquartered firm in an official statement earlier today.
The company is already patting itself on the back for its decision to migrate to the cloud, claiming that they have achieved a ten-fold reduction in costs that they would have faced had they decided to expand their own, in-house IT services instead. Meanwhile, a further bonus is that Windows Azure gives Samsung the ability to quickly secure the essential storage and server resources it needs, which in turn will allow it to focus more on the development of services and software for its customers.
Another advantage of successfully implementing Azure is that Samsung's IT infrastructure can now benefit from greater scalability, allowing it to provide a consistently "smooth, fast service". In addition, the company reported greater service speeds in Asia, where Smart TV sees the vast majority of its traffic.
Bob Kelly, Vice President of Windows Azure, emphasised that the new partnership would only bring more benefits to consumers:
"Samsung Electronics' Smart TV is taking advantage of the unique capabilities of Windows Azure. This gives Samsung the ability to focus on its business rather than having its technical team deal with problem-solving and troubleshooting issues."