There are few things that British families love more than spending a few hours gathered around the telly together at Christmas, but have you ever wondered how much TV people actually watch on the big day? Well, according to new research from Samsung Smart TV, UK households are expected to watch around 86 million hours of television on Christmas Day, an average of 3.45 hours of programmes per household.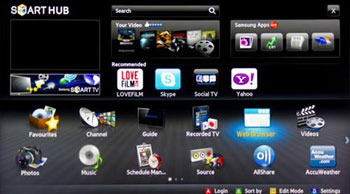 Samsung Smart TV's research represents one of the biggest ever studies into the nation's TV viewing habits at Christmas, and highlighted how new technologies like catch-up TV are enhancing our festive TV experience.
The report found that one in ten households plan to switch on their TVs at around 10am, Christmas Day, the most common time for Brits to commence their viewing. Survey respondents said that this was the ideal time to switch on the box, once the presents have been opened and with mum in the kitchen preparing the Christmas Dinner. But viewers don't just switch on their TVs to while the hours away whilst the turkeys in the oven – what with all the Christmas-themed shows on TV, 34 percent of respondents said that this helps to generate a festive atmosphere within the home itself.
It's probably fair to say that Christmas TV is a tradition that's been with us for years now, but that doesn't mean it can't evolve. Whereas in the past we had to make do with whatever the four terrestrial TV channels deemed fit to throw at us (usually that annoying Snowman cartoon, followed by the inevitable Scrooge, the Queen's Speech and then either James Bond or Zulu for the fifty millionth time), these days people are keen to take advantage of the latest technologies to get the most out of their festive viewing.
Of these new technologies, catch-up TV is probably the most significant – the report says that of the 86 million total hours watched, a sizeable 15 million will come by way of catch-up TV services. In all, more than a third of households (40 percent) said they'll use catch-up TV at some point on Christmas Day, in order to prevent arguments over what to watch. Meanwhile, a further 26 percent of respondents said they'll use catch-up rather than bother with trying to record programmes no one else in the family wants to watch.
As for what people will be watching, somewhat inevitably it'll be Her Majesty the Queen that takes top billing. Some 27 percent of UK households will tune in for the Queen's Speech, which is more than either the EastEnders or Coronation Street Christmas specials are likely to pull in. However, the soaps did achieve a small victory when it comes to catch-up television. While most families will watch the Queen's Speech live, more than a fifth of households said they'd tune into the soaps after they're first broadcast via catch-up.