Samsung has revealed that it is enhancing its Smart TV platform through an exclusive deal that will see the Korean manufacturer add YouTube 3D content to its internet-connected HDTV sets. This will be one of a number of new apps that Samsung is adding to its Smart Hub portal, providing viewers with access to exciting and exclusive new content.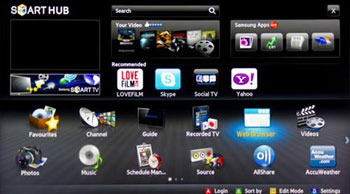 Samsung enhances Smart TV platform with YouTube 3D app
The YouTube 3D video app is set to be launched imminently, and will enable viewers to enjoy easy access to YouTube content in the third dimension for the first time. A Samsung spokesperson stated that the company is excited to be an exclusive partner in bringing this tri-dimensional YouTube experience to audiences, and that the Samsung Smart TV is the ideal platform for users to enjoy the ability to watch and share 3D content worldwide. The company also said that the partnership would aid the growth of both the 3D and the internet-enabled television (IETV) industries.
A number of other new web applications have also been announced by Samsung, including the addition of Acetrax to the YourWatch page. Previously consumers were only able to get film information using this facility, but now they will be able to click through and watch the movie using Acetrax.
Those who decide to move house will also be able to enjoy the addition of a Right Move app, which has already gained popularity as an iPhone app. This will enable viewers to browse properties for sale or rent directly on their Samsung Smart TVs. The announcements about the new apps were made at the IFA 2011 consumer electronics trade show in Berlin, where the company even demonstrated a new Real Madrid app, which is set to launch in Spain. This will provide viewers with both free and paid access to content that is produced by the football club.