Excitement among football fans is already at fever pitch with the new Premier League season having just kicked off, but for those who own iPads there's even more to look forward to as next weekend's matches beckon – Sky Sports has recently updated its iPad app to include a second screen to support its live coverage of the action.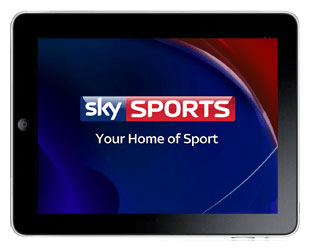 Second-screen function lands on Sky Sports for iPad app
The new "Football Match Centre" will display a wealth of new game content, including stats such as team squads, player profiles, lineups, formations and match analysis, and has been made available for free to existing Sky Sports subscribers. In addition, the application will also provide detailed coverage of the matches as they happen, with stats such as shots on-target and off-target, pass completion rates, and yellow and red cards constantly updated as the games progress.
A curated Twitter feed will also be displayed in the new centre, allowing fans and experts to chime in with their own commentary of the games even as they're watching the matches live on their HDTV sets.
Sky Sports' digital media director David Gibbs explained that the new updates would go a long way towards sating football fans' thirst for information:
"We understand that our customers want the most up-to-date stats and facts about their clubs, and the Sky Sports iPad app now provides exactly that with the new Football Match Centre. The app has already been downloaded half a million times, and we're hopeful that the second screen addition will excite fans even more, as it provides an innovative and intuitive way for them to follow all the Premier League matches."
The Sky Sports Football Match Centre update follows a similar upgrade that was recently rolled out to Formula One fans. The "F1 Race Control" second-screen experience has already proven to be a massive hit, adding more live video feeds, race highlights, live race data, social networking feeds and a customisable split-screen to enhance the iPad viewer's experience.
Despite creating one of the most functional sports apps around, Sky isn't planning to rest on its laurels anytime soon. The digital satellite TV broadcaster has stated that further app updates are in the pipeline, including the extension of second-screen provision to its UEFA Champions League matches, and the introduction of a new split-screen experience for its golf coverage, in time for next month's Ryder Cup.