4K TV. It's the next generation of awesome TV display technology that's destined to take over our living rooms, or at least it is if you believe the likes of Sony and Samsung, which have been aggressively marketing their own new Ultra HD 4K models. But not everyone agrees that a 4K future is our destiny, pointing to a series of problems that the new super-resolution displays bring, including incompatible formats and hardware, the difficulties with getting native 4K content to consumers, and of course, the eye-watering price tags that some of these TVs fetch.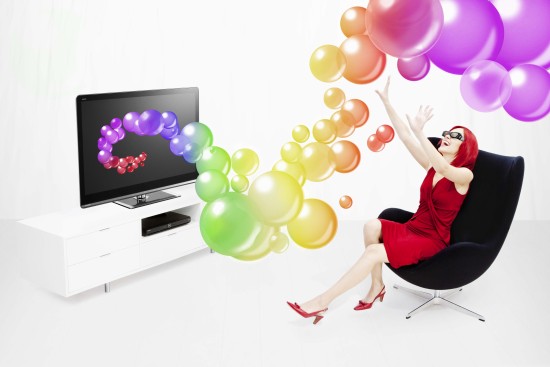 Sharp wants to kill off 4K TV with Quattron tech
So is it possible to have a better TV experience without the 4K? Sharp thinks there is. The Japanese TV maker says that instead of upgrading to a super-sized 4K screen, it should soon be possible to enjoy the same kind of image quality on a bog-standard 1080p TV at a much reduced price.
Speaking to tech website Mashable, Sharp's Kerry Hodel said that the company's next-generation HDTVs should be available next year.
"For our flagship model next year, we'll provide consumers with a 4K-like viewing experience on a 1080p TV, and it'll be available at a price point that's comparable with our current high-end devices. That's how confident we are about this technology."
The technology in question is Sharp's famous Quattron proprietary tech. Quattron TVs come with four subpixels – red, green, blue and yellow – rather than the three that comes in regular HDTVs. Due to this, Sharp claims that its TVs can create "billions" more shades of colour than rival's TVs.
Sharp also reckons its come up with a way to simulate 4K video on a regular 1080p TV, something it displayed at last January's CES show when it lined up one of its Quattron TVs alongside a 4K TV displaying genuine 4K content. The Quattron displayed a downgraded 1080p version of the same clips, yet most viewers barely noticed any difference. The trick, says Sharp is the intelligent management of subpixels, which allows it to render an image that's the equal of 4K. Quattron's other trick is to be able to adjust the screen aperture ratio – something that current models are unable to do, but next year's models should be capable of doing.
By the time Sharp is ready with its next-generation 1080p TVs, there'll be even more 4K competition in the stores, and in all likelihood they'll be much cheaper than the first batch that hit the market. We've already seen Sony and Samsung attempt to make the technology affordable to regular consumers by releasing 55-inch 4K models in the £4,000 price range, and these will likely be even cheaper by the time next year comes around. But Sharp's proposed price tag of around £3,000 for an 80-inch set surely won't be beaten.
Even so, much will depend on whether or not Sharp's new Quattron technology really is as good as they say it is – many purists simply won't be satisfied with any gadget that plays second-fiddle.
Source: Mashable