Sharp has announced at its press conference at CES 2014 which is taking place in Las Vegas this week that it will be showcasing an 85-inch 8K TV prototype capable of delivering a glasses-free 3D (autostereoscopic) viewing experience. The groundbreaking display has been developed in partnership with Philips and Dolby.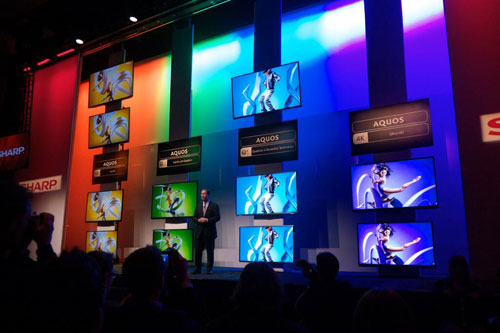 This is not the first time the Japanese manufacturer has shown off an 85in screen with ultra high-definition (UHD) 8K resolution – the company did so at last year's CES too with a display boasting 7680×4320 pixels, although that particular prototype did not feature glasses-free 3D technology.
Sharp will also exhibit its complete 2014 lineup of 1080p and 4K Ultra HD TVs at this year's CES. The most intriguing technology is Quattron Pro (or Quattron+ in the USA), the second generation of the company's proprietary 4-colour pixel tech that adds an extra yellow subpixel to the traditional RGB subpixels.
What makes Quattron Pro unique is that it offsets the subpixels to deliver a higher-than-1080p, pseudo-4K resolution, which sounds surprisingly similar to the workings of JVC's e-Shift technology implemented on its D-ILA projectors over the past few years. Besides upscaling full HD or even lower-resolution content to 2.5 times the resolution of 1920×1080, the Sharp Quattron Pro can also accept 4K input signal (no word on whether it's limited to 4:2:0, 30fps or 60fps), which again mimics this year's JVC projectors equipped with 4K e-Shift3 technology.
Sharp's Aquos TVs featuring Quattron Pro technology are scheduled to go on sale in Europe sometime in spring. No word on pricing.