Sharp Corporation has announced that it is set to launch a new range of LED LCD TVs which will be able to link with its own-branded smartphones. The Aquos L series of 3D-capable HDTV sets will be released next month in Japan according to reports, and the company hopes that the new range will renew demand in what has become a very competitive and challenging market.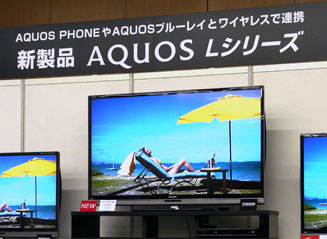 At a recent press conference, Tsuneo Nakamura, executive officer and general manager of Sharp's audio-visual systems business, said that the TV sector had undergone some dramatic changes over recent years. He added that there was growing global demand for internet-enabled televisions.
Sharp already owns the largest share of the television market in Japan, and this could be further boosted by the release of the L series. The new range is scheduled to be released in Japan on the 15th of July, and will offer a variety of improved content and services for viewers to enjoy. A new internet-connected platform called Aquos City will enable viewers to access the Internet via these televisions, and amongst the available content will be entertainment, weather forecasts, news, and more. The Sharp Aquos L series will use LCD panels that are made in Japan (which are reserved for higher-end TVs in the domestic market), and will carry THX 3D Display certification.
These full HD 3D LED-backlit LCD TVs will also link with Sharp's smartphone range (though not with the popular Apple iPhone – the company may have missed a trick here), which will let consumers to do things like take videos with their mobile handsets and then send them to the TV. The TVs are expected to come in four sizes ranging from the smallest, which is 40 inches, to the largest, which will be a 60-inch model. The price of the 40-incher is expected to be Y220,000 (around £1690) with the largest 60″ one expected to come in at Y450,000 (approximately £3450).
The move from Sharp comes after reports that Japanese TV demand is set to fall dramatically this year as a result of the expiration of a government subsidy scheme, which spurred a boom in demand for flat-screen televisions last year.