Sharp's high-end Aquos TV line-up has just got a lot more cramped with the arrival of two brand new members to swell its ranks. Say hello to the 80-inch LC-80LE857K LED TV, and the ever-so-slightly more modest 70-inch LC-70LE857K, Sharp's latest flagship models that perfectly epitomize the company's motto of "go big when you go home".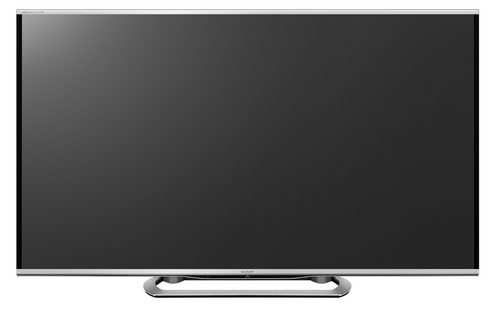 Sharp launches flagship LE857K AQUOS series in UK
The fact that most of us don't even have a living room big enough to fit them in is beside the point. These days, TVs are all about bigger and better, and Sharp's newest entries certainly seem to fit the bill.
According to Sharp, the LE857K series offers the "best ever picture quality and natural colour production" seen in a Sharp TV, thanks to its new third-generation Quattron 3D and 800 Hz Active motion technology. For those who don't know what all the fuss is about, Quattron brings with it a fourth, yellow coloured sub-pixel, in addition to the regular reds, greens and blues you get on 'other' TVs. Sharp claims that its Quattron tech offers smoother diagonal lines, better definition and smoother graduations in colour.
As well as the picture quality improvements Sharp promises, the new TVs sport a slick-looking design too, with a super-thin 15mm thick aluminium bezel.
Even more exciting though is the new software and apps that Sharp has introduced for both TVs. The new models both come with Sharp's new AQUOS NET+ browser for surfing the web, as well as a new "wallpaper" mode that lets the TV display photos or art work when its in stand-by mode. In addition, they come with all the features expected of a top-end Smart TV these days, including dozens of apps to choose from, social networking, media streaming and video-on-demand capabilities.
Did we mention that Sharp is also planning to join the second-screen/remote app party as well? Available to download later this month, AQUOS Remote Lite will let users transform their iOS or Android devices into a remote control, allowing them to change channels, fast-forward, rewind, play, change the volume, and record shows etc.
Sharp hasn't said when we can expect to see the LE857K series in the shops, nor has it given any pricing information so far, but we'd be surprised if they don't go on sale before the end of the month.