Sharp has unveiled its first-ever 3D TV range – complemented by the company's revolutionary Quattron technology which adds a yellow subpixel to the traditional red, green and blue – at the IFA 2010 expo in Berlin. However, only a 60-inch model, the Sharp LC-60LE925E, will be making its way to the UK, but even that has the misfortune of not being equipped with an integrated Freeview HD tuner.

Sharp LC-60LE925E
Also advertised under its alternative model names of LC-60LE925 or LC60LE925E, the Sharp LC-60LE925E sports a full HD 1920 x 1080 X-gen UV2A LCD panel illuminated by edge LED backlighting system, which lends to an ultra-thin profile. The Quattron (a.k.a. Quad Pixel) technology embedded on the Sharp LC-60LE925E delivers a richer (but not necessarily accurate) colour palette for both 2D and 3D viewing.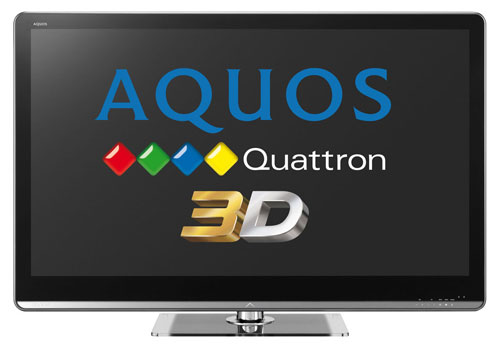 Like most 3D televisions available on the market at the moment, the Sharp LC-60LE925E uses the alternate frame-sequencing/ active shutter variant of 3D display technology. Each Sharp LC-60LE925E 3D TV bought comes with a pair of compatible active shutter 3D glasses, with each extra pair costing in the region of £100.
Interestingly, Sharp incorporated a 2D/3D toggle on its 3D glasses, which converts 3D material into a flat 2D viewing experience. This may be useful in situations where a viewer who cannot tolerate 3D content (perhaps due to headache or dizziness) still wishes to enjoy the same content together with friends watching in 3D. On the flipside, the Sharp LC-60LE925E allows users watch 2D material in 3D via its real-time 2D-to-3D conversion processing to compensate for the relative lack of native 3D content.
Sharp also claims that the LC-60LE925E screen will become 1.8 times brighter in 3D mode to counter the darkening effect of the 3D glasses. In tune with the company's commitment to eco-friendliness, apparently this does not incur any increase in power consumption.
On the connected internet front, the Sharp LC-60LE925E 3D TV features a new Aquos Net+ platform co-developed with Philips. Alongside the standard social web applications such as Youtube and Facebook, there is an integrated Opera browser that grants open access to more internet websites.
Retailing at £3,500, an inbuilt Freeview HD tuner is the only glaring omission on the Sharp LC-60LE925E, but the company has promised to rectify this on similar 3D TV models of different screen sizes to be released next year.