Clearly a subscriber to the doctrine "Bigger is Better", Sharp Corporation has this week launched the world's largest LED-backlit LCD television available on the consumer market (at least in the United States). The Aquos LC-90LE745U boasts a gargantuan 90-inch screen, measuring more than two metres in width and 1.2m in height. Better make space in the living room then.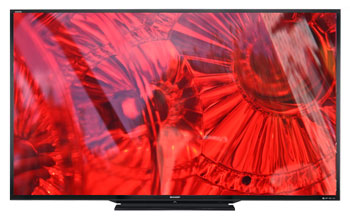 Sharp LC-90LE745U unveiled as world's biggest LED LCD TV
The Sharp LC90LE745U is equipped with full-array LED backlight, making it different from the raft of edge-lit models which have gained popularity among consumers (who are attracted to their super-slim design and lower power consumption) as well as TV manufacturers (who like their cheaper production costs and hence higher profit margins) in recent years. However, neither local-dimming nor the company's Quattron 4-colour-subpixel technology is deployed on the HDTV, presumably to keep costs down. The Japanese conglomerate explained that incorporating 500-plus LEDs behind the LCD panel will help maintain screen uniformity, even if it's not locally-dimmed.
The on-screen resolution is full HD 1920×1080 rather than 4K which would probably befit the Sharp LC-90LE745U more given its colossal size, although one can argue that there's little point since native 4K content remains scarce on the ground anyway. Featuring active-shutter 3D technology, the 90″ TV ships with two pairs of compatible 3D glasses so that owners can engage in some truly immersive extra-dimensional viewing right off the bat.
Other specifications include AquoMotion 240 motion-compensated frame interpolation (MCFI), integrated WiFi, Skype functionality (separate webcam purchase needed), built-in web browser, as well as the firm's Smart Central internet-connected portal that provides access to a number of video-on-demand (VoD) apps such as YouTube, Netflix and Hulu Plus.
Building the biggest consumer-grade LED TV on the planet indicates that Sharp is sticking to its strategy of carving a niche in flat-panel HDTVs sized 60 inches or larger to avoid the cutthroat 32″-55″ market. The LC-90LE745U is available to buy now from US stockists at an eye-watering retail price tag of $10,999 (around £7,000).