It's been a while now since we had a look at one of Sharp's LCD TVs, which made their delivery of a the new LC40LE831E quite timely, since we're always eager to see what the Japanese LCD innovator is up to. The company has a tradition of producing distinctive displays, the case in point being the "Quattron" LCD technology present in this model, which sandwiches a fourth yellow sub-pixel into each individual dot on the screen. We weren't very impressed with the last Quattron display we reviewed (last summer's LC46LE821E), but most of our misgivings seemed to be down to implementation issues, rather than inherent limitations with the technology. As such, we were eager to see the company's latest attempt at producing an LED LCD HDTV.

The Sharp LC40LE831 we have here for review is, in fact, part of the company's highest-end series of flat-screen televisions for Europe this year. Unsurprisingly, it features the latest incarnation of Quattron, 4 HDMI inputs, support for Freeview HD (that's DVB-T2 for those of you in regions which are less branding-happy), and new for this year, 3D capabilities. Let's get stuck in and see if the Sharp LC-40LE831E can produce a compelling LCD image.
Note: The same LED TV may be marketed as Sharp LC40LE831E, LC-40LE831E, LC40LE831 or LC-40LE831E by high-street retailers like John Lewis, Currys and Comet, as well as online merchants like Amazon and Dixons. While we have not reviewed the larger Sharp LC46LE831E, there shouldn't be any significant difference in picture performance given similar specifications.
Design
Styled similarly to Panasonic's high-end HDTVs, the Sharp LC40LE831E seems to have taken a few lessons from the iPad school of design, and features a slim, glossy black bezel surrounding the 40inch LCD panel, with rounded corners and a silver area outlining the edge of the display.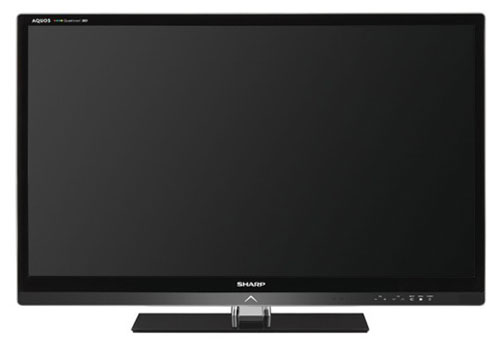 Underneath the company logo, there's a tilted area of plastic, with an optional arrow-shaped glowing light, and touch-sensitive zones which give limited control over the LC40LE831 without the use of a remote control. Of course, this area is also styled in gloss black, so we didn't want to touch the zones and adorn the LC-40LE831E with our fingerprints. We were happy to see that unlike last year's high-end Sharp HDTV, the panel is no longer covered in a sheet of glass. This reduces reflections, and also means that the television weighs much less. The supplied table-top stand attaches easily to the TV itself, and is plainly styled.
Connections
The Sharp 40LE831 features the now-standard 4 HDMI inputs, an aerial input for the Freeview HD tuner, USB sockets (to which wireless dongles or hard disk drives can be attached), an SD card input, a SCART input, a Component video input, and a Composite video input. Unlike most slim HDTVs on the market today, the SCART, Component and Composite inputs are of the traditional variety, and do not require breakout adapter cables.
The LC40LE831E doesn't feature built-in wireless connectivity, but it might as well, since Sharp includes the wireless dongle in the box.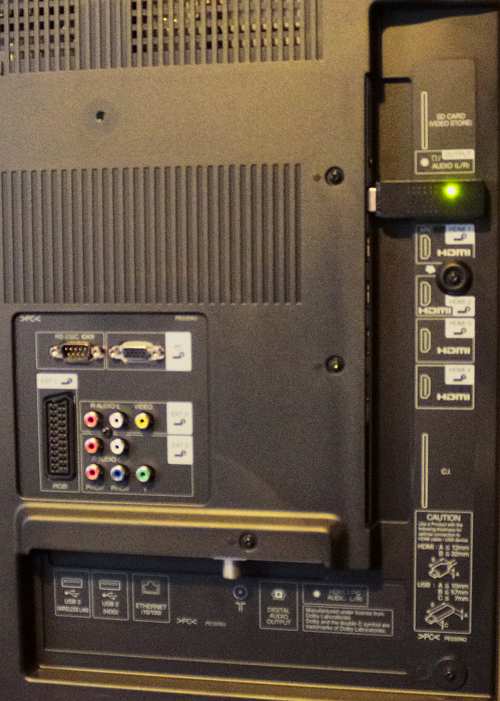 Rear: 4x HDMI, RGB SCART, Component, Composite, VGA, RS232C control, 3x USB, Aerial
Operation
Sharp's HDTVs have always shown independent thought, and we've commented that they remind us of the user interface on a computer operating system more than most TV menus. The LC-40LE831E's menus feature unique, legible fonts, with categories being arranged horizontally, and configurable options appearing vertically on the right side of the screen. The majority of the screen is occupied by a shrunken TV image, allowing the user to clearly see the results of their adjustments in real-time.
[Picture] menu
We delved into the menus to figure out which options we'd need to use (and which are best ignored) to calibrate the Sharp LC40LE831 for the most accurate picture quality. First of all, there is the [AV Mode] selection. We discovered that, although the "Movie" mode gives a more accurate (although somewhat dulled) out of the box picture, it only allows for one set of adjustments to be saved for all inputs. Originally, we planned on using the "User" mode, since this allows for per-input settings to be made, until we discovered that the [Colour gamut range] option is only available inside "Movie" mode. We're glad to see that this option has been added, as it hopefully means that one of our criticisms of last year's model (over-saturated yellows) won't be a problem with this year's LC40LE831E. Accordingly, we used the Movie mode as the basis for calibration, and made do without per-input settings.
Moving through the options, we found that [OPC] adjusts the panel backlighting in relation to ambient light in the viewing room. We shut this off for consistent operation. [Backlight] can also be controlled manually, as can the more pedestrian picture adjustments (Brightness, Contrast, Colour, Tint, Sharpness, etc).
The Advanced menu features three [C.M.S.] controls (CMS stands for Colour Management System), with the menus allowing the hue, saturation and "value" (brightness) of the six primary and secondary colours to be adjusted. Below this, there's the [Colour gamut range] option we just discovered (in Movie mode only). We'll see if it produces accurate colour later on in the review. Interestingly, we noticed that it affected more than just colour gamut – using "Expanded" made grey shades appear brighter.
Moving on, we have a [Colour temp.] menu which houses both 2-point and 10-point Greyscale adjustments, which will be of tremendous benefit during calibration to get the most tint-free image out of the LC-40LE831E. Next is [Scanning backlight 200], which offers three levels as well as an "Off" setting. We'll find out if this control does its job of increasing motion clarity later in the review (and if there are any unwanted side effects). [Sub pixel control] makes almost no difference to image quality, but up-close scrutiny reveals a very subtle change to diagonal edges in the picture (we left the control on, but would be just as happy with it off). The only clear difference we could see with this control was on the Spears & Munsil test disc's overscan/sharpness pattern: enabling the control made the "stippled" pixel pattern in the middle of the pattern appear yellow rather than monochromatic. We could never see any tangible difference with real-world content, so users shouldn't worry about it.
Lastly, there's a basic [Gamma] adjustment, which allows users (or calibrators) to adjust the distribution of brightness from black to white, a [Film mode] which we'll investigate later, and [Active Contrast], noise reduction, and [Monochrome] options, which we left disabled.