Sharp has launched a follow-up series of LED-backlit LCD TV displays to succeed last year's Quattron range. The Aquos LE831 will feature the second-generation of the company's groundbreaking quad-pixel technology, 3D capabilities, integrated Freeview HD tuner, and web connectivity including optional Skype support. Four screen sizes are available: the 40-inch LC40LE831E, the 46-inch LC46LE831E, the 52-inch LC52LE831E, and the 60-inch LC60LE831E.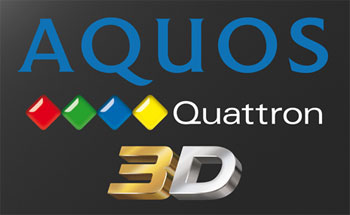 When the Japanese TV manufacturer introduced its controversial Quattron four-colour technology (by adding a yellow subpixel to the traditional red, green and blue) in 2010, the resultant HDTV models received a mixed bag of reviews. Some users claimed that the innovation does deliver a richer image in terms of colours, whereas those with light-measuring equipments were adamant that the resulting picture deviates too much from the video and imaging standards widely adopted throughout the film and broadcast industry.
Unruffled, Sharp is clearly soldiering on with its Quattron campaign, and claims that a number of improvements have been made this year, such as a better colour management system (CMS), faster response time, and a 30% reduction in crosstalk during 3D viewing. Design-wise, the chassis of the LE821E is only 2.5cm deep, which brings a contemporary yet minimalistic presence to any living room.
Sharp has always been big on environmental friendliness, and it is no different with the latest incarnation of Quattron televisions. Insisting that the pixels' lighter yellow component will allow more light to shine through the LCD panel and therefore lower power consumption, the TV maker says that the LC-40LE831E, LC-46LE831E, LC-52LE831E and LC-60LE831E have all received an A rating on the new EU energy efficiency labelling system.
The Sharp LC40LE831E and LC46LE831E will be the first models to hit British stores sometime in May, with their 52″ and 60″ brethren following suit later in the summer. UK prices have not been confirmed at this time of writing.