Due to heavy competition from Samsung and Sony, Sharp has reconfigured its marketing strategy to focus its efforts in East Asia. Since 2006, performance of Sharp LCDs catered towards the Western market has been above-average at best. The ASV technology has also remained largely unchanged for past three years.

Recently, Sharp opened a new factory in Sakai, Japan with its new partner Sony. Sharp's latest 10th Generation LCD technology seems highly promising and should be on par with the current VA technologies in terms of raw performance. However, going by our test impressions of the LC46LE700E, it would seem that Sharp hasn't altered its business model. Hopefully one day we will see the Asian equivalents in Western shelves.
Note: The specific model we reviewed was the Sharp LC46LE700E, which may be sold as LC46LE700 or LC-46LE700E by high-street stores like John Lewis, Comet and Currys, or online retailers such as Amazon or Dixons. While we did not test the 40-inch Sharp LC40LE700E, there is no reason to believe that there will be any drastic difference in picture performance (both do not feature localised LED dimming).
Design
Sharp has chosen to stick with a piano black design, and a signature blue gradient which vaguely covers the bottom frame (accompanied by an illuminated new brilliant LED logo directly beneath the sliver Sharp brand). Overall, I am quite pleased with the new design.
Build quality appears to be acceptable, but the process of installing the stand could be better (in terms of stability and ease).
For those who are green-minded, I am happy to inform that all Sharp LE700 HDTV series feature a hard power-switch located near the rear-left of the chassis, which allows complete shutdown of the panel during prolonged absences.
Connections
The Sharp LC46LE700E features the usual array of connections in keeping with today's standards.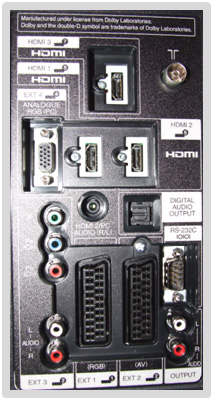 On-Screen Display (OSD)
Unlike its competitors, Sharp decided to remain with its existing GUI (Graphical User Interface) design. The simple yet elegant horizontal-navigation system is highly effective and simple to use. They have also improved responsiveness and added greyscale and colour management system (CMS) to the mix.
However, the Sharp LC46LE700E LED-based LCD TV does not feature independent image configuration, so it's not possible to configure the inputs individually as they are unified.
Infrared Remote Control
The supplied remote hasn't changed either, which is good news for those who prefer it.

Calibration
Greyscale and Gamma accuracy are vital for obtaining accurate representation of a given image. Therefore, the display must be calibrated to a set of standards used by the industry. In the case of HDTVs, the industry standard for colour is Rec. 709.
Greyscale calibration ensures all greys between black and white are free from colour dominance, which is achieved by assigning the RGB values to 6500K (CCT) colour temperature. Unfortunately, it's not possible for a display to yield 100% accuracy. So the goal is to keep errors within acceptable levels.
Greyscale
Note: The results below were obtained by placing our light measuring device at the centre of the screen. It is done to ensure error values are kept to a safe minimum.

Pre-calibration CCT in [Movie] mode with [Colour Temperature] "Low"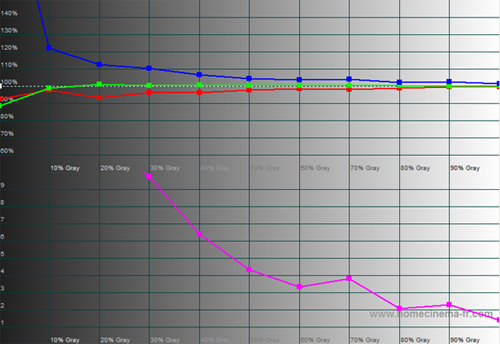 Pre-calibration RGB tracking with [Colour Temperature] "Low"

Pre-calibration greyscale data with [Colour Temperature] "Low"
With the help of well-implemented white balance controls, I was able to obtain excellent results within minutes, which was a real treat considering that the whole process can be quite time-consuming.

Post-calibration CCT in [Movie] mode with [Colour Temperature] "Low"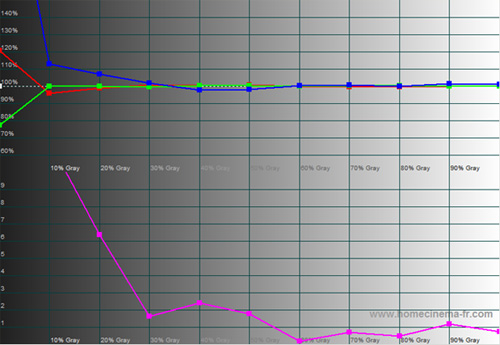 Post-calibration RGB tracking with [Colour Temperature] "Low"

Post-calibration greyscale data with [Colour Temperature] "Low"
Gamma

Post-calibration gamma in [Movie] mode
Colour
The Colour Management System (CMS) however requires a major overhaul. Adjusting the hue and saturation has a direct affect on the luminance, and vice versa. Therefore, we decided to focus mainly on the luminance value as its effects are more easily detected by the human eye.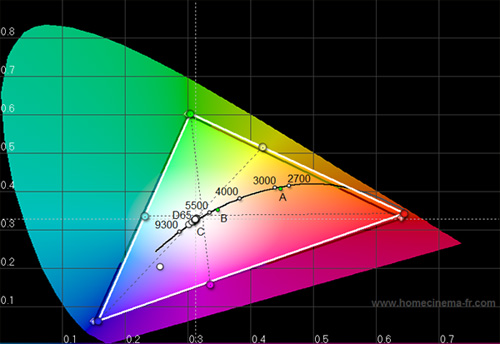 Post-calibration CIE chart with reference to HD Rec.709 specifications

Post-calibration colour data
Benchmark Test Results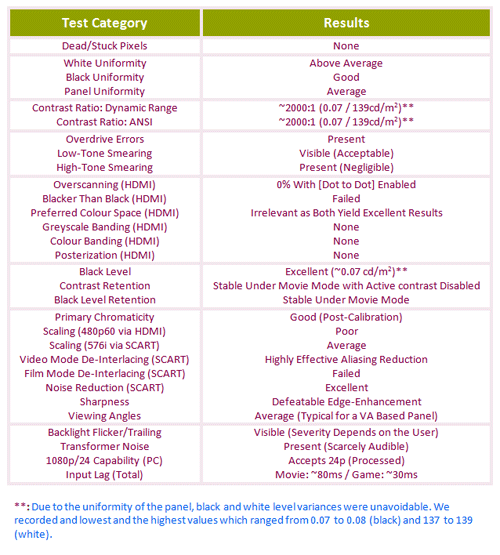 Power Consumption
| | |
| --- | --- |
| Default (maximum backlight) | ~115 watts |
| Calibrated [Movie] mode | ~60 watts |
| Standby | ~0.1 watt |
Uniformity
The Sharp LC46LE700E produced acceptable black and above average white uniformity. During the pure white test (100IRE), I was able to detect the classic red and green tinting. Backlight bleeding was present (but limited) and the panel uniformity was typical for a consumer grade display.
Unlike the previous ASV panels, the new 10th generation is free from physical banding. However, there were a few visible defects and imperfections across the panel, which does slightly hinder the calibration accuracy.
In truth, Sharp's implementation of static LED offers no improvement in regards to uniformity when compared to standard CCFL technology.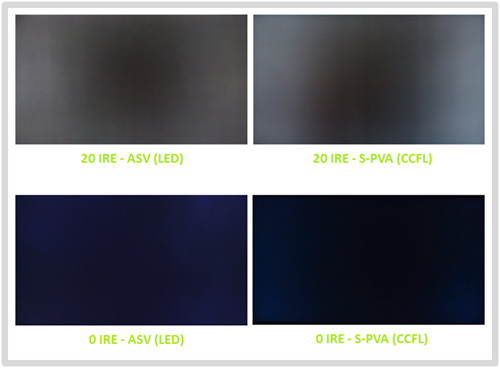 Contrast Ratio
I am pleased to confirm that Sharp has caught up with Samsung and AUO in terms of black level. The X-Gen panel embedded within LC46LE700E in [Movie] mode with white level (contrast) set to -10 (139 cd/m2) yielded excellent dynamic range and ANSI of ~2000:1, which is typical for a VA-based panel. Enabling [Active Contrast] can further improve black levels, but at the cost of stable APL (Average Picture Level) and black level retention, and therefore is not advised.
Motion Performance
Pixel Response: With my usual tests based on PixPerAn, I was able to detect the usual overdrive errors present in VA-based panels. However, the level of 'smearing' is well within acceptable limits and it's an improvement compared to the previous ASV generation.
MCFI (100Hz): The quality of Sharp's MCFI has always been rather poor in comparison to other manufacturers, and continues to remain true on the LC46LE700E. In truth, there was virtually no notable improvement with 100Hz enabled, except for a reduction in perceivable trailing caused by backlight flicker.
Audio Performance
The audio performance on the Sharp LC46LE700E LED-backlit LCD television was just about acceptable for everyday viewing. Overall sound was rather closed and diminutive, and can be compared to the previous Sharp models and cheap portable radios.
In my opinion, Sharp could have taken advantage of the additional chassis depth, and implemented a set of high-fidelity front-firing speakers (including a miniature sub-woofer), or deployed the same system found in the Japanese version (LC-46LX1).
Picture Performance
For evaluating real-world image quality of the Sharp LC46LE700E, we used a series of images known to expose even the most hidden artefact and errors.
Note: The following three tests were conducted under [Movie] mode.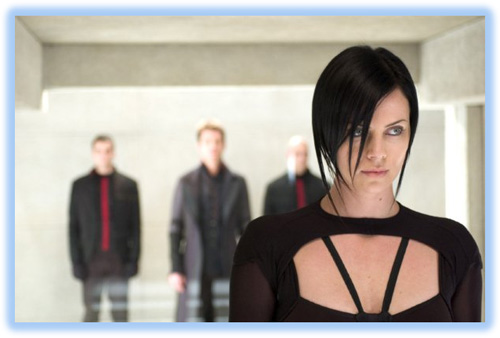 The Sharp LC46LE700E HDTV yielded below-average results out of the box when set to its default [Movie Mode]. Skin tones were somewhat pale and restricted. The variant shades of warm colours that enveloped Charlize Theron's face, neck and chest were noticeably inaccurate (tinted towards magenta).
The tint and greyscale controls allowed us to rectify the errors with a fairly high degree of precision. We immediately noticed an overall improvement in colour accuracy, which also increased the level of perceivable depth. However, due to the poor implementation of CMS, we were unable to maximise the image accuracy. Having stated that, the final picture portrayed by the Sharp LC46LE700E is more than acceptable.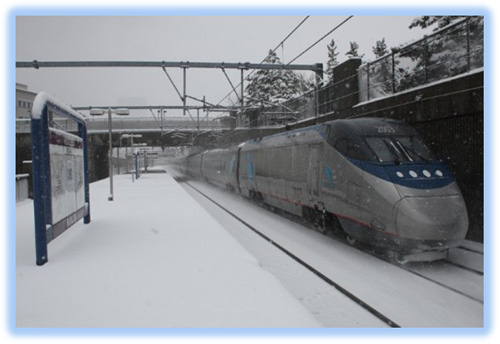 We used the image above to detect visual inaccuracies in greyscale, gamma and black crush; and the performance of the Sharp LC46LE700E was above average with [Colour Temperature] set to "Low" in [Movie Mode]. There was no visible evidence of serious black crush and gamma errors. However, there were minor signs of colour dominance (notably red and blue). Having stated that, the majority of viewers will not be able to spot the errors without a reference display.
After greyscale calibration, the rendered image was on par with one of our reference model (the Dell 2209WA).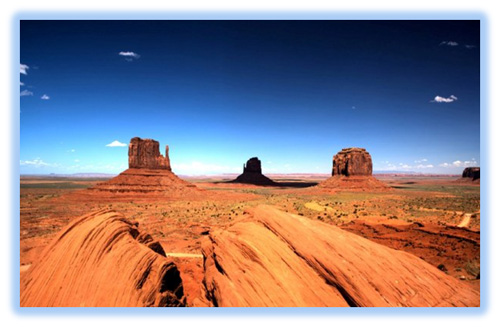 The sample above highlighted the biggest discrepancy between pre-calibration and post-calibration. Prior to calibration, the image appeared to have a rather off-shade of red which was closer to magenta. In truth, one did not need a reference display to notice the obvious error.
After configuring the television's CMS, greyscale and tint, we noticed an immediate improvement: the calibrated image radiated a sense of depth and improved contrast.
Overscanning: Overscan can be configured via the aspect ratio button found on the remote. However, due to the delta pixel addressing (as opposed to strip), fine details appeared rough and undefined at close range. Having said that, the effect is less noticeable compared to the previous generation. This is due to the new sub-pixel architecture found in the new ASV panel. It's also worth noting that each sub-pixel has four luminance points and arranged negatively (BGR as opposed to RGB).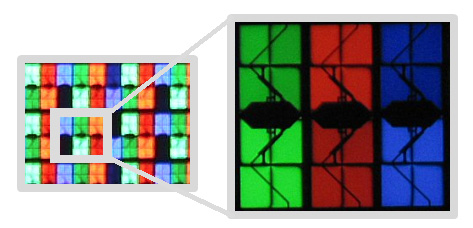 10th Gen. Axially Symmetric Vertical-alignment (ASV) (Credit: adtomov)
Blacker than Black (HDMI): Unfortunately, the Sharp LC46LE700E does not support blacker than black during the use of video resolutions.
Backlight Flicker and Trailing: The Sharp LC46LE700E LED-backlit LCD television suffers from the common backlight flicker and flicker induced trailing, but thankfully only trailing is perceivable.
Viewing Angle: The 10th Generation Axially Symmetric Vertical-alignment (ASV) panel embedded within the Sharp LC46LE700E yielded satisfactory viewing angles, but due to its VA mode, colour, gamma and contrast shifts are unavoidable.
High Definition
Hi-def materials on the Sharp LC46LE700E were good but not exceptional (which is understandable). After all, the Sharp LC46LE700E is by no means a performance model or advertised as such; and the primary purpose of the LED is to reduce power consumption rather than to improve the blacks or colour accuracy. It's a pity that the implementation of CMS turned out to be flawed, otherwise we would have been able to obtain more accurate colours.
Putting its faults aside, Sharp has improved their new range in number of areas, not least its 1080p/24 handling. Out of all the HDTVs I have tested thus far, the Sharp LC46LE700E clearly has the edge in 24p processing: the motion was stupendously fluid and on par with analogue-film-based projectors. 100Hz MCFI was disabled throughout the testing process so that wasn't the explanation, but if I had to guess, I would say some sort of video-smoothing technology was deployed to induce the appearance of free-flowing motion without destroying the "film look". I for one would love to see such processing adopted by other manufacturers.
Black level and colour fidelity have also improved considerably. There was no perceivable banding or posterization thanks to true 10-bit processing. Greyscale banding was also absent.
Providing the colours can be accurately calibrated, the Sharp LC46LE700E will be an excellent candidate for watching HD movies.
Standard Definition
The Sharp LC46LE700E LED-based LCD TV produced satisfactory results with negligible noise via RGB SCART. The common bleeding of colours and visual artefacts were present but controlled. However, the image did appear to lack colour and contrast in dark scenes, but thankfully, most of the SD processing can be outsourced to external devices.
Scaling: The scaling algorithm embedded within Sharp LC46LE700E is rather average. Scaling 480p to 1080p resulted in ringing and diminished definition. Thankfully, scaling 576i via SCART produced slightly better results, but inferior compared to other brands.
Film and Video Mode De-Interlacing: The Sharp LC46LE700E performed well in minimising aliasing during de-interlacing of high-motion contents, but it failed to process 2:2 pulldown correctly.
Digital Noise Reduction: Surprisingly, enabling noise reduction did not cause any adverse motion-related artefacts (e.g. smearing). The quality of motion, saturation and definition remained true to the content.
Console Gaming
The Sharp LC46LE700E HDTV definitely offers an edge in gaming over its competitors. It has the ability to switch between 8-bit and 10-bit processing at the press of a button, which resulted in significant speed-up in processing. However, as a result, image quality did deteriorate but not to the extent I was expecting. In truth, the level of perceivable posterization and banding were negligible at best. However, due to the delta pixel addressing, it somewhat amplified the level of perceivable aliasing. So it's best to adopt a slightly farther viewing distance.
Also, due to the low buffer-rate, enabling 100/120Hz did not result in noticeable lag. It also aids in smoother frame transition of 60p games such as the Call of Duty series.
Conclusion
Pros
Free of Colour/Greyscale Banding and Posterization (HDMI)
24p Processing
Good HD Performance
Good Build Quality and Design
Good Dynamic Range and ANSI
Defeatable Backlight Dimming
1:1 Pixel Mapping and Aspect Ratio Correction
Good Primary Chromaticity (Post-Calibration)
Negligible Input Lag (Game Mode)
Excellent Digital Noise Reduction
Negligible Transformer Noise
Ultra-low Power Consumption
Accurate Greyscale and Gamma
Cons
Overdrive Needs Improvement
Average SD Performance
Average Viewing Angles
Poor Sound Quality
Backlight Flicker and Trailing
Cheap Remote
Average Panel Uniformity
Absent 2:2 Pulldown Detection
Poor 480i/p Scaling via HDMI
Average/Poor Performance Out of the Box
Summary
Sharp has produced a clear winner without a doubt. Compared to previous models, the level of advancements/ improvements is quite significant. With competitive pricing, Sharp shouldn't have any problem selling the Sharp LC46LE700E.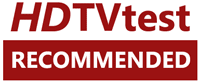 Calibrated Settings
The following configurations were unique to the test model, and may not be suitable for all: