It's been a fairly busy few weeks for Japanese manufacturer Sharp. Hot on the heels of the release of its awesome-looking 70in Aquos LC70UD1U 4K TV and its humongous 90in Aquos LC90LE757, its gone and thrown yet more TVs into the mix, together with a new augmented reality app that helps viewers when it comes to choosing the most appropriate Sharp flat-screen television for their home.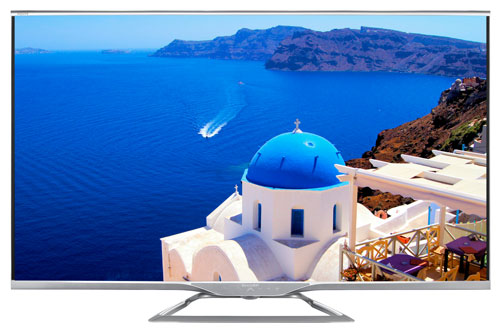 First up is Sharp's latest big-screen offering, the 60-inch LC60LE751K LED LCD TV. The Aquos LE751 series also comes in 39-inch (LC39LE751K) and 50-inch (LC50LE751K) flavours. They aren't 4K, but nevertheless they boast that "incredible Sharp picture quality", together with a host of Smart TV features and 3D capabilities.
Under the hood is Sharp's proprietary Active Motion 200Hz technology, which is said to reduce blur and make the on-screen images appear more "natural", according to the Japanese firm. Even better looking than that however is the gorgeous design of the LE751K, with a super-thin 10mm bezel (15mm on the larger model), a sleek silver finish and an open metal stand that serves to create a kind of 'floating effect' that makes the screen appear as if its just hanging around in mid-air. Certainly, it's worthy of most living rooms.
Functionality wise, the Sharp LC-60LE751K, LC-50LE751K and LC-39LE751K come with Sharp's AQUOS NET+ portal which allows viewers to browse the web through the television, plus dozens of great apps, video-on-demand services and plenty of space for stored media.
Meanwhile, Sharp's been busy catching up with rivals like Samsung and LG, both of whom have integrated mobile apps with their smart TVs for some time. Not to be outdone, Sharp has come up with not one, but two separate apps that should enhance their customer's experience and help them get the most out of their televisions.
First up is a fairly bog-standard remote control app for iOS and Android, which integates with Sharp's LE751 Series and allows viewers to control their HDTV using a tablet or smartphone. Called the SHARP SMART REMOTE+, the application offers the usual features such as virtual keyboard, channel switching, pause, play, rewind etc etc.
Nothing new there really, but Sharp's second app certainly promises to keep us entertained for a while. To help consumers decide which of the above models might be best suited for their living room, the company has introduced a handy new 'Augmented Reality' app for Android and iPhones. The app can be downloaded for free, and uses the most advanced AR technology to help consumers work out what size screen is best for their home, by letting them visualise a range of Sharp TVs taking pride of place in their living room.
For sure, the app is a bit of a gimmick, but we should be able to have some fun with it, testing out different locations for that TV you've had your eye on, without needing to do any heavy lifting (or buying for that matter). Simply switch between the various Sharp TVs in its catalogue, hold up your phone to the corresponding location in your room and see how it would look. It's dead simple to use, and you can even save a screenshot of your 'new TV' in your living room to share with friends, while those of us who lack the funds to buy any new hardware can instead reminisce over what might have been.
Sharp's Augmented Reality app is available to download now via iTunes and Google Play.