For all the talk of 4K Ultra HD TV, we're still in the very early stages with barely more than a handful of people who can boast that they own one. But that hasn't stopped television manufacturers left, right and centre from rushing to embrace what they all believe is going to be the next big thing in home entertainment's revolution. One company that's been quieter than most is Sharp, but that's all changed with today's launch of its Aquos Ultra 70in THX-4K-Certified display, which is the first of its kind to achieve THX certification.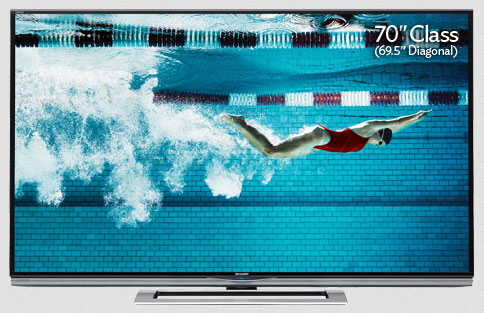 Sharp's upcoming 70-inch Aquos LC-70UD1U, LED-backlit 4K TV is set to go on sale in the USA this August, and becomes the first such model to have undergone the process of third-party evaluation for audio and visual fidelity. THX certification has been the standard bearer for HDTV certification since the mid-2000s, but it's only just now begun to certify 4K models as well. The Sharp LC70UD1U will therefore become the first model to pass its certification that hits the market.
From what we can tell, it's a UHDTV that fully deserves this kind of recognition. Boasting 3840×2160 resolution, it comes with built-in WiFi and LG's Smart Central Apps library, which means it'll have the very best Smart TV features that connoisseurs have come to expect. Other add-ons include a Flash-enabled browser for surfing the web, plus support for Sharp's Remote Control and Beam applications, allowing viewers to control and stream various media using an Android or iOS mobile device.
The THX-certified 4K television looks the part too – its sleek design incorporates a metallic black bezel, while the open base minimises the screen's footprint. Featuring a new speaker system, the Aquos Ultra LC70UD1U employs Sharp's proprietary DuoBass audio technology, with two subwoofers built into the screen, plus a pair of forward-facing tweeters and midrange drivers along the bottom edge to deliver crystal-clear audio clarity.
When it goes on sale in the US in August, it's set to be priced at $7,999, which puts it in direct competition with the slightly smaller 65-inch models offered by Sony and Samsung. That's still way more expensive than Seiki's $699 39-inch ultra high-definition 4KTV announced yesterday, but those extra few inches might just give it the edge over its more established rivals. Of course, anyone who does buy one still faces the problem of locating native 4K content to watch on the thing.