Sharp is a world leader in the production of LCD TV panels, so it shouldn't come as a surprise to hear that the Japanese manufacturer is pushing the boundaries when it comes to making the actual TVs as well. And boy did they push it this year, leaving thousands of onlookers gasping as they proudly unveiled the largest LED LCD TV yet conceived at this year's IFA consumer electronics trade show in Berlin. With a whopping 90-inch screen, standing at more than 1.20 metres tall and weighing in at 64kgs, there's no doubt that the Sharp LC90LE745 is an absolute monster of a television.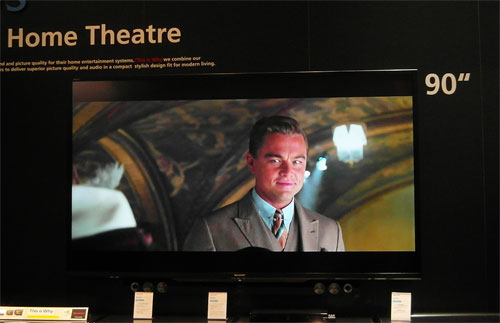 Sharp intros LC90LE745E, world's largest LED TV at IFA
Sporting a thin bezel and aluminum finish, the design of the Sharp Aquos LC-90LE745E is stylish, modern and classy; perfectly capable of holding its own in the most luxurious of bachelor pads. Yet despite its immense size, the LC90LE745E is surprisingly light and thin – with a weight of just 64 kilogrammes and a depth of less than 12 inches, mounting it onto the wall shouldn't present too many problems, just so long as you can find a wall large enough to fit it on!
Features available on the Sharp 90-incher include full HD active-shutter 3D, integrated Freeview and Freesat HD tuners, the AQUOS NET+ Smart TV platform that gives users access to dozens of essential apps and media libraries, and a media player compatible with USB drives, making it easy to view photos, music and videos. In addition, with its direct LED backlight technology, the LC-90LE745 is also one of the most energy efficient around – the company is expecting nothing less than an A+ grade when the HDTV receives its European Energy label just before it hits the shops.
The Sharp LC90LE745E is scheduled to be released in the UK and European markets over the summer of 2013. A company spokesperson told us that the set will be more affordable than 70-inch-plus offerings from rival TV brands, probably coming in at around the £10,000 mark.