It's time to get all giddy with excitement and start drooling all over again. Just when you thought that things couldn't get any bigger or better, along comes another absolute beast of a display to vie for control of your living room. Sharp's record-breaking 90-inch Aquos LC90LE757, officially the world's largest LED TV, has just landed on sale in the UK (model number LC90LE757K) and the rest of Europe (LC90LE757E), available to buy now for £12,000.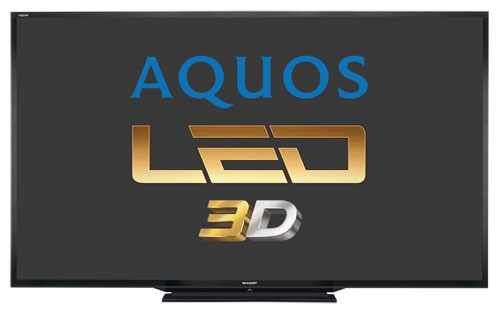 The sheer size of the Sharp LC-90LE757 makes this one of the most impressive TVs on the market – standing at a massive 1.2 metres tall, measuring 2 metres long, and weighing in at a hefty 64kg, anyone lucky enough to see it with their own eyes will be forgiven for standing there mouth wide-open in awe of this thing – and that's even before they switch it on. Once you settle down to actually watch a few shows, Sharp promises your admiration will only increase.
Sharp's vice-president of consumer electronics Alberico Lissoni said that the 3D-capable 90-incher delivers one of the most immersive, most realistic viewing experiences that it's possible to have in the home:
"You get completely absorbed in whatever you're watching. Even when you're sitting as close as 3.5 metres, you'll be able to see the incredible detail with colours bursting out of the screen, larger that life."
Given its enormous size, the Sharp 90in LE757 will automatically become the centrepiece of any living room it's placed in. To make the most of this, the Japanese manufacturer has integrated a new 'wallpaper mode' feature that "transforms your TV into a work of art" whenever it's put in standby mode, displaying images from your personal gallery just as your smartphone does. Even better, the TV automatically dims the brightness so that the wallpaper images looks less like a television, and more like a real-world piece of art.
Other features of this 1080p HDTV include Sharp's XGEN 3D panel and proprietary Active Motion 200Hz technology, the AQUOS NET+ portal open browser for connecting to the web and syncing with other devices, and the AQUOS Remote Lite app that allows viewers to use their Android or iPhone as a remote control.
Other specs detailed by the company include a triple HD tuner (DVB-T/DVB-C/DVB-S2), built-in media player for viewing videos, images and listening to music, plus USB inputs. Meanwhile, the Sharp LC90LE757K/ LC90LE757E is said to be extremely energy-efficient thanks to its direct LED-backlight technology, which helped it to earn a European Energy lable A+ rating.
Sharp's entry into the monster-sized HDTV market is part of a larger trend among TV manufacturers to make enormous display sizes more affordable to the average consumer. The trend first began in the USA, where almost one in 12 televisions sold in 2012 came with a 60-inch or bigger screen, according to the US Consumer Electronics Association.
Notably, Sharp's Aquos LC90LE757 does not support ultra HD 4K resolution, which is the hottest trend in the television industry right now. According to Sharp, the decision was taken to stick with 1080 HD resolution due to a lack of native content for 4K at this moment in time – something that probably won't be fully remedied for another 12 months at least.