Japanese television manufacturer Sharp is on the verge of quitting the UK and European LCD TV markets, according to reports in the Japanese media. Rumours that the company is planning to 'restructure' its European businesses first emerged last week, although the reports said it's likely to licence its brand to foreign partners.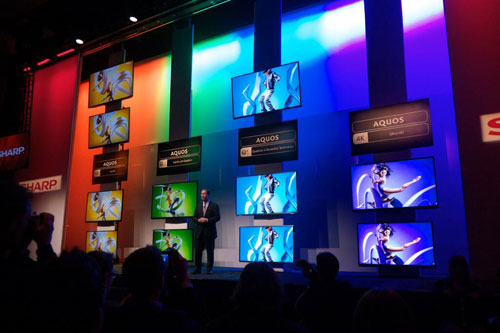 The move is not entirely unexpected. Sharp recently closed down its solar business in Europe, as part of its efforts to stem massive financial losses.
Sharp has struggled to make inroads in Europe, even though it gave it a real go. The company even opened an LCD TV manufacturing plant in Poland back in 2007, but according to market analysis firm NPD DisplaySearch this hasn't helped to boost sales in the slightest – last year, Sharp held a meagre 1.6% market share of Europe's LCD television sales.
Sharp's troubles aren't just limited to Europe though – the company has been in a steady decline for several years now. In the first quarter of 2012 it reported record-breaking net losses of around £2.9 billion, and it's been unable to recover. Indeed, even Sharp's bosses thought the game was up at one stage, with one official being quoted in November 2012 as saying he had "material doubts" as to whether or not it could stay in business, although it's somehow kept going since then.
Japanese business publication Nikkei says the next step for Sharp will be to sell off its Polish factory and outsource European television sales to Taiwan's TPV Technology, the world's largest display manufacturer. Dutch brand Philips already has a licensing arrangement with TP Vision, a subsidiary of TPV Technology, and it's said that Sharp is looking for a similar deal, giving TPV the rights to its brand in Europe in return for a licensing fee.
So it looks like we've seen the last of proper Sharp's TVs on these shores (at least for a while), even if the Sharp logo might still show its face on TP Vision's hardware. For HDTVTest this is a very sad day indeed – long-time readers might remember that our first ever review, which helped to launch this site in 2007, was a Sharp LCD TV.
Source: Nikkei Asian Review