This June we saw Sharp unveil its first magnificent entry into the 4K market with its new AQUOS 4K Ultra HD TV, the world's first officially THX-Certified Ultra HD TV. Originally penned for an August launch, the AQUOS LC-70UD1U was a huge deal for Sharp, and while its release had to be delayed by a few weeks, it's now finally set to hit the stores.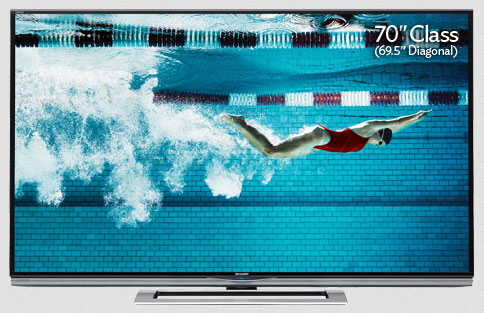 The THX 4K Certification is notable because it means the Sharp LC70UD1U is the first UHDTV to really be put through its paces with regards to the astonishing picture quality that ultra high-definition (UHD) is said to deliver. Sharp's first entry into the 4KTV market looks every bit as promising as those from Samsung, Sony and LG, with the company's own Revelation 4K Upscaler technology able to convert regular HD content into 4K resolution. Other features include a dual-core processor, WiFi connectivity and Sharp's SmartCentral smart TV platform that allows content to be streamed directly from services like Netflix, YouTube, Pandora, Hulu Plus and others.
Other features of Sharp's AQUOS 4K Ultra HD television include on-screen options for services like Skype, Twitter and Facebook, plus a split-screen function that allows viewers to surf the web and watch their favourite TV shows simultaneously. We should also note the set's superb-looking audio system, which boasts six-speaker sound and Sharp's proprietary DuoBass subwoofer system that thumps out up to 35 watts of sound.
Aside from this, the LC-70UD1 boasts features such as a wallpaper mode, AquoMotion 240 technology that delivers a 120Hz refresh rate, two USB ports and a built-in SD Card reader. The TV can also connect to Android and iOS smartphones and tablets thanks to the Japanese manufacturer's Sharp Beam app, which allows said devices to act as both a remote control and a second-screen.
"The last few years has seen a trend towards high-end TV panels that deliver a more enjoyable experience through their sheer size," said John Herrington, President of Sharp Electronics Marketing Company of America.
"Now, with the introduction of our new AQUOS 4K TV, we're delighted to offer our customers the most life-like viewing experience yet, coupling the highest possible resolution and clarity with size."
Sharp's AQUOS UD1 goes on sale in the US this month, with a highly competitive suggested retail price of a just $7,499 (around £4,700) – but no word yet on when we can expect to see it arrive in the UK and Europe.