It might be strapped for cash at the moment, but that doesn't mean that Sharp is about to give up the ghost just yet. The Japanese TV manufacturer looks to have gotten one over its rivals with its upcoming release of the new 60-inch LC-60HQ10, billed as the world's first 4K TV to receive THX certification.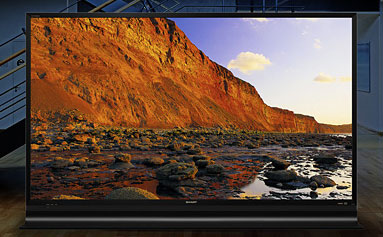 Sharp unveils 60-inch LC-60HQ10, world's first THX-certified 4K TV
Sharp staged a special event in Tokyo this week to unveil the new ICC Purios LC-60HQ10, which will have a cool 2.62 million yen (around £20,000) price tag slapped on it once it hits the shops next February. According to the company, its new 60″ ultra HD (UHD) TV incorporates technology that will upscale high-definition videos to 4K resolution, a vital feature that may just compel consumers to give it a try, considering the lack of native 4K content at the moment.
The Sharp LC-60HQ10 utilises something called Integrated Cognitive Creation (ICC) technology to process HDTV signals, adding greater depth and richness to images displayed in 4K. The UHD TV has a resolution of 3840×2160 pixels. Other features of the television include a WiFi adapter for hooking up into a home network or streaming content from a different server using the DNLA format. The LC-60HQ10 can also be synced with Sharp's Aquos smartphone, displaying alerts when viewers receive a message or call.
Another interesting feature seems to be targeted at senior citizens. The UHDTV can be used to send emails via a simple interface, and can be set up to automatically send an email to designated recipients if the TV hasn't been switched on for 24 hours – presumably, this is to alert relatives that something might be wrong.
According to Sharp, the LC-60HQ10 is the first 4K TV in the world to be certified by THX, the world-renowned audio-visual quality assurance organisation. The firm says that this should help it to secure a share in the market ahead of similar products from companies like Sony and LG.
The Sharp Purios LC-60HQ10 will first go on sale in Japan, where it is scheduled to hit stores in February 2013. The company hasn't announced when it will begin shipping to foreign markets including the UK, but we'll be sure to keep you updated.