Sharp outlined its plans to save itself at the company's CES 2013 press conference in Las Vegas this week, showing off a host of new display technologies described as the company's "vision of the future".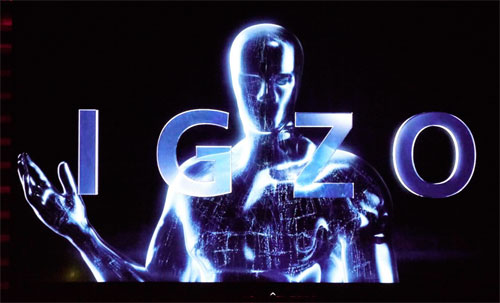 Sharp's TV future lies in IGZO, Moth Eye, Quattron, ultra HD 4K & 8K
IGZO
Key to Sharp's vision is its new IGZO display tech, which uses a combination of materials including indium, gallium, zinc and oxygen that are more efficient and scalable than traditional silicon semi-conductors, delivering better quality visuals and an improved battery life on mobile devices.
At CES yesterday, the company showed off a handful of new devices, including TVs, smartphones and tablets featuring IGZO, including its new 32-inch, Ultra HD Intuitive IGZO Business Display, a touchscreen monitor prototype that comes with a 4K x 2K (3840×2160) resolution and measures just 35mm thick.
Kozo Takahashi, Vice President of Sharp Electronics Marketing Company of America, said that IGZO is shaping up to be one of the leading display technologies of the decade.
"We are delighted to become the first brand to mass produce IGZO, and we're very confident of its future potential," exclaimed Takahashi.
Moth Eye
As well as its IGZO displays, Sharp made clear its intention to ramp up efforts in the 60-inch and above television market, unveiling a prototype TV featuring a second new tech called Moth Eye, as well as a number of new additions to its AQUOS lineup for 2013, including a new line of 80-inch and 90-inch big-sized HDTVs.
Much attention was directed at the AQUOS Ultra HD TV, a prototype that was on display at CES yesterday. As well as boasting 4K resolution, the new TV featured a screen coating called Moth Eye (similar to that found on Philips high-end LED LCD TVs) that serves to eliminate virtually all glare whilst maintaining colour vibrancy.
Next-Generation Quattron
Sharp also took the opportunity to demonstrate its latest concept of Quattron technology at CES, which uses special subpixel processing for the Japanese manufacturer's red-green-blue-yellow pixel panel, allowing for individual control of these colours and the reproduction of double resolution in a single pixel. Sharp says that this technological breakthrough will allow for Ultra HD-quality resolution from a 1080 pixel display, thanks to specialised signal processing that can scale up images from 108op to 4K, when it becomes commercially available next year.
8K
Finally, Sharp gave us a glimpse of its vision for future Ultra-High Definition with a demonstration of its first-ever 8K resolution display on an 85-inch screen, becoming the first brand to introduce this concept. 8K boasts a mind-blowing resolution of 7680×4320 pixels, sixteen times that of regular HDTV, and delivers images that are simply unprecedented in their detail and quality.