Sharp is the latest manufacturer to announce its 2014 TV lineup, unveiling a range of new Quattron Pro TVs which have gone on sale in the UK.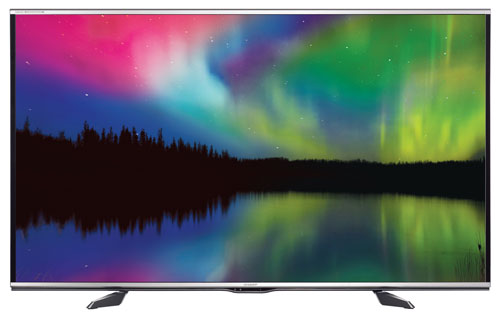 The company's UQ10 series is offered in three screen sizes: the 60-inch Sharp LC60UQ10, the 70-inch LC70UQ10, and the 80-inch LC80UQ10. They are said to provide a "next-generation Full HD viewing experience" that's supposedly as near to 4K resolution as you can get, without it actually being 4K resolution of course. That's because the Quattron TVs come with more than 2.5 times the number of subpixels found in standard FHD panels, and offer over a billion colour shades, which means they're the only HDTVs on the market capable of displaying UHD content via HDMI, according to the Japanese brand. Of course this also means that 'normal' HD content looks rather pretty too, thanks to the Quattron's smart upscaler tech that transforms images to something approaching 4K quality, regardless of whether you're watching Coronation Street or playing video games.
Sharp says that the reason it's gone for this approach is because content producers haven't caught up with the latest technology yet, meaning that not everyone can justify shelling out for a proper 4K UHD (ultra high-definition) television.
"Ultra-HD TV technology has raced ahead, but the content hasn't caught up yet," said Alberico Lissoni, President, Consumer Electronics, Sharp Europe.

"Our UQ10 TVs with Quattron Pro technology offer consumers a solution; a TV with a Full HD panel, so it's more affordable, but with a smart way of handling sub-pixels so it can effectively display Ultra-HD content. For people who aren't ready to invest in Ultra-HD, but don't want to be left behind, it's the best of both worlds."
HDTVTest hasn't yet been able to verify just how good Sharp's non-4K TVs really are, but the company gave a detailed explanation of how it achieves near-4K resolution last year, and it sounds pretty convincing anyway. Even so, no matter how good a telly it is, there's sure to be some purists for whom nothing but the real thing will suffice.
Sharp goes to great pains to illustrate the other features of its UQ10 range, including its Quattron four-colour tech (RGBY), which produces over a billion shades of colour thanks to the addition of a yellow subpixel. The technology allows the LC60UQ10KN, LC70UQ10KN and LC80UQ10KN to portray even those shades "that are difficult or even impossible to portray using conventional LCD technology", making colours appear more natural and brighter than ever.
The company also hypes features including its Aquos Remote Lite mobile app, which allows for gesture controls via a smartphone or tablet; and its Aquos Net+ smart TV portal, which offers hundreds of free, online TV channels and video-on-demand services. Finally, the UQ10 series has been officially approved for THX Display certification.
The Sharp LC-60UQ10, LC-70UQ10 and LC-80UQ10 have been given recommended retail prices (RRP) of £2100, £3200 and £6300 respectively, though only the 60-incher is in stock to buy in the United Kingdom at this time of writing.