4K vs OLED. Curved or flat. OLED vs plasma. Samsung, Sony, Panasonic or LG. These are the burning questions faced by not only those who are looking to buy a high-end TV, but also video enthusiasts who have more than a passing interest in next-gen display technologies. Even as seasoned reviewers who have these televisions dragged through our test room on a daily basis, we seldom get to see them side-by-side, all at once, in their fully calibrated glory. Now we're about to.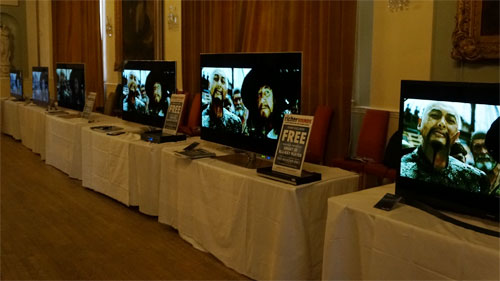 British audio-visual and electrical goods retailer Crampton and Moore are holding a shootout event in Leeds at the end of this month, pitching some of the top television models available to buy at the moment against each other. The proposed lineup of TVs is extremely impressive.
Representing the 4K Ultra HD camp are the Panasonic AX802, the Samsung HU7500 and HU8500 series, as well as the recently reviewed Sony X9005B – all being 65 inches for a level playing field. Flying the OLED flag will be LG's 55EA980W curved TV. And for nostalgic reasons, there'll even be a now-discontinued Panasonic ZT – arguably the best plasma ever made (though Pioneer Kuro owners might disagree) – on show.
The shootout will be held in a light-controlled, theatre-like environment. The calibrated TVs will be screening a wide range of material including native 4K content. We have been invited to talk through the pros and cons of each TV and display technology for watching Blu-ray, sports programme and playing video games.
The Crampton and Moore 2014 TV shootout event will take place at Leeds Trinity University (post code LS18 5HD) on Saturday the 31st of May from 11am to 5pm. The preliminary schedule is as follows:
11:00: Opening statement
11:15: 4K TV comparisons with test patterns plus UHD and Blu-ray content
13:00: Break for lunch (will be provided)
13:30: 4K TV comparisons for gaming and watching sports
14:30: OLED vs Plasma part 1
15:15: Coffee break
15:30: OLED vs Plasma part 2
16:30: Closing statement plus Q&A
17:00: Event ends
Attendance is free, but limited to the first 35 people (due to space constraints) on a first-come first-served basis.