Samsung's KS9500 LED LCD model has been voted as the TV that delivered the best HDR picture in a side-by-side television shootout event held last month through a collaboration between HDTVTest, British independent electrical retailer Crampton & Moore and Leeds Trinity University.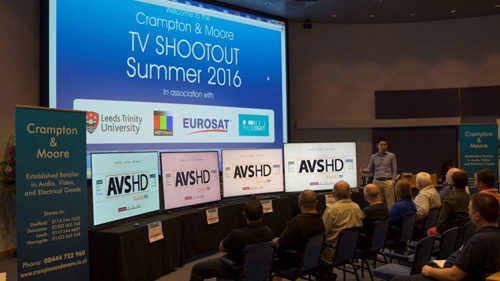 To avoid any single brand getting preferential treatment, the four TVs participating in this side-by-side comparison were arranged alphabetically in a slight arc from left to right:
After excluding attendees with known affiliations to TV manufacturers from the voting process, 22 votes were cast for the best HDR TV (regardless of price) after attendees were asked to watch a variety of HDR content from 4K Blu-rays, Netflix streaming and Dolby Vision clips. Here's a breakdown of the votes:
Samsung KS9500: 9 votes
Panasonic DX902: 6 votes
LG E6: 4 votes
Sony XD94: 3 votes
All the TVs were calibrated in HDR mode (and SDR too) as far as their picture menu controls allowed. Measured peak brightness for the LG OLED, Panasonic, Samsung and Sony LED LCDs were 600, 1250, 1400 and 800 nits respectively. Attendees were then shown the following video clips (and asked to walk around in front of the displays to overcome the viewing angle limitations of LED LCDs) to make up their mind before voting for the best-performing HDR television:
HDR test patterns that went from 0, 0.001, 0.005, 0.01 nits (to set black level in HDR mode) all the way up to 10,000 nits to determine the luminance level at which each display started clipping;
Dark scene: Chapter 4 in The Revenant 4K Blu-ray fed from a Panasonic UB900 player where Hugh reassured his son at night (timestamp 00:19:56) to assess black level, shadow detail and haloing/ blooming;
Dark scene: Opening space sequence in The Martian (timestamp 00:00:53) to assess black level and local dimming effectiveness;
Midtones: Chapter 11 in Kingsman: The Secret Service where the apprentices assembled for the first time (timestamp 00:30:25) to assess colours and general "pop";
Bright scene: Skydiving sequence in Kingsman: The Secret Service (Chapter 18), looking at the sun, cloud detail, specular highlights off helmet, etc. This Ultra HD Blu-ray was mastered on a 1000-nit display;
Bright scene: Peter arriving at Neverland in Pan (timestamp 00:19:10), checking for clipping of highlight detail of the bubble and rope on the right side of screen. This Ultra HD Blu-ray was mastered on a 4000-nit display.
Netflix streaming: Episode 1 Season 1 of Marco Polo in HDR10 on the LED LCDs, and Dolby Vision on the LG E6 OLED.
Samsung's 65KS9500 received the most votes from attendees, largely because it was the only display that could resolve highlight detail up to 4,000 nits, helped by accurate ST.2084 PQ (perceptual quantisation) tracking and some clever tone-mapping even though its peak brightness topped out at 1,400 nits. Although the UE65KS9500 betrayed some greyness and posterisation versus its rivals in The Revenant dark scene, and its curved screen was raised as a concern by attendees during the demos, voters praised its all-round HDR performance with more pros than cons.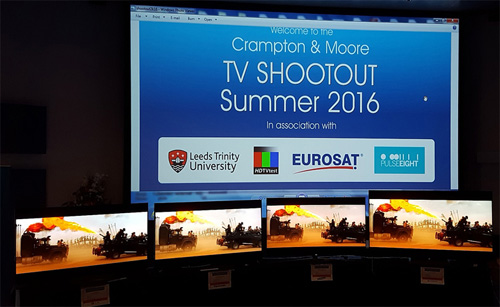 Panasonic's DX902/ DX900 ran the Samsung close in the voting results: it and the KS9500 were the only two displays that could fully resolve the sun in the opening of Chapter 18 in Kingsman. While its black level was deeper than other competing LED LCDs, the TX65DX902B was let down by over-aggressive local dimming which rendered The Martian opening space scene in "blotches".
Hampered by lower peak brightness, LG's E6 could not fully resolve the sun in Kingsman, let alone the bubble in Pan. These highlight detail could be restored by tweaking the settings in the source player (Panasonic UB900), but this would lower the overall APL (Average Picture Level) and impair accurate tracking of ST.2084 PQ EOTF (electro-optical transfer function). The OLED65E6V's [Brightness] settings also needed to be upped from the factory default value of "50" to correctly render shadow detail in HDR mode, which elevated its blacks, so the black level gap between OLED and LED LCD was narrowed. Still, the E6's total absence of haloing/ backlight bleed, vibrant colours and good Dolby Vision performance won the television some votes.
The Sony XD94's relatively low peak brightness and FALD (full-array local dimming) zone count meant it couldn't outperform other sets, but its extra screen real estate and flaws on other TVs in HDR mode prompted some to vote for it.
SDR Results
Driven by numerous requests from attendees in the days running up to the event, an SDR (standard dynamic range) session was added, even though the original intention was to compare HDR only. Footages from Skyfall Blu-ray (both bright and dark scenes), as well as off-air recordings of football and a Games of Thrones-like drama were shown.

Not surprisingly, the LG 65E6 won convincingly, thanks to OLED's self-emissive display properties which allow for true blacks, vibrant colours and wide viewing angles. LG has also improved the near-black handling, uniformity and colour accuracy on the company's 2016 models, propelling its OLEDs to be the SDR display of choice for video enthusiasts this year.
Those who voted for the Samsung KS9500 praised its natural colours and clearer shadow detail (OLED displays do have a tendency to make shadow detail less visible especially if you want to mask near-black issues). Neither the Panasonic DX902 (which suffered from the narrowest viewing angle among the sets compared) nor the Sony XD94 (which exhibited some vertical bands) received a single vote in the SDR session.
Final Words
The voting results indicated that LED LCD's peak brightness and highlight detail preservation were preferred over OLED's deeper blacks for viewing HDR material. In fact, once adjusted to correctly reproduce all the shadow detail in HDR mode, the black level difference between the LG OLED65E6 and the rest wasn't as stark as first thought, leaving the absence of blooming/ haloing/ backlight bleed and wide viewing angles as the only truly unassailable advantages for OLED.
Interestingly though, a few attendees commented during the Kingsman skydiving demo that the sun actually looked as bright or even brighter on the LG 65E6 compared with the LED LCDs due to OLED's higher innate contrast, which means that if LG can improve the tone-mapping, the HDR pendulum may yet swing back in favour of OLED…
Note: If you're interested in buying any of the TVs in this HDR shootout, please consider purchasing from Crampton & Moore Leeds (call 0113 244 6607 and ask for David) who went to great lengths to organise this event and secure the televisions for the shootout. A very big thank you to them – they deserve your continuing support so the next shootout can happen.