The future of TV could be arriving sooner than we think after British Sky Broadcasting (BSkyB) successfully carried out its first experimental live 4K broadcast at the weekend. As part of its ongoing trials with 4K resolution, the digital satellite television broadcaster completed a landmark test broadcast of the Premier League clash between West Ham United and Stoke City in all its full Ultra HD glory.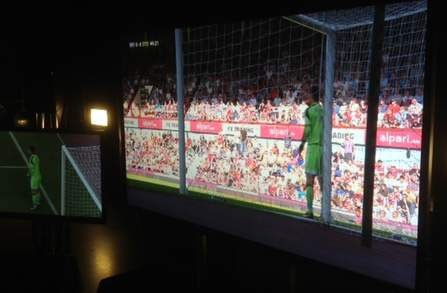 Of course, only a few people actually got to see it. The trial broadcast, which is described in detail by Sky's presenter Martin Stanford in a blog post, was carried out behind closed doors, meaning that the match was only viewed by a select bunch of BSkyB executives and engineers. In his post, Stanford describes how the trial was carried out in collaboration with Sony, using the Japanese firm's F55 4K cameras and its 84-inch Ultra HD TV, with footage of the match beamed from West Ham's Upton Park stadium back to the Sky Studios building in west London.
What's particularly impressive is that Sky was able to beam the signal to its studio over a conventional satellite link. The action was filmed using four Ultra HD cameras together with a special HD camera whose signal was later upscaled into 4K. Footage from each camera was then converted into four streams of data which were beamed back to the studios where it was reassembled on a Sony KD-84X9005A ultra high-definition television.
This means that Sky's achievement is quite unique from previous 4K broadcasts, as it's the first time the feat has been achieved using existing infrastructure. Previous tests, such as the 2012 London Olympics opening ceremony, had been limited to specially designed, closed networks. Of course there's still plenty of work to be done before such broadcasts can become commercially available. Sky hinted that it's working on a new Ultra HD box (Sky+UHD anyone?), but warned that the new H265 compression standard still needs to be internationally agreed upon, as do the new standards and protocols for next-generation HDMI connections that are needed to deliver 4K broadcasts.
Even so, Sky's first 4K broadcast appears to have gone off without a hitch, which can only be good news for the handful of people who've already got their hands on a 4K TV – with any luck, they won't have to wait too much longer before they can actually find something to watch.
Source: Sky News