British satellite broadcaster Sky has announced it will begin delivering 4K UHD (ultra high-definition) content next month on the 13th of August, coinciding with the start of the new Premier League football season. The service will be available at no extra cost to subscribers who are already on the company's highest-tier Sky Q platform.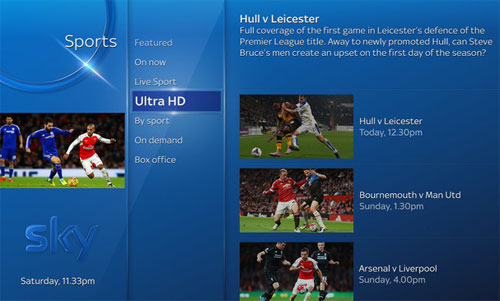 The first Premier League match of the season – Hull City versus current champion Leicester City – will herald a total of 124 live Premier League games to be broadcast in glorious Ultra HD. Also getting the 4K treatment are 70 movies in Sky Cinema to come throughout 2016, including The Martian, The Revenant, Spectre, Concussion, Maze Runner: The Scorch Trials and Bridge of Spies.
Other Sky 4K content to arrive are documentaries and natural history programmes such as David Attenborough's Conquest of The Skies, Formula 1 UHD in 2017, not to mention on-demand movies (including The Godfather, Minority Report, Jerry Maguire and Zoolander) and Sky Store rentals (Ghostbusters, Angry Bird, etc.).
Sky Q subscribers can access 4K programmes through a dedicated "Ultra HD" category on their home screen, be it for movies, sports, dramas or documentaries. In addition, should a live programme be available to watch in 4K, a prompt will appear on screen for viewers to go directly to the live 4K broadcast.
Sky's 4K broadcast is only available through the main Q Silver box, but not the Q Mini boxes. Compatibility-wise, your 4K TV and/ or connecting equipment such as receiver need to accept 2160p/50Hz signal, and be HDCP 2.2-compliant. Sky Ultra HD won't support HDR (high dynamic range), arguably the UHD facet that provides the biggest leap in picture quality, at launch.