British Sky Broadcasting (BSkyB) has this week announced a major update to its Sky+ Android app, adding the Sky Plus remote control function at long last, meaning that Android device owners will finally be able to control their Sky+ TV using their favorite mobile gadgets.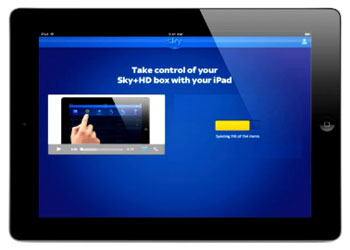 BSkyB updates Sky+ Android app with Sky+HD box remote control
By connecting their Sky+HD box to their home WiFi network, Android users will now be able to connect their device and use it to change channels, fast forward, rewind and pause shows with a simple swipe gesture or tap. In addition, the new Sky+ 3.0 update allows users to manage their Sky Planner using their Android device, while other features include the ability to add and delete recordings on the Sky+ box, set recordings for future TV shows, and set reminders without needing to interrupt anyone watching the main HDTV set.
First launched in 2009, this wave of new features will enhance what has already proved to be a popular service. To date, the Sky+ app has been downloaded more than 5 million times, ranking in the top twenty of entertainment application downloads in the UK.
Some of the older features offered by the Sky+ app include recommended programmes based on user's previous viewing history, the ability to browse through Sky's television guide up to one week ahead, and the Remote Record feature which allows viewers to set a recording whilst out and about, should they forget to do so before leaving home.
The update is a timely one, and will hopefully go some way towards appeasing Android users who often claim that they have to play second fiddle to those who own an Apple device like the iPhone, iPad or iPod Touch. However, the new update doesn't come with all the features available on the iOS version of Sky+ app. For example, there's still no sign of on-demand listings, although BSkyB promises that it will appear sometime later this year.
On the plus side, Android users will be pleased to hear that the new Sky+ app is compatible with a much wider range of devices than before. According to Sky, the app will work on any device running Android version 2.2 or above, which accounts for pretty much every smartphone and tablet that's been sold in the last two years. Who knows, maybe this is the start of better support for Android devices from Sky? We can but hope!
Let us know what you think of the new updates in the comments section below!