Switch on your Sky+HD box and you may notice there's a few changes to the home screen layout. That's because British Sky Broadcasting (BSkyB) has revamped things with the introduction of its new, catch-up TV orientated electronic programme guide (EPG).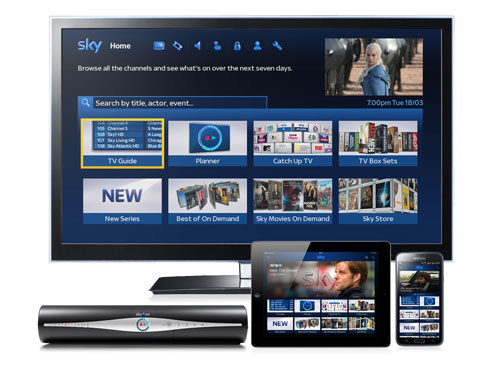 The move comes about following a sharp rise in demand for catch-up television, and Sky's tinkering is designed to make it easier to discover on-demand content. Not everyone will see the changes just yet, as the new homepage will roll out gradually between now and the end of May.
For those lucky ones who've already switched over, they'll notice the new homepage features a "supercharged search box" in the centre, that enables viewers to search for different TV shows, channels, actors, sports and keywords to find whatever it is they want to watch. It's certainly ideal for those times when you can't remember the name of that show that has what's-his-name who used to be in Casualty starring in it. As an example, simply enter the word "TOM" and you'll be able to access Sky's full library of Tom Cruise movies, or else simply start typing "Game of Thrones" and you'll be offered a selection of episodes from the old seasons to whet your appetite for the new one.
Aside from this, there's now eight new windows that dominate the homepage, which allow you to navigate to regular features like the EPG, Planner, TV, Sky Store, custom shortcuts and more.
The interface has been give a few visual improvements too – everything seems much sharper than before, with Sky doing away with all the rounded corners and going for the 'flat' look that seems to be in vogue these days. Even so, those who hate radical overhauls needn't worry, as it still looks and feels a lot like Sky+, just that everything's been refreshed.
One feature that's worth noting is the new "New Series" menu that appears on the homepage. Click on here and you'll be able to access the most recent episodes of all the new shows Sky is currently broadcasting at a glance.
According to Luke Bradley-Jones, Sky's brand director of TV Products, the new design is all about making content discovery easier than ever:
"Our new Homepage means it's now much easier to quickly find what you want, when you want to watch it – whether that's the big Premier League clash or catching up on Game of Thrones."
Sky is also planning to update its mobile apps to reflect the revamped EPG, bringing a similar look and feel to these. In addition, the apps will also get new features like being able to turn off the Sky+HD box using your phone, and the ability to queue Sky Store titles (but you won't be able to watch them).