British Sky Broadcasting (BSkyB) has unveiled a newly designed Sky HD box geared towards multiroom subscribers who prefer a device that takes up less space in their secondary rooms such as bedroom. For the moment, the UK's largest Pay-TV broadcaster is making the box available for free to new Sky+HD customers who take up the Multiroom option.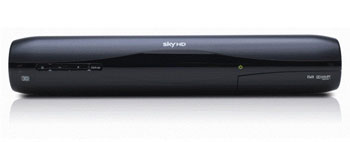 Sporting a polished surface, the new SkyHD box is more compact in terms of physical dimensions, allowing for discrete placements in a second room. It boasts Sky's 7-day EPG (electronic programme guide), reminder-setting functionality, as well as enhanced parental control (a useful feature if the box is to be installed in the kids' room), but lacks a hard disk drive (HDD) nor any PVR (personal video recorder) capabilities, so users will not be able to pause and record live TV unlike the Sky+HD box.
Prior to the current promotion, Sky subscribers have had to fork out £199 for an extra box if they wanted to sign up to Sky Multiroom in order to watch different TV programmes in separate rooms. Now a free SkyHD box is offered to new customers who take up the multiroom option during the online registration process, but unfortunately some additional monthly subscription fees will still apply.
The digital satellite television company currently charges £10.25 extra per month for each additional multiroom subscription. However, should you wish to watch high-definition content on a HDTV in the second room, you will need to cough up an extra £10.25 per month for the Multiroom HD pack, which is in addition to the £10.25 monthly fee you are already paying for the HD pack on your main Sky+HD box. In other words, the cost of enjoying high-def TV broadcasts from Sky in a second room comes up to £20.50 per month.
Explaining the launch of a free SkyHD box, Sky's product management director Hilary Perchard said that the company wanted to make its high-def programmes available for customers to enjoy throughout the house as the demand for high-definition viewing grows. If it's not too much to ask, maybe waiving the second HD pack fee for multiroom subscribers would help too.