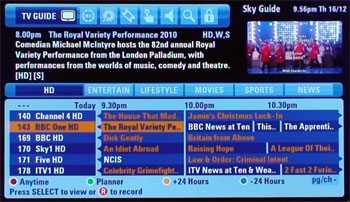 Subscribers to the Sky+HD service will receive an EPG (electronic programme guide) update on their Sky HD box come 1st of February next year, which will make it easier for them to access high-definition channels. For the most part, Sky aims to achieve this by doing a swap-over between the current HD channel numbers and the more established (and familiar) three-digit codes for standard-definition channels.

When Sky HD was first introduced back in 2006, the new high-def channels were assigned higher three-digit numbers which were then alien to longstanding Sky customers. As a result, some Sky HD subscribers inadvertently ended up watching an SD channel on their HDTV sets even when the HD equivalent was available, simply because they entered the SD three-digit code they had memorised over time on their Sky remote. Even those who realised from the picture quality on screen that they were watching the SD version would have to suffer the inconvenience of having to enter the EPG again to switch to the desired HD channel.
Taking on board feedback from frustrated Sky+HD subscribers, from 1 February 2011 onwards the digital satellite TV broadcaster will start screening most HD channels on their existing SD channel numbers (and vice versa), though some channels with regional variations may still opt out of the swap. Here are the provisional new numbers for selected HD channels on Sky following the EPG update:
106: Sky 1 HD
107: Sky Atlantic HD
108: Sky Living HD
126: Comedy Central HD
129: SyFy HD
130: Universal HD
137: E4 HD
164: FX HD
301: Sky Movies Premiere HD
302: Sky Movies Showcase HD
303: Sky Movies Comedy HD
304: Sky Movies Action HD
305: Sky Movies Family HD
306: Sky Movies Crime & Thriller HD
307: Sky Movies Drama & Romance HD
308: Sky Movies Sci-fi & Horror HD
309: Sky Movies Modern Greats HD
310: Sky Movies Indie HD
311: Sky Movies Classics HD
401: Sky Sports HD1
402: Sky Sports HD2
403: Sky Sports HD3
404: Sky Sports HD4
405: Sky Sports News HD
501: Sky News HD
520: Discovery HD
526: National Geographic HD
528: Nat Geo Wild HD
Hilary Perchard, product management director at British Sky Broadcasting (BSkyB), hoped that by making high-def channels easier to find (since they would take up higher positions within the revamped EPG compared to their SD counterparts), HD viewing figures would go up. He also reassured Sky+HD subscribers that their recordings or series links would not be lost, and non-Sky-HD customers that their EPG channel list would remain the same.
At present, to enable easier access to HD content, Sky provides a separate "HD" tab within its Sky HD EPG menu, and highlights the programmes which are broadcast in native high definition.