An announcement has been made by British media entertainment giant Sky with regards to its plans to allow customers to watch some of its most popular content online. The popularity and growth of internet-connected devices is something that the digital satellite TV broadcaster is keen to take advantage of, and this move will provide benefits and greater choice for customers who do not subscribe to a pay TV service. Sky has a lot of expertise when it comes to multi-platform television, and this will build upon that expertise and experience.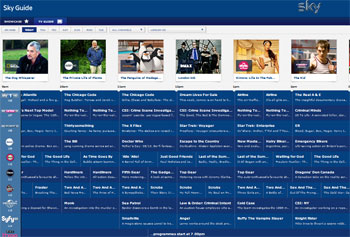 Sky to offer internet TV service with no minimum contract
Sky's new Internet TV service is scheduled to launch during the first half of this year, and subscribers will be able to benefit from easy access and a great choice of content. This will include a huge variety of movies for film fans to watch. Anyone in the UK with a broadband internet connection will be able to enjoy the flexibility and convenience that this service will offer.
The new service will offer a range of great features for viewers to look forward to, including an excellent variety of content, affordable pricing with no minimum contract, simple and fast access, the ability to enjoy the service over a range of web-connected devices (such as smartphones, tablets, laptops, video game consoles, and Smart HDTV displays), and ease of use, therefore delivering a fuss-free and high quality viewing experience for users.
Sky is expected to reveal more information about its Internet TV service (which will complement the existing pay TV packages that are available from the company) as launch day approaches. This new product represents an excellent opportunity for Sky to make its content available to an even wider audience, which is good news for both the company and for consumers who want to enjoy an enhanced viewing experience with great choice, simplicity and affordability.